Russia election: Putin's party wins election marred by fraud claims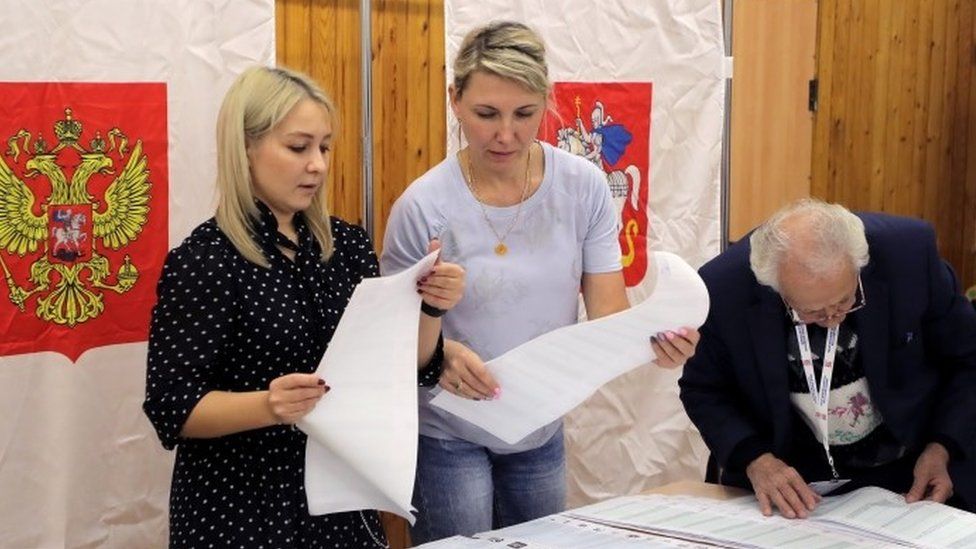 Russian President Vladimir Putin's party has won a parliamentary majority following an election marred by reports of fraud.
With almost all of the votes counted, the United Russia party had won nearly 50% of the vote, marking a slight drop in support from the previous election.
Mr Putin's biggest critics were barred from running, and there were reports of ballot stuffing and forced voting.
Russia's electoral commission rejected claims of widespread irregularities.
With more than 99% of votes counted, United Russia's closest rival, the Communist Party, had about 19% of the vote, according to the election commission.
United Russia's victory means it will have more than two-thirds of the 450 seats in the country's parliament, officials say.
However, despite easily retaining its majority in parliament, the party did lose some ground. In 2016, the party won 54% of the vote.
The Communists, who broadly support Mr Putin's initiatives in the parliament, saw their support grow by about 6%. But their leader, Gennady Zyuganov, has alleged widespread violations, including ballot-stuffing, according to the Associated Press news agency.
The final results will be announced on Friday, Russia's Electoral Commission head Ella Pamfilova said.
Concerns over living standards and allegations of corruption from jailed Kremlin critic Alexei Navalny have likely affected support for Mr Putin's party.
But he remains popular with many Russians who credit him with standing up to the West and restoring national pride.
In a TV address on Monday, Mr Putin thanked voters for their trust and said United Russia had confirmed its role as the leading party. Supporters of Mr Navalny have called for protests and condemned the result as illegitimate.
For Russia's party of power, it's job done. United Russia is confident that it has retained its parliamentary majority, albeit with a slightly smaller share of the vote than last time round.
Judging by last night's celebrations at party headquarters, the party faithful are more than pleased with the result. United Russia insists it won this race fair and square.
But even before the first ballots were cast in the marathon vote, this election looked anything but fair. The Kremlin's most vocal critics had been barred from running - among them, supporters of Mr Navalny.
Then there was the voting process itself. Over three days of polling there were allegations of widespread electoral fraud, including ballot box stuffing and threats against election observers.
Video widely shared online showed people stuffing papers into ballot boxes.
Mr Navalny and his allies had called on Russians to vote tactically, in many cases for Communist Party candidates they believed could defeat incumbents from United Russia. But this has not prevented the Kremlin's party from securing a large slice of the new parliament.
The election saw a number of cities introduce electronic voting.
One such city was the capital, Moscow, where some Communist Party candidates lost leads when electronic votes were declared at the last minute.
"I know that such a result is simply not possible," one defeated Communist candidate, Mikhail Lobanov, wrote on Twitter.
For the first time since 1993, election observers from the Organization for Security and Cooperation in Europe (OSCE) were not present due to limitations imposed by Russian authorities.
A European Union spokesman said the elections were not properly monitored, nor conducted in a free and fair way. The governments of the UK, Germany and the US echoed this.
On Monday, independent vote monitoring group Golos - which the Russian authorities have branded "a foreign agent" - said it had received about 5,000 reports of possible voting violations.
Russia's interior ministry, meanwhile, told reporters it had not registered any "significant violations".
During the three-day vote, videos published on social media had shown long queues outside some polling stations. Interfax news agency reported this was especially the case outside police stations. But the Kremlin spokesman rejected claims that it was an indication of people being put under pressure to vote.
In parts of east Ukraine controlled by Russian-backed separatists, residents with Russian citizenship were allowed to vote, with some crossing the border to visit Russian polling stations.
'I don't see the point in voting'
Russian authorities had threatened the two companies with big fines if they refused to drop the app, which told users who could unseat ruling party candidates.
It is not yet clear whether the app had any impact on how people voted.
"This is truly unbelievable," Mr Navalny's spokesperson Kira Yarmysh told AFP. "I remember the feeling in 2011, when they stole the election. The same is happening right now."
Mr Navalny led mass protests against the government in 2011 following parliamentary elections critics said were riddled with fraud.
One Moscow pensioner, who gave his name only as Anatoly, told Reuters news agency he voted for the ruling party as he appreciated Mr Putin's efforts to restore Russia's influence on the world stage.
"Countries like the United States and Britain more or less respect us now like they respected the Soviet Union in the 1960s and 70s. The Anglo-Saxons only understand the language of force," he said.
But with official turnout reported to be about 52%, there were signs of widespread indifference.
"I don't see the point in voting," said one Moscow hairdresser who gave her name as Irina. "It's all been decided for us anyway."