Italy climate minister accepts Thunberg's 'blah, blah, blah' criticism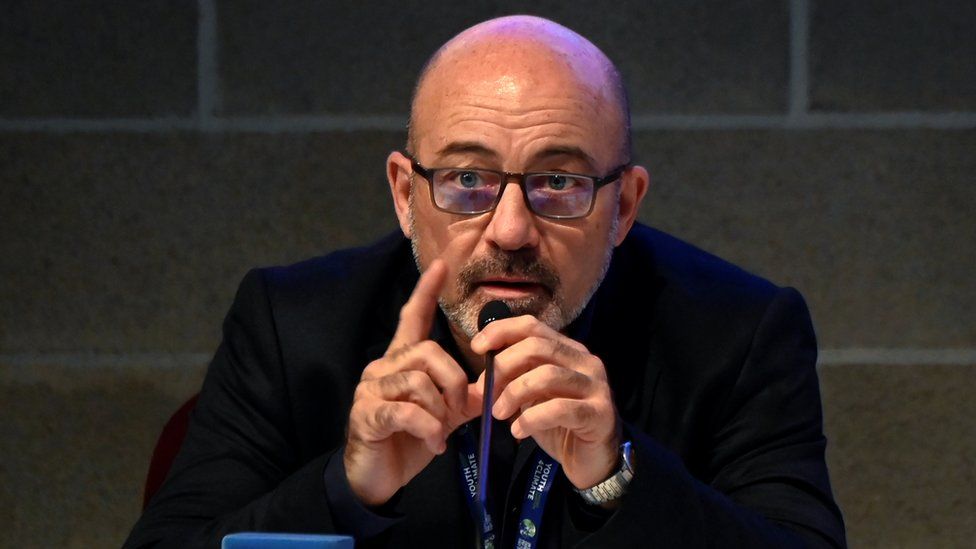 Italy's climate minister says he accepts the criticism of Greta Thunberg who this week accused politicians of "30 years of blah, blah, blah".
Roberto Cingolani told the BBC Ms Thunberg raised "a serious problem, we were not credible in the past".
He criticised those who "want renewable energy " but don't want "the power station in their back yard".
Mr Cingolani was speaking as climate ministers gather in Milan for the final UN talks before COP26 in Glasgow.
They are under pressure to clear the way for their bosses, the world's presidents and prime ministers, who will arrive in Glasgow in early November, the BBC's environment correspondent Matt McGrath says.
Greta Thunberg, 18, mocked the words of world leaders in her speech at the Youth4Climate conference in Milan earlier this week.
She used soundbites from UK PM Boris Johnson, such as "expensive bunny hugging" and "build back better", to highlight what she called the "empty words and promises" of politicians.
He referred to another activist, 24-year-old Vanessa Nakate from Uganda, who criticised rich countries for failing to provide the funds they promised for poorer countries vulnerable to extreme weather events.
"If you put the two messages together - social inequality, global inequality, climate vulnerability ... and on the other hand, the lack of attention in the past, the message is complete," he said. "This is what we are trying to do now, to improve."
Mr Cingolani said COP26 must "seriously reinforce financial aid" to vulnerable countries, accelerate the phasing out of carbon and coal, and strive to keep global temperatures at the 1.5C threshold.
But he warned that attitudes among the global population - including those he has in the past called "radical chic environmentalists" - would have to change.
"It's too easy to say we make everything green, but we don't want the power station in our back yard and we don't care about other countries having no access to free electricity. I think this is more serious," he said.