How green politics are changing Europe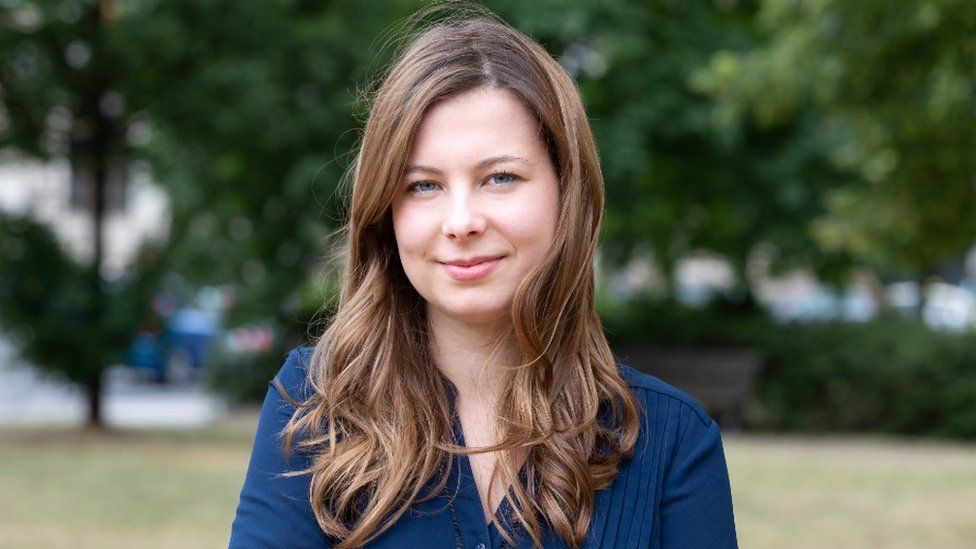 An ocean of conservative blue blankets the electoral map in Germany's southern state of Bavaria.
And yet the conservative vote actually fell across Germany in last month's federal vote, while the Greens achieved their biggest success yet.
In an election dominated by climate change, a speck of green has made a ripple in Bavaria. For the first time a Greens candidate was directly elected to represent Bavaria in the federal parliament.
It is symbolic of the creeping rise in support for European green parties, from Hungary to Finland.
The new MP, Jamila Schäfer, beamed with satisfaction when she recalled her surprise victory in Munich-South, by a wafer-thin margin of 0.8%. Only once before had the CSU lost the constituency since 1976.
"This is a major sign of change," Ms Schäfer told the BBC.
A campaign 'close to the people'
The Greens won 14.8% of the vote nationwide, appealing beyond their eco-protest roots with Annalena Baerbock standing as candidate for chancellor. Now they are in talks to share power as part of a three-way coalition.
Ms Schäfer, 28, is the Greens' deputy federal chairwoman and typifies a party that has undergone a national makeover after years of power-sharing in several German states (Länder).
She rose through the ranks of Green Youth, taking part in school strikes against education reforms, long before Swedish activist Greta Thunberg made her name by skipping classes for climate protests.
Climate change was consistently ranked as the most serious facing Germany in opinion polls ahead of the election.
Even so, Ms Schäfer targeted her "close-to-the-people" campaign in Munich-South on housing, pensions and taxes.
Once ridiculed by many as idealistic hippies, Green parties increased their vote share in 13 European countries at the most recent national elections. In six of those countries - Austria, Belgium, Finland, Ireland, Luxembourg and Sweden - green parties have a share of power in coalition governments.
In all those cases, the Greens are pressing their partners to adopt more ambitious targets for lowering carbon emissions. Elsewhere, the green mayors of Amsterdam and Budapest are aiming for carbon neutrality by 2050 and 2030 respectively - to balance the greenhouse gases emitted and absorbed by their cities.
While in Scotland, the Green Party there is driving a £33bn ($45bn) plan to decarbonise heating as part of a power-sharing deal in the country's devolved government.
Despite last month's election success for the German Greens, even co-leader Ms Baerbock admitted they had failed to live up to early opinion poll ratings: "We wanted more. We didn't achieve that."
Given the urgency of curbing emissions, what's holding the Greens back?
One explanation is that mainstream parties across Europe have elevated climate change to the top of their agendas.
"If you're concerned about the climate, it doesn't follow that you're going to vote green," Adam Fagan, a political scientist at King's College, London, said. "It means you're going to scrutinise the manifestos of the main parties for their green credentials."
Green parties tend to do better in countries with more proportional systems, as used by the European Union for its parliamentary elections. For example, the Greens/EFA bloc gained 25 seats with 10.8% of the vote in the 2019 election to the European Parliament.
"People think putting the Greens in power [in the EU] is less dangerous," said Philippe Lamberts, co-president of the Greens/EFA.
"From the right and the left, there's always a question hanging over us: can you really trust the Greens with the economy?"
National election results suggest the answer is no.
To reduce emissions, the Greens say big structural changes to the economy are needed. While those reforms are necessary, they scare people and put them off voting green, Ms Schäfer said.
"They're worried they'll be the losers of big transformation," the MP said. "It's a lack of control that people are afraid of. But we need to convince people that our politics is not about giving up control."
It's even more difficult in Southern and Eastern European countries, where support for green parties is fragmented or non-existent. Surveys show that climate change is far from a top priority in post-communist countries such as Poland, the Czech Republic and Lithuania.
Voters and political parties there are generally more concerned about economic development or migration, leaving environmental issues to civil society groups.
Mr Lamberts believes voters find the message that their country's model is "killing the planet" unpalatable.
Unlike in many of the other former Soviet-bloc states, green parties have made inroads in Hungary.
The green LMP party has won seats in three consecutive national elections since 2010, while Dialogue received 11.9% of the vote in an alliance with the Hungarian Socialists in 2018.
Dialogue's success came under the leadership of Gergely Karacsony, who was elected mayor of Budapest in 2019.
He defeated the nationalist incumbent by rallying opposition parties behind his liberal platform, and promising solutions not only to environmental issues, but economic and social ones too.
"In Hungary today, there are three different crises. A democratic crisis, a social crisis and an environmental crisis," Budapest's mayor told the BBC. "The advantage of the green movement is that we have proposals for all three."
He linked green policies such as urban foresting and carbon-free public transport to Hungary's poor record on air quality and other environmental problems.
Particularly in post-Soviet countries, the mayor said, social justice must go hand in hand with the green transition.
"We cannot put the costs of sustainability on disadvantaged segments of society."
What worked in Budapest may not necessarily follow elsewhere, but green candidates have achieved electoral success where they have channelled voter discontent, united the opposition and diversified their offer beyond the environment.
If the Greens can build on these gains, there is a future for them in coalitions, Professor Fagan said.
"Green politics in Europe is getting bigger and stronger, and I'm sure it will grow in the coming years," Ms Schäfer said.