Covid: Wave of Italian protests against mandatory work pass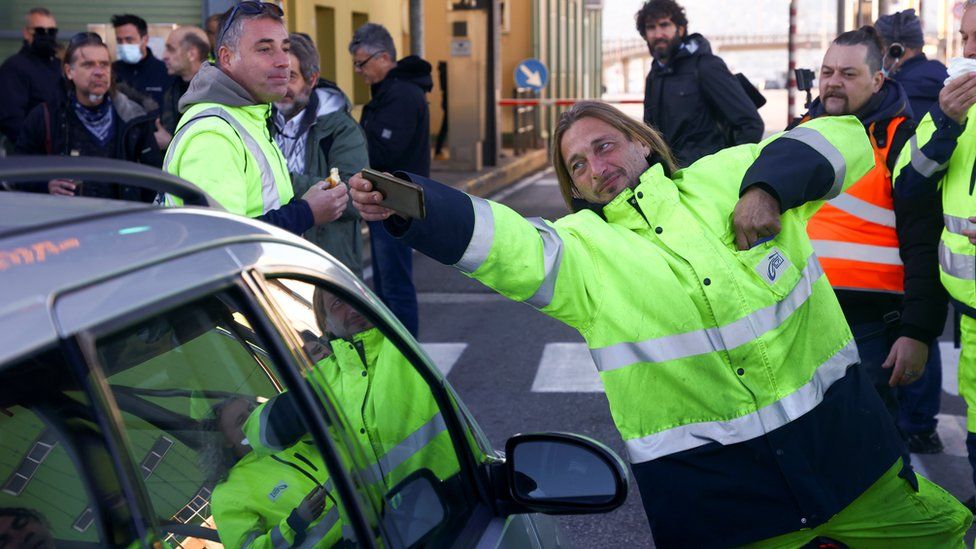 Dockers at three big ports have staged protests at the requirement for all Italian workers to show a Covid pass.
The Green Pass shows whether you have had the Covid vaccine, recovered from it or had a negative test.
It became mandatory for all workplaces on Friday.
About 6,000 workers went on strike outside Trieste port, a maritime gateway for northern Italy, Germany, Austria and central Europe.
There was disruption in Genoa and Ancona too, but dockers worked normally in Italy's other major ports at Venice, Palermo, Naples and Gioia Tauro, Ansa news agency reported.
About three million Italian workers are estimated to be still unvaccinated and protests were reported in many of the big cities:
In Trieste, where only 40% of 950 port workers have had the jab, protesters chanted anti-government slogans as well as "No Green Pass"
Protesters blocked a key access road to Genoa's Sopraelevata road bridge, the main route from the centre to the west of the city
Strikes affected companies including Electrolux and San Benedetto
Two thousand people joined a demonstration in Bologna's central Piazza Maggiore
Hundreds of protesters occupied the Piazza Santa Maria Novella in central Florence
Similar numbers were reported in the Piazza Castello in Turin and a sit-in was planned at Rome's ancient Circus Maximus
The move to make the Covid pass compulsory for workers is among the world's toughest anti-Covid measures.
A worker without a Green Pass risks being suspended without pay and may be fined up to €1,500 (£1,270; $1,740).
The pass, introduced in June, was already required for teachers and other school workers, for access to bars and restaurants and for leisure venues such as cinemas and football stadiums.
Italy's coalition government, led by Mario Draghi, is extending it in the hope of avoiding another lockdown.
Two-thirds of Italians consider it necessary, according to an Ipsos opinion poll this week.
However, opponents rioted in Rome on 9 October. The far-right Forza Nuova party led violent protesters who vandalised the CGIL trade union building in Rome, during clashes with police.
Overall more than 85% of Italians aged over 12 have had at least one jab, and officials said a further 1.2 million vaccinations had been carried out in the past week.
"It is time to stop the economy, which is perhaps the only way we can show this government that many people are struggling," port workers' spokesman Stefano Puzzer told Rai TV.
"We will carry on until the Green Pass goes."
Ministers have played down fears of chaos, citing the high rate of vaccination.
But disruption could hit the transport sector too, as many lorry drivers are foreigners who are either unvaccinated or have had jabs not recognised by the European Medicines Agency. Umberto Ruggero of Italy's logistics association said 30%-40% of staff might not show up. He spoke of a "perfect storm", with the sector already suffering from chronic understaffing.
Dock workers in Trieste had offered to call off their action if the government delayed making the Green Pass obligatory until the end of October, but that was rejected by Rome.
Business lobby group Confindustria strongly supports the Green Pass. Italy was the first European country to suffer a healthcare crisis in the pandemic, and has had more than 130,000 Covid deaths.
There are fears that Italy's pharmacies may not cope with the pressure of providing many more Covid tests under the new regime.
Unions failed to secure free tests for workers - something also demanded by Matteo Salvini's nationalist League, which is in the government.
The League's Luca Zaia, governor of the heavily industrialised Veneto region in the north-east, warned that "we will not be able to grant a swab every 48 hours to all the unvaccinated".
"The business people I am in contact with are extremely worried," he said.
You may also be interested in