Pedro Sánchez: Spanish PM vows to outlaw prostitution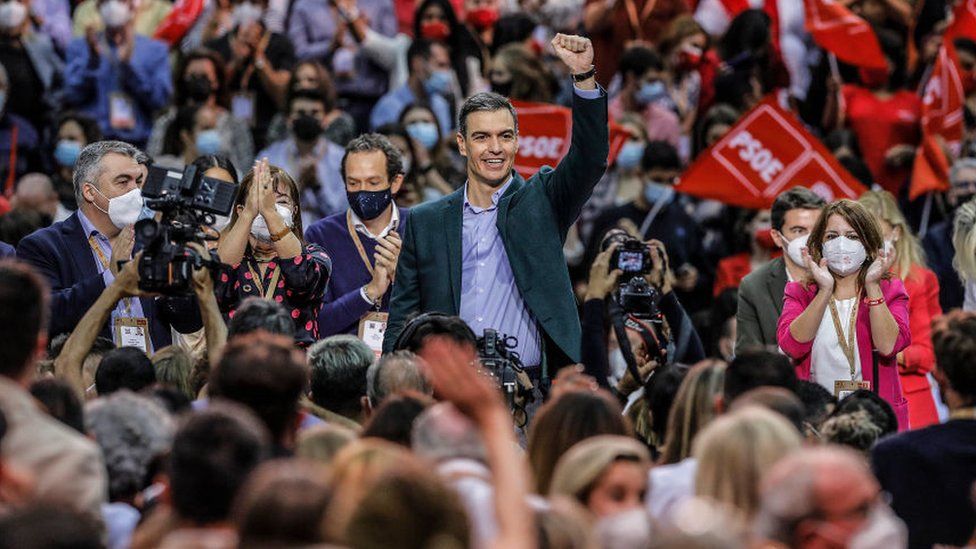 Spain's Prime Minister Pedro Sánchez pledged on Sunday to criminalise prostitution in the country.
Speaking to supporters at the end of his Socialist Party's three-day congress in Valencia, Mr Sánchez said that the practice "enslaves" women.
Prostitution was decriminalised in Spain in 1995 and in 2016 the UN estimated the country's sex industry was worth €3.7bn (£3.1bn, $4.2bn).
A 2009 survey found that up to one in three Spanish men had paid for sex.
However, another report published in 2009 suggested that the figure may be as high as 39% and a 2011 UN study cited Spain as the third biggest centre for prostitution in the world, behind Thailand and Puerto Rico.
Prostitution is currently unregulated in Spain, and there is no punishment for those who offer paid sexual services of their own will, as long as it does not take place in public spaces. However, pimping or acting as a proxy between a sex worker and a potential client is illegal.
The industry has boomed since its decriminalisation and it is commonly estimated that around 300,000 women work as prostitutes in Spain.
The Spanish police freed 896 women being exploited as sex workers in 2019 and estimate that over 80% of those working as prostitutes are victims of mafias.
"Prostitution is not an expression of women's sexual freedom," said APRAMP, an association which campaigns to prevent and eradicate sexual exploitation. "It is almost always linked to violence, marginalisation, economic difficulties and a sexist, patriarchal culture."
This Socialist Party (PSOE) proposal comes at a time when issues such as gender violence and sexual consent have been taking centre stage in Spanish public debate.
However, CATS, a charity which provides support to sex workers in southeastern Spain, warned that policies aimed at abolition are unlikely to work, instead sending the sex industry further underground.
"If you throw people engaged in prostitution out of the establishments and flats where they work, then they're going to end up on the street," said Nacho Pardo of CATS. "And that is sad, it's dangerous and it makes them vulnerable to mafias."
César Jara, a Spanish journalist who has researched the sex industry, told Efe news agency that "95% of prostitution in Spain is not free, it's forced in one way or another, whether because of socio-economic conditions, threats or other pressures".
Sex trafficking generates €7-8m daily in Spain, he says, describing the country as Europe's second-biggest prostitution market in Europe after Germany, and as "a paradise for international mafias".
"The worst thing is that some young people see it as normal to pay so that a woman gives them pleasure however they want."
In 2019, Mr Sánchez's PSOE published a pledge in its election manifesto to outlaw prostitution, in what was seen as a move to attract more female voters.
The manifesto called prostitution "one of the cruellest aspects of the feminisation of poverty and one of the worst forms of violence against women".
However two years on from the election, no legislation has yet been tabled. Spanish media report that the PSOE would need to agree on a draft with their left-wing Podemos coalition partners before presenting a bill to parliament, so there is still a long way to go.
PSOE equality secretary Carmen Calvo, quoted by Efe, said "we've passed other laws which were much more difficult, so we'll get this one done", though she warned of "ridiculous traps" frequently placed in the path of feminists.
Supporters of Spain's current system say that it has brought huge benefits to the women working in the trade and made life safer for them.
However in recent years significant concerns have grown around the potential for women to be trafficked into sex work.
You may also be interested in: