Europe's floods: Lessons from German tragedy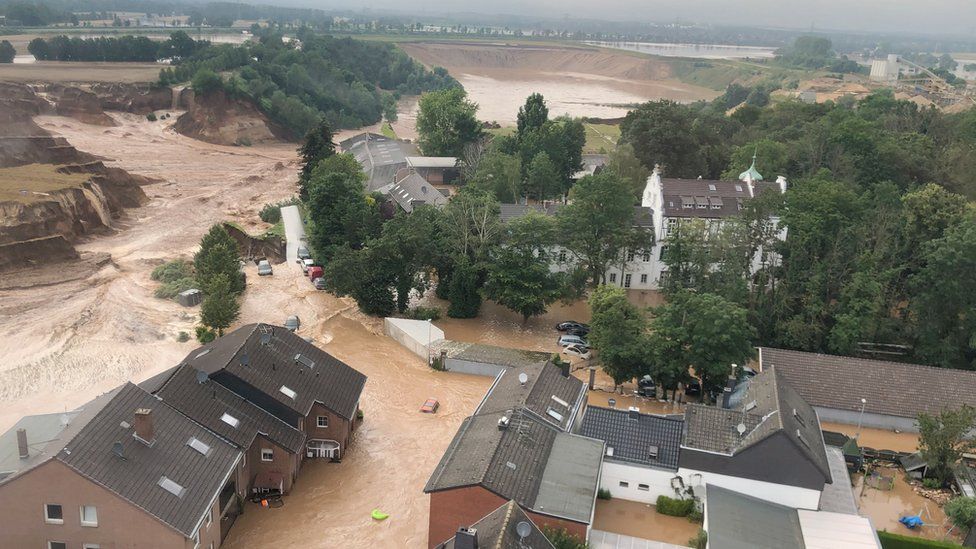 As world leaders gather in Glasgow for a climate change summit, survivors of this summer's deadly European floods tell the BBC's James Cook that urgent changes are needed if lives are to be saved in future weather disasters.
"We didn't sleep, we heard only cries," says Linda Kleber. She shudders as she recalls people calling for help on the night of the great flood.
Her family survived, along with a man her husband rescued from the water, but her 16th-Century restaurant in the little German town of Ahrweiler was ruined.
The flooding that struck communities across the Eifel mountain region of western Germany and eastern Belgium in mid-July left more than 200 people dead.
More than 130 lives were lost here in the Ahr valley, some 20 miles (32km) south of Bonn.
A further 38 people died when the Vesdre valley was flooded in Belgium, where the recriminations have continued into the autumn with debates about dam management and even an investigation into the possibility of involuntary manslaughter charges over authorities' alleged failures to react to alerts issued by the EU's flood warning system.
In the Netherlands the province of Limburg was declared a disaster area, although some reports suggest that Dutch experience in dealing with flooding paid off. When one dyke was breached, authorities said the water flowed harmlessly into an overflow area.
By contrast, in Luxembourg there were 6,500 reports of damage to homes and businesses and insurers said the disaster was the most expensive in their history, estimating the total losses at around €125m (£106m).
Most of all, it is the scale of death and destruction in Germany, the world's fourth biggest economy and a nation with a formidable reputation for technical innovation and engineering prowess, that has raised questions about the readiness of even the richest countries to deal with climate change.
The Ahr usually flows gently through this steep and narrow valley adorned with grape vines on its way to the Rhine but on the morning of 15 July it was still raging, having demolished hundreds of buildings, swept away dozens of bridges and torn up the railway.
Your device may not support this visualisation
For Lisa Thalheimer, who studies climate change at Princeton University's Center for Policy Research on Energy and the Environment, the failure to save more lives was shocking.
An effective early warning system delivering locally-tailored information and advice by mobile phone should be the very least citizens can expect argues Dr Thalheimer, whose great-grandfather was a shoemaker in Ahrweiler.
Such a system works well in the United States says the academic, who thinks Germany has been slow to develop one because of concerns about data privacy.
She would like to see warnings linked to an immediate release of emergency funds, ensuring people abandoning their homes and businesses have resources as well as information.
Lamia Messari-Becker, professor of civil engineering at the University of Siegen and an adviser to the German government on sustainable urban development, agrees, saying digital flood alarms for at-risk properties should be as common as smoke detectors.
Their absence, she says, "is a catastrophe for an industrialised nation like Germany".
For many Germans the complexity of their nation's system of local, state and national governments is to blame for the failures; others castigate individual local leaders, none of whom was willing to be interviewed for this article; and some criticise forecasters.
The German National Meteorological Service insists it did predict the extreme rainfall, but at its headquarters in Frankfurt head of research Professor Sarah Jones tells the BBC that translating the forecast into specific local flood warnings was "complex" and involved many agencies.
"What is a good forecast today in terms of the meteorological variables still leaves a very high uncertainty about what's going to be happening locally on the ground," she admits, adding: "It's clear that we need to improve our systems.
"We need to be able to make more accurate forecasts."
Scientists say that task is urgent. One study, not yet peer reviewed, suggests climate change may have been a factor in this flood.
More generally, because greenhouse gases are warming the air, and because warmer air can hold more moisture, scientists say there is little doubt that such events will become more frequent and more dangerous globally.
"It is very likely that heavy precipitation events will intensify and become more frequent in most regions with additional global warming," it adds.
To be ready, "Europe, not just Germany, is facing a gigantic task of upgrading its infrastructure," says Prof Messari-Becker.
Settlements in some flood plains may need to be abandoned, she warns, to allow floodwater more space to spread without causing harm.
In front of Franziska Heil's home on the river though, rebuilding is already underway, with lorries shuttling materials across a temporary metal bridge over the Ahr.
With the economy reeling there is a tension between building back safely and building back quickly.
Autumn would usually see the region packed with tourists sampling the local pinot noir vintages at harvest festivals.
Instead Michael Kriechel, whose family has been making wine here for hundreds of years, is counting his losses: some 30,000 bottles of wine plus another 40,000 litres (8,800 gallons) in damaged barrels.
"The entire infrastructure is broken," he says, in German.
Mr Kriechel points out that the Ahr valley was suffering from severe flooding long before anyone had heard of climate change, including a deluge in 1910 that claimed the lives of an estimated 200 people.
Ironically, as one of Germany's northernmost red wine producers, hotter summers may actually improve his yields, he reckons: an assessment apparently supported by the IPCC, which says "projected future changes could benefit wine quality" in Western and Central Europe.
That is little comfort just now though.
Daniel Koller, who is running a scheme called flutwein (flood wine) to raise funds for victims by selling muddy bottles of wine which survived the flood, estimates that up to 15% of the valley's vines have been destroyed, with the industry's total losses running to perhaps €450m (£385m).
"Catastrophes like this will come more often in the future," warns Mr Koller, who thinks rebuilding should adopt new technologies.
Prof Messari-Becker says that could mean deeper foundations along with ground floors of buildings designed for water to flow through safely in the event of a flood, plus higher and stronger bridges.
Climate change is clearly challenging humanity's resilience and resourcefulness but Linda Kleber, now running a new restaurant on higher ground, is hopeful.
"Wir schaffen das," she says in German, before switching to English to explain.
"That's what we always say. Wir schaffen das. We will make it."