Joshua Kimmich: German footballer's vaccine hesitancy dismays experts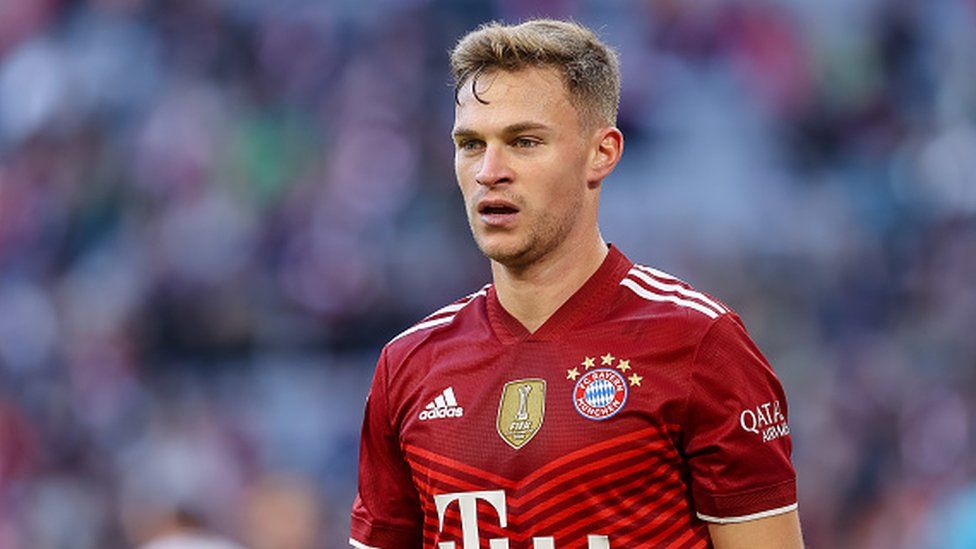 He's one of Germany's superstar football players, a role model who's supported charities that help people struggling during the coronavirus pandemic.
But in recent days, Joshua Kimmich's comments about the safety of Covid-19 vaccinations have threatened to take the shine off his image.
Over the weekend, the Bayern Munich midfielder, 26, confirmed reports he had not yet had a vaccine over concerns about long-term studies.
"I am of course aware of my responsibility," Kimmich told broadcaster Sky Sport after a match on Saturday.
"I follow all hygiene measures and get tested every two to three days. Everyone should make the decision for themselves."
Still, Kimmich insisted he was not a "Covid denier or an anti-vaxxer".
"There is a very good chance that I will still get vaccinated," he said. "It's simply that I still have some concerns."
Those concerns have been addressed by prominent German health experts and scientists who have criticised Kimmich for not setting a good example and misunderstanding how vaccines work.
They say decades of research shows that long-term health problems are highly unlikely after receiving a vaccination of any kind. Given this, one leading medical ethicist suggested Kimmich had been the victim of Covid disinformation online.
With coronavirus infections on the rise and jab uptake slowing down, there are fears that Kimmich's comments could encourage vaccine hesitancy in Germany.
'That's not how it works'
Because Covid vaccines are relatively new, scientists have not had time to study them over a long period - but that doesn't mean they're not safe.
Covid jabs have been given to millions of people, as well as being tested robustly in clinical trials.
That's why experts stress the benefits of vaccination against Covid outweigh the risks for the vast majority of people.
While Covid jabs will continue to be monitored for safety by regulators, the chance of them causing serious side effects in the short or long term is considered low.
Carsten Watzl, a professor of immunology at Technical University Dortmund, said the belief that vaccines could have long-term side effects was a common "misunderstanding".
"Say: I let myself get vaccinated and perhaps next year I will have some grave side-effects. That's not how it works," Mr Watzl told the public broadcaster ARD. "The side-effects of a vaccine always appear directly after the vaccination, within a few weeks."
"Millions of people have received Covid-19 vaccines, and no long-term side effects have been detected," the CDC says.
More on Covid-19 vaccines:
The head of Germany's expert panel on vaccine use, Thomas Mertens, said multiple studies have shown long-term side effects "do not exist, or are an extreme rarity".
"Joshua Kimmich is certainly a recognised expert on football issues, but not an expert on vaccination," Mr Mertens added.
Dr Alena Buyx, chairwoman of the German Ethics Council - a government advisory panel - suggested Kimmich had "been given false information and been badly advised".
There are still many people "who have questions or who have heard something wrong, as was perhaps the case with Joshua Kimmich", Dr Alena Buyx told Sky Sport. "You have to show these people sources they can trust."
Competing against vaccine hesitancy
While Kimmich's comments have become a major talking point in Germany, his vaccine reluctance is far from unique in the sporting world.
World number one tennis player Novak Djokovic is a prominent case in point.
Last year, Djokovic said he was "opposed to vaccination" before a controversial exhibition tour in Serbia and Croatia. The Serbian tennis star and three other players later tested positive for the virus.
He insisted his comments about vaccinations had been taken out of context in the media. "My issue here with vaccines is if someone is forcing me to put something in my body. That I don't want," he said.
Concerns have been raised about vaccine hesitancy and scepticism in other sports worldwide, from athletics to basketball.
In the English Premier League, the unease has been particularly acute. As of last week, only 68% of players were fully vaccinated against Covid, the league said.
That's way short of the figures in other countries such as Germany and Italy, whose top football leagues say over 90% of their players are fully vaccinated.
Vaccinations are not compulsory for Premier League players, nor those of Germany's top flight, the Bundesliga. But given the poster-boy status of Kimmich, who recently captained the German national team, his stance on vaccination has frustrated even his admirers.
Last year, Kimmich co-founded the We kick Corona initiative by donating money to support vaccination campaigns and charitable projects.
'He will make the right decision'
Kimmich's club has urged its players and staff to get jabbed, while senior leaders have spoken out about the issue.
Bayern CEO Oliver Kahn said the club could only recommend vaccinations to players and had done so through several campaigns. Even so, he said the club respects players who have a "different opinion".
The president of Bayern, Herbert Hainen, echoed those views.
"FC Bayern supports the vaccination campaign," he said. "At the end of the day there is no compulsory vaccination with us. It is the decision of each individual, and you have to accept that."
The club's former CEO, Karl-Heinz Rummenigge, said he knew Kimmich to be an "extremely responsible" person who would probably "make the right decision at some point".
Kimmich made his scepticism known at a time when rising coronavirus infections are raising the prospect of a return to tougher restrictions in Germany and elsewhere in Europe.
On Monday, Germany reported 6,573 new infections and 17 deaths over the previous 24-hour period.
Meanwhile, the vaccination rate per 100 people continues to fall after peaking in June. About 65% of Germany's population have been fully vaccinated.