Erdogan: Turkey investigates posts about president's health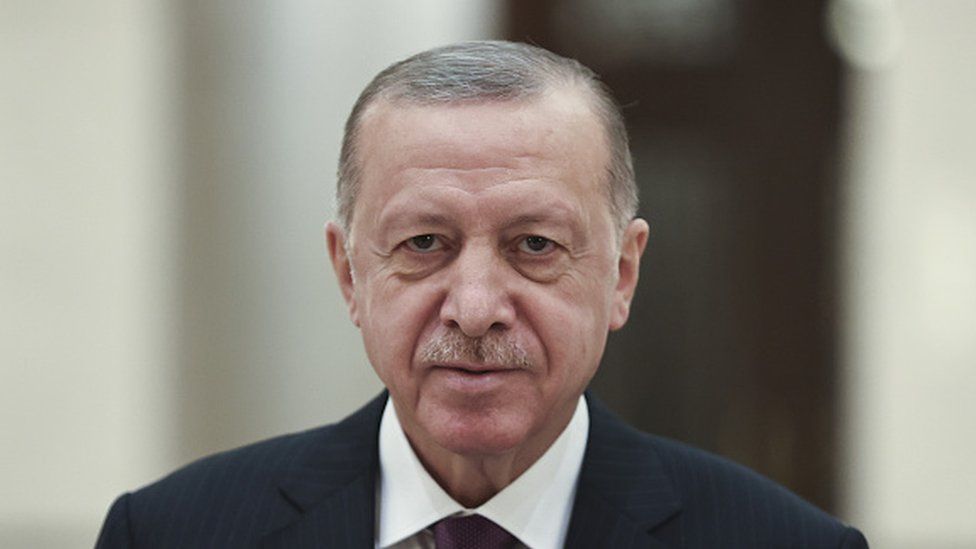 Turkish authorities have opened a legal inquiry against 30 people accused of tweeting disinformation about the health of President Recep Tayyip Erdogan.
They posted "manipulative content" on Twitter using the hashtag #olmus (dead in Turkish), police said.
The hashtag started trending amid mounting speculation about Mr Erdogan's health.
Allies sought to quell those rumours by sharing images of his engagements.
Rival politicians who oppose Mr Erdogan's government often question the president's health, and unsubstantiated rumours have been swirling for years.
Mr Erdogan, 67, had surgery on his lower intestine in 2011. Since then, the president has frequently gone on record to deny reports he had cancer.
As renewed speculation surfaced on social media this week, officials from the ruling Justice and Development Party (AKP) posted about the president's activities.
On Wednesday, Mr Erdogan attended several events in the capital Ankara to mark the 19th anniversary of his conservative party assuming power in the country.
Meanwhile Mr Erdogan's communications director, Fahrettin Altun, tweeted a brief video that showed the president walking along after getting out of his official car.
"Trust to friends, fear to enemies," Mr Altun wrote.
On Thursday, a lawyer for Mr Erdogan filed a criminal complaint asking prosecutors to take legal action against those responsible for spreading disinformation about his health.
Turkish media say speculation about Mr Erdogan's health was reignited by a video that showed the president walking gingerly last Friday.
When similar rumours of ill health emerged last month, Mr Erdogan's communications office shared a video of the president playing basketball.
Mr Erdogan's intestinal surgery in 2011 was reported by Turkish media, but otherwise official public statements on his health are rare.
The president has been seen dozing off at events before, but he keeps a busy schedule. He frequently appears in public and gives multiple speeches a day.
Mr Erdogan recently travelled to Africa for a three-day tour, as well as Rome for the G20 summit of world leaders.
Mr Erdogan was scheduled to attend the the COP26 UN climate conference in Glasgow on Monday, but cancelled the trip for what his office said were security reasons.
Mr Erdogan has dominated Turkish politics for decades, as president since 2014 and prime minister before that from 2003 to 2014. The next Turkish presidential election is due to be held in 2023.