Marie Antoinette's bracelets sell at auction for $8m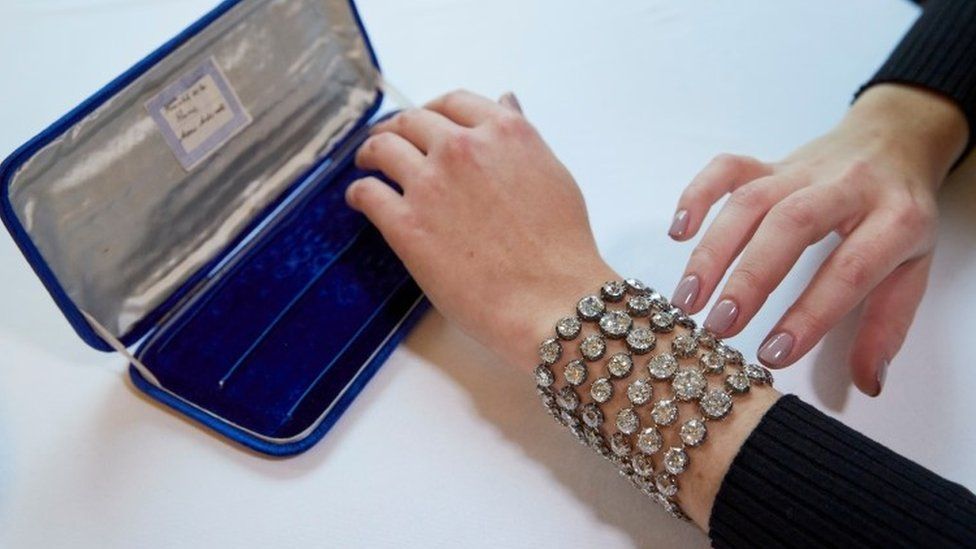 Two diamond bracelets once owned by the queen of France, Marie Antoinette, have sold at auction in Switzerland for more than $8m(£5.8m).
They were bought by an anonymous telephone bidder.
Marie Antoinette sent the jewellery away for safekeeping before she was guillotined during the French revolution.
Both bracelets were smuggled out of the country, and remained within her family for more than 200 years.
It was the first time that the bracelets, made up of 112 old cut diamonds, had ever gone under the hammer.
They sold for more than double than expected.
"These bracelets travelled through time to recount a most important era of French history, with its glamour, glory and drama," said Francois Curiel, Europe chairman for Christie's auction house.
Marie Antoinette was born in Austria in 1755 and sent to France to be the child bride of the future King Louis XVI.
She died on the guillotine in 1793, a few months after her husband, having become increasingly unpopular among the French people, who accused her of being wasteful and a dangerous influence on the king.
While in prison she sent a letter stating that a wooden chest with jewels would be sent for safekeeping.
Her surviving daughter Marie Therese, Madame Royale, received the jewels on her arrival in Austria, the auction house said.