Poland border: West condemns Belarus at UN over stranded migrants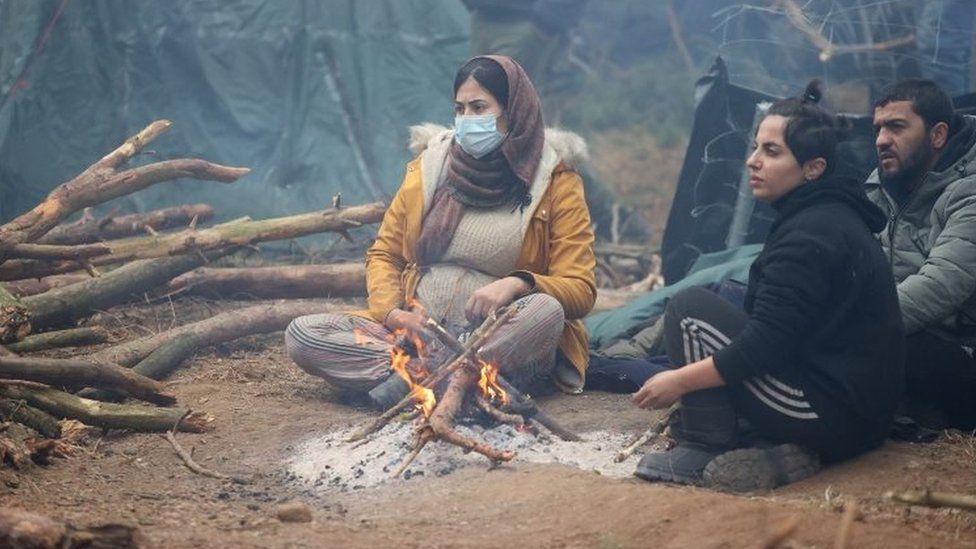 Western members of the UN Security Council have condemned Belarus for the escalating crisis over migrants stranded on its border with Poland.
In a strongly worded statement, they accused Belarus of using the migrants to destabilise the European Union's eastern border.
Russia, Belarus's main ally, rejected the accusations.
Earlier, Belarus's authoritarian leader threatened to cut off gas supplies to Europe if new sanctions were imposed.
Thousands of people, many of them Kurds arriving from the Middle East, are camping at the border with Poland, enduring freezing conditions in the hope of crossing into the EU. The migrants are mainly young men - but there are also women and children.
Crowds have tried to cut through a barbed wire fence to enter Poland this week - only to be pushed back by Polish border guards and the army. However, some migrants have managed to slip through.
Overnight temperatures have fallen to freezing and at least seven people have died in recent weeks, many from hypothermia.
At Thursday's emergency UN Security Council meeting, Western member states issued a joint statement, accusing Belarus of putting migrants' lives in danger "for political purposes".
They also said Belarus was trying to divert "attention away from its own increasing human rights violations".
The statement was issued by France, the UK and the US, all permanent Council members. They were joined by Albania, Estonia and the Republic of Ireland.
Russia, also a permanent Council member, rejected the accusations and blamed Poland and neighbouring Lithuania for mistreating migrants. The five permanent members of the UN Security Council all have the right to veto resolutions.
"There are a lot of cases when Polish and Lithuanian border guards beat migrants and pushed them back to Belarusian territory," said the Russian deputy ambassador to the UN, Dmitry Polyanskiy.
"I would say that this is total shame and a total violation of any possible international conventions and rules."
Earlier on Thursday, Belarus's leader Alexander Lukashenko said his country would have to respond if the EU imposed a fifth series of sanctions.
The EU says he started the border crisis by luring migrants in retaliation for sanctions imposed over his brutal crackdown of protesters and critics. Belarusians took to the streets last year after he claimed a widely discredited election victory.
"We are heating Europe, and they are threatening us," he said, referring to a Russian gas pipeline that runs through Belarus and into the EU.
"And what if we halt natural gas supplies? Therefore, I would recommend the leadership of Poland, Lithuanians and other empty-headed people to think before speaking."
His comments raised fresh fears amid worsening natural gas shortages and rising prices in Europe.
The EU's economy commissioner Paolo Gentiloni said the 27-member bloc "should not be intimidated". Exiled Belarusian opposition leader Svetlana Tikhanovskaya accused the president of "bluffing" over his gas ultimatum.
Belarus receives significant transit fees for the pipelines transporting Russian gas to the EU. Any decision would have to be approved by Russia, which is anxious for its new Nord Stream 2 pipeline to Germany to be certified.
But Katja Yafimava, from the Oxford Institute for Energy Studies, said Mr Lukashenko's threat should be taken seriously.
"If the EU pushes Belarus too hard, it may act on this threat," Dr Yafimava said, adding that this could push up gas prices across Europe, including in the UK.
Mr Lukashenko has repeatedly denied Belarus is sending migrants to its borders with Poland, Lithuania and Latvia in revenge for existing EU sanctions.
However, a new round of EU measures could be introduced as early as Monday. Possible measures include stopping international airlines carrying migrants from landing at the airport in the Belarusian capital Minsk.
Turkey's national carrier Turkish Airlines has said it will be restricting the sale of tickets on some routes for citizens of Iraq, Syria and Yemen.
Iraq has said it is organising repatriation flights for Iraqi nationals from Belarus.
The EU is also reportedly considering sanctions against the Russian state airline Aeroflot for transporting migrants to Belarus, an allegation Aeroflot denies.
Meanwhile, at the Polish border, stranded migrants have continued to try breaching the razor-wire fence.
Poland has been accused of pushing people back across the border into Belarus, contrary to international rules of asylum.
"There's no way to escape," 33-year-old Shwan Kurd told the BBC, who described arriving in Belarus at the start of November.
"Poland won't let us in. We are so hungry. There's no water or food here. There are little children, old men and women," he said.