Germany Covid: Health minister's stark warning to get jabbed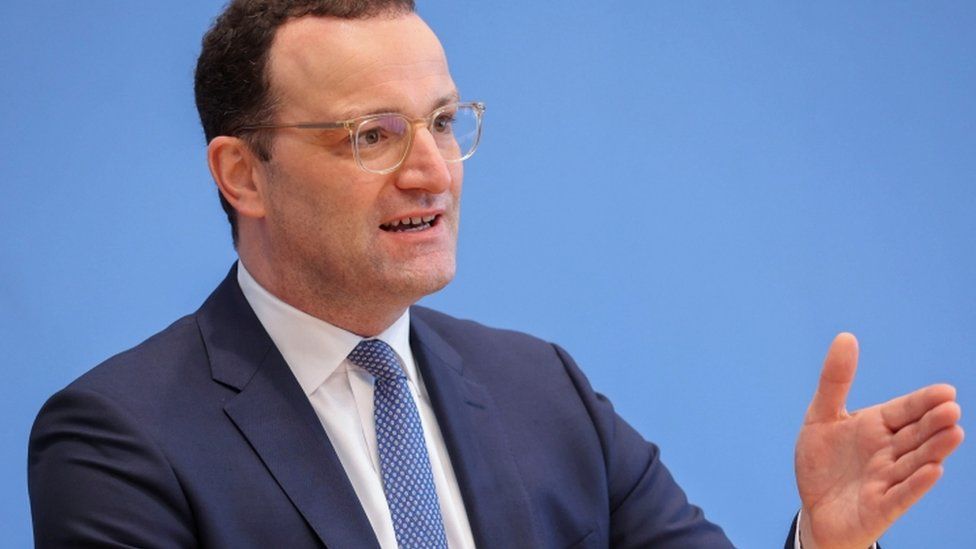 Germany's health minister has issued his starkest warning yet on the importance of getting vaccinated.
"By the end of this winter everyone in Germany will either be vaccinated, recovered or dead," Jens Spahn told a news conference in Berlin on Monday.
Germany is in the grip of a fourth wave of coronavirus. Cases are rising rapidly and many hospitals are full.
It has one of the lowest vaccination rates in Western Europe, with 68% of people fully vaccinated.
In the past 24 hours, there have been 30,643 new infections - 7,000 more than a week ago. This is among the highest rates in the world.
Mr Spahn said he was against making Covid vaccines compulsory, but that it was a "moral obligation" to get the jab because it impacts on other people.
"Freedom means taking responsibility, and there is a duty to society to get vaccinated," he said.
The minister said the highly contagious Delta variant is driving the latest wave and that "anyone who is not vaccinated will, over the next few months, become infected and lack protection".
In the news conference on Monday, Mr Spahn also promoted the US-made Moderna shot, calling it the Rolls Royce of vaccines, as high demand for the German-produced Pfizer/BioNTech jabs risked depleting stocks.
He warned that some 16 million Moderna doses could expire in the next few months if they are not used.
The country expects the European Union to approve vaccines for children aged five to 11 by the end of the week.
Since the start of the pandemic, more than 99,000 people in Germany have died, and more than 5.4 million have been infected with Covid-19.