Calais activists: Migrants call us from boats asking for help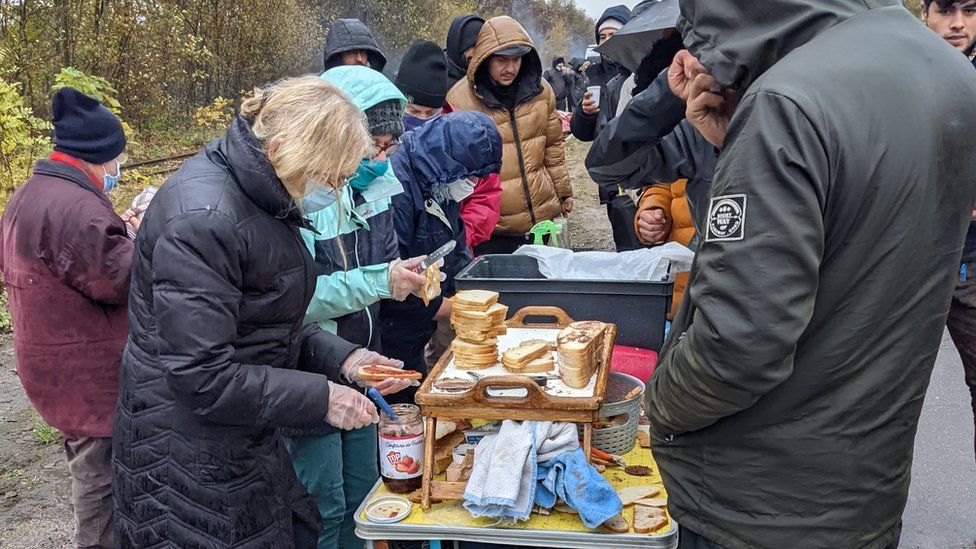 Just outside Grande-Synthe to the west of Dunkirk lies the encampment. Scores of tents straddle a railway track and curve around by a canal, wedged in between a main road and an industrial estate.
People have come from all over the world to be here - searching for a way to cross the Channel and start a new life in the UK.
There is a whole community of people whose lives are bound up with these migrants on their doorstep.
Eve-Marie Dubiez, a local to the area, is one of half a dozen volunteers doling out sandwiches and hot chocolate on Friday morning. Her group provides breakfast here twice a week, armed also with rain ponchos, socks, and sometimes shoes, when they can get them.
She is confident there will be a solution to the migrant crisis in northern France. "But these are the ones paying the price for the moment," she says, gesturing to the people collecting food from her colleagues.
Eve-Marie has spent the last 15 years working in camps like these. She says police regularly move people on, demolishing camps or pushing people further along the coast. "Everybody wants to get rid of them one way or the other," she says.
"Smugglers don't help," she adds. "They're not the reason for this mess, but they take advantage."
For decades, the Nord-Pas-de-Calais region in north-east France has played host to thousands.
Some in Calais see the migrants as at best a nuisance, and at worst a menace. In 2016 anti-Islamic demonstrators clashed with police in a protest against them; today, you can find posters for Marine Le Pen's far-right National Rally party in the city, calling for "Zero immigration".
Ms Le Pen is one of several MPs from her party elected in this region. Immigration is already shaping up to be a key issue in France's 2022 presidential election, with many demanding tighter controls.
But away from the politics, the human faces of this crisis are found all across this city and the surrounding area.
"For me, it's about the language," he says when asked why he wants to come to the UK. "I face a lot of difficulty integrating with people here."
That attitude shows the need for change, Marguerite Combes says. The 22-year-old is the Calais coordinator for Utopia 56, a French association set up in 2016 to give legal and practical support to migrants.
Her group regularly receives calls from people as they cross the Channel, looking for help from any number they have as their flimsy boats sink. The organisation also arranges burial plots and funerals for those who die en route, as well as repatriation of bodies for bereaved families.
Marguerite remembers one group of five three weeks ago who attempted the crossing in a kayak. Only two made it back to France alive, with a third lying dead at the bottom of their small vessel.
"They spent something like 27 hours on the boat," she says. The body of a fourth member was later found on a beach near Wissant, west of Calais.
"We buried him Wednesday morning. It was a really big story, also for the people who stayed alive because they saw three of their friends dying." Just hours later, news came through of the 27 who died.
She tells me if she could say one thing to the government in the UK, it's that all tightening borders does is encourage people to "take more risk".
"The only ones who won't arrive in the UK are the ones who die in the Channel," she says.
Marguerite also criticises the French authorities. While she dismisses suggestions France isn't doing enough to try to stop the crossings - calling it a "huge effort" from police - she argues the authorities should build shelters, give out food, and allow people the chance of a life. "Welcome people with dignity to the EU," she says. "Not only an administrative welcome, not just giving them papers, but giving them language lessons, give them a place [and a chance] to go to school, to work, to have a driving licence."
Father Philippe Demeestère agrees on the need for practical change. On Saturday night migrants and locals have gathered at his dinner table in his home in the north of the city. The evening before, volunteers from the Refugee Community Kitchen gave out generous portions of pasta to groups of young men gathered just outside, chatting and laughing in the November cold.
In recent months Father Philippe became known across France after starting a hunger strike to protest against the destruction of migrant camps as winter draws in. He managed 25 days, while his two fellow demonstrators, Anaïs Vogel and Ludovic Holbein, stayed without food for 38 days each.
"I was never hungry - I was very fine with it. It was something very ordinary," the 72-year-old says as he chews peanuts before the meal begins.
Over the phone Anaïs is angry about how authorities responded to their strike - opening up a shelter for 300 people in the city. "At the time there were 1,500 people [living] outside. So, okay, it's 300 people less in the street for one night but it's nothing. And when we stopped the hunger strike they closed this place," she says.
But the response from locals was overwhelming, she says. They came to the church daily to discuss the situation with the hunger strikers. "They feel really sad. They have this feeling that they don't know what to do," she says.
She and her partner Ludovic only moved to Calais this year but have now set up their own aid group to help those who come here. "We didn't know the situation about Calais. We said, let's stay for a few days. And now it's nine months later," she says.
Ludovic shares her frustration with the government. "They apply the same solution for 30 years now, and the solution doesn't change anything," he says.
The 38-year-old believes that many of the people now trying to reach the UK didn't plan to when they first arrived in Europe but after years of sleeping rough decide the UK is the only option.
"Europe doesn't accept them, doesn't offer them a real life with the possibility to have a good job and to rent a flat," he says. For him, this is not an abstract debate - there need to be practical measures to stop people making the dangerous sea crossing, which are continuing even during the riskier winter months.
"It's not about, what do you think about the migrant situation?" he says. "People are here now. We cannot let people die."
You may also be interested in: