Russia Ukraine: Putin compares Donbas war zone to genocide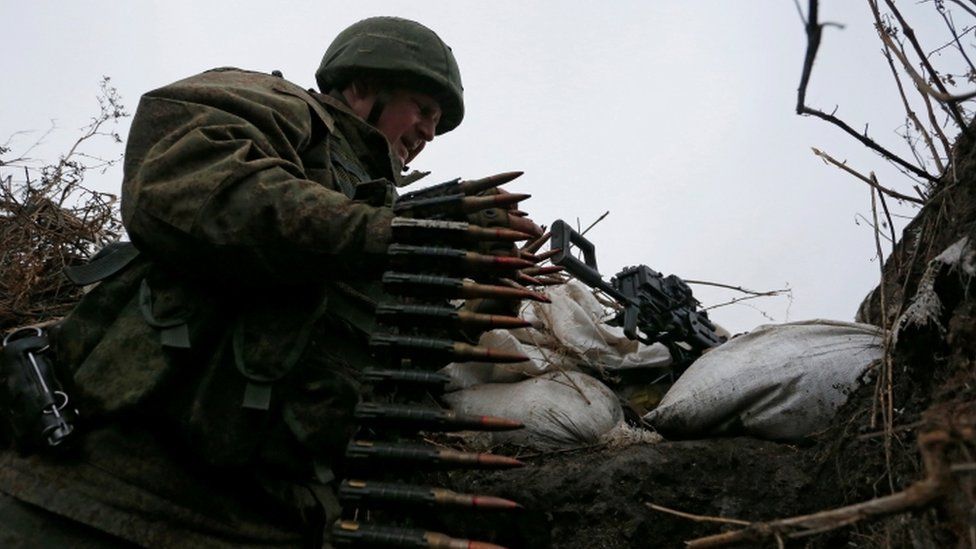 Russian President Vladimir Putin has been hardening his rhetoric over the situation in Ukraine, saying the war in the country's east looks like genocide.
Russian-backed rebels have been fighting Ukrainian troops there since 2014, and tensions have been growing as Russia amasses troops on the border.
Meanwhile, US President Joe Biden discussed recent talks with Mr Putin in a call to his Ukrainian counterpart.
There are fears that Russia is planning to invade Ukraine, which Russia denies.
Tuesday's Biden-Putin video call was seen as an attempt to ease tensions.
Washington and its allies have warned the Kremlin of tough sanctions if it again attacks its neighbour.
Russia has accused Ukraine of provocation, and sought guarantees against eastward Nato expansion and deployment of weapons close to Russia.
Ukrainian authorities have said Moscow could be planning a military offensive at the end of January, although US officials say it is not yet clear whether President Putin has made a decision.
The Russian president's remarks on Thursday were aimed at addressing the issue of discrimination against Russian speakers beyond Russia's borders, many of whom live in the Donbas region of eastern Ukraine.
He said that Russophobia was the first step towards genocide.
"We see and know what is happening in Donbas," he said, referring to the conflict zone. "It certainly looks like genocide."
White House press secretary Jen Psaki rejected the remarks, saying Russia was known for escalating its rhetoric and misinformation, "so I think we have to take their own efforts to communicate to their public with a grain of salt".
Mr Biden briefed Ukrainian President Volodymyr Zelensky in a one-and-a-half-hour phone call on his conversation with Mr Putin two days ago.
The two leaders discussed "the security situation around Ukraine and the prospects of activating the peace settlement", a Ukrainian presidential statement said.
Mr Biden also spoke to leaders of Nato members close to Russia's borders.
More than 90,000 Russian troops are believed to be massed near Ukraine's borders. The movement has strained already tense relations between Russia and the US.
A large part of the recent Russian military build-up is in Crimea, a Black Sea peninsula which Russia seized from Ukraine and then annexed in 2014.
Troops are also gathering near Donbas.
More than 14,000 people have lost their lives in seven years of conflict since Russian-backed forces seized large areas of Ukraine's east.