Lina Wertmüller: Groundbreaking Italian film director dies aged 93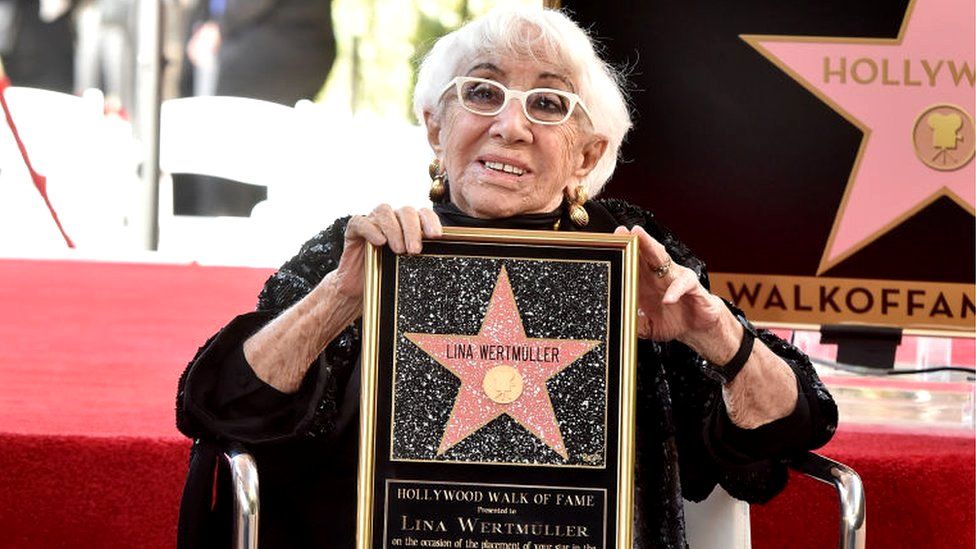 Italian film director Lina Wertmüller, the first woman ever to be nominated for an Oscar for best director, has died at the age of 93.
Wertmüller passed away at her home in Rome on Thursday morning, alongside family and friends.
She is credited with revolutionising Italian cinema in the 1970s and is best-known for her films Seven Beauties and the award-winning Swept Away.
Wertmüller received an honorary Oscar for lifetime achievement in 2019.
In the same year, she was also honoured with a star on the Hollywood Walk of Fame.
On Thursday, Italy's Culture Minister Dario Franceschini said in a statement that the country was mourning the death of a woman whose "unmistakable style left an everlasting mark on our - and the world's - cinema".
Born in Rome in 1928, Wertmüller had a childhood interest in comic books. Determined to join the entertainment business, she later began touring with a small theatre group as a puppeteer.
Her filmmaking career began in the 1960s and she was hired and mentored by the legendary film director Federico Fellini.
Wertmüller - later known for her trademark white-framed spectacles - won her first award in 1963 with her directorial debut, The Basilisks. The film had a musical score created by the renowned Italian composer Ennio Morricone.
Her 1974 comedy-drama Swept Away, which tells the story of a wealthy woman whose yachting holiday is flipped upside down as she becomes stranded on a deserted island with a member of the boat's crew, won a US foreign film award. It was remade in 2002 by Guy Ritchie and Madonna.
In 1977, Wertmüller made history when she received an Oscar nomination for the film Seven Beauties. Written by Wertmüller, it tells the story of an Italian man who deserts the army during World War Two and is captured by the Germans and sent to a prison camp.
Wertmüller was born Arcangela Felice Assunta Wertmüller von Elgg Spanol von Braueich.