Inger Stoejberg: Jail for Danish ex-minister for asylum separations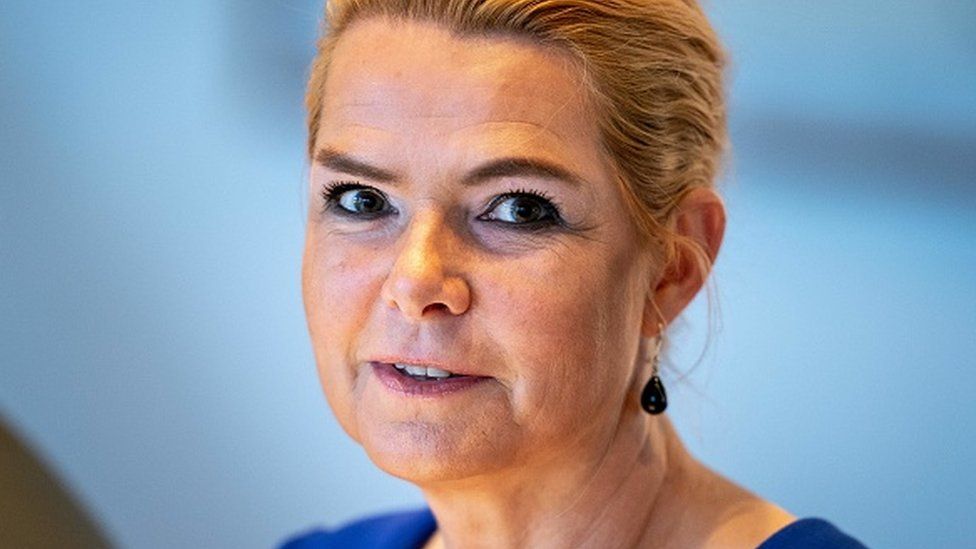 A former Danish immigration minister has been found guilty of illegally separating young asylum-seeking couples in a landmark impeachment trial.
Judges ruled Inger Stoejberg's decision in 2016 to separate couples was unlawful and jailed her for 60 days.
Ms Stoejberg said she was very surprised by the verdict as the policy was designed to combat child marriage.
The case was Denmark's first impeachment trial in three decades and only the sixth in its history.
"It's not just me who has lost but Danish values have lost too," she told reporters outside the court, adding that she would accept her punishment but had no regrets.
Between 2015 to 2019, Ms Stoejberg served as Denmark's immigration minister in a centre-right government propped up by the right-wing populist Danish People's Party.
During her tenure she took a hard line on immigration and introduced dozens of restrictions. Among them was an order in February 2016 that married refugees under 18 years old should not be accommodated with their spouse.
Ms Stoejberg ordered the separation of 23 married couples before the policy was dropped a few months later.
Among them were a young Syrian couple, Rimaz Alkayal, then 17 and her spouse Alnour Alwan, 26, who were reunited following a complaint. They had been forced to live apart for four months, even though she was pregnant.
The Supreme Court's verdict on Monday leaves Ms Stoejberg's political career hanging by a thread.
When the guilty verdict was read out by court chairman Thomas Roerdam, the former minister gasped in shock, according to Danish reports.
Outside the court, prosecutors said they were satisfied with the "historic" verdict, while Ms Stoejberg's lawyers said it was harsh.
The verdict cannot be appealed and the jail sentence is unconditional, meaning that it must be served.
Ms Stoejberg resigned as deputy leader of the conservative-liberal Venstre party last February after its MPs voted to impeach her.
She is currently an independent MP, but could lose her seat in a vote to remove her from parliament.
Ms Stoejberg is a divisive figure in Denmark, but some commentators believe Monday's verdict may galvanise her supporters on the right wing of politics.
The case started in 2016, when a Syrian couple complained about being placed in separate asylum centres to Denmark's ombudsman.
Investigations by both the ombudsman and a special commission concluded that their separation and others ordered by Ms Stoejberg were illegal.
Under Danish and human rights law, each case must be assessed individually. This requirement had been ignored and therefore breached human rights, the investigations found.
Two independent lawyers then determined there were grounds for impeachment, and in February this year a large majority of MPs voted in favour, including Ms Stoejberg's own party.
The 26 judges of Denmark's Supreme Court convened to decide whether Ms Stoejberg had violated the European Convention on Human Rights and a ministerial accountability law.
On Monday, 25 of those judges voted to convict her of the charges.
Monday's verdict has divided opinion and sent shockwaves through Denmark's political establishment.
The parliamentary leader of the nationalist Danish People's Party, Peter Skaarup, said he found the verdict incomprehensible and backed Ms Stoejberg's separation policy.
But Rosa Lund, an MP for the left-wing Unity List party, welcomed the judgement and said there had to be consequences for minsters who did not comply with the law.
Most of Denmark's six impeachments have ended in acquittal. However, in 1995 ex-Justice Minister Erik Ninn-Hansen was handed a four-month suspended sentence for blocking refugees from Sri Lanka bringing their families to Denmark.
Impeachments trials in Denmark can result in fines and prison sentences if a guilty verdict is rendered, unlike those in the US, which are political.