Love story sends TV fans in search of idyllic Alps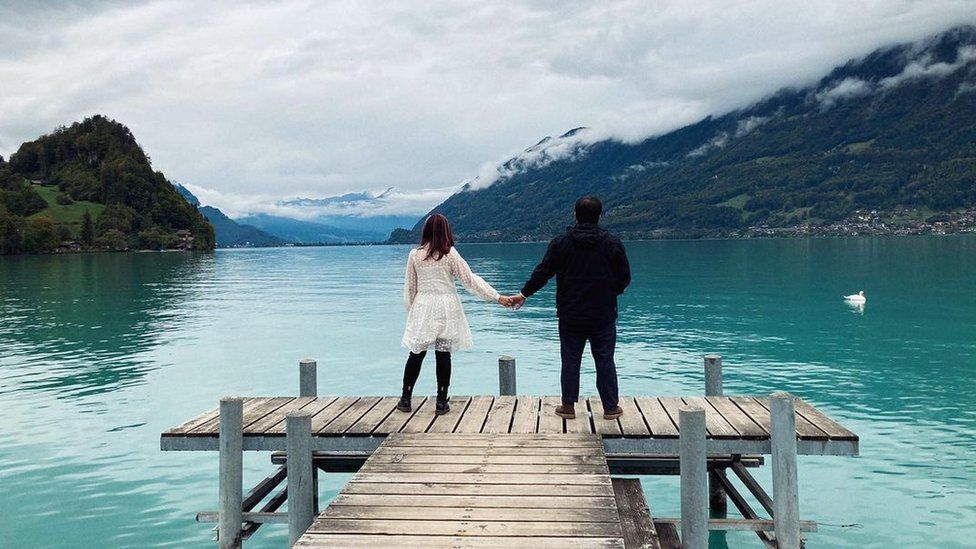 In the small village of Iseltwald, people gather at a pier, not to catch a boat but to take a picture of where their favourite Korean drama was filmed.
Crash Landing On You is a love story in which a high-flying South Korean heiress accidentally paraglides into North Korea, lands on a soldier and falls in love with him.
Large sections of the TV show were filmed in Switzerland and now fans are travelling to various locations to reminisce.
At the landing pier, people queue to take photos, film videos and some even bring drones to make sure they've got the perfect shot.
"Crash Landing on You is a beautiful story of two people coming from very opposing worlds and falling in love despite their differences. I found this story very heart-warming and inspiring," said Yanina Seifermann, a German who loved watching the show and decided to visit because the locations were so beautiful.
"It was so amazing. I instantly felt transported back to the scenes of the K-drama and felt more connected to the characters," she told the BBC.
The BBC is not responsible for the content of external sites.
Just five minutes away from the pier in Iseltwald is Hotel Chalet du Lac, where one staff member owes his job to the show.
Carlo Fittipaldi, who lives a short drive away in Interlaken, was looking for work when his wife suggested he look in Iseltwald after seeing it on Crash Landing On You.
Chalet du Lac took him on and now he sees tourists entering the hotel to ask questions about the location.
"Thank God, thanks to my wife and thanks to the Korean TV series," he told the BBC. "I didn't even know the existence of Iseltwald in the past!
"During the summer I'd often see dozens of people at once, waiting at a distance to take pictures on the dock. I see them in the morning every time I go to work," he said.
But there is a risk of Iseltwald becoming a victim of its own success. One poster on Instagram complained of having wait up to half an hour for another tourist to finish taking pictures.
"After finishing, she stood to check photos on her mobile phone like a crocodile blocking a canal," the user wrote.
Iseltwald isn't the only spot in the Interlaken area that fans of the show are heading to. Scan through Instagram and you'll see scores of people recreating scenes from the show in places such as Sigriswil and Grindelwald.
Nana Chiang, who lives in London, visited First mountain near Grindelwald as well as Iseltwald.
"Me and my boyfriend really love the drama so we took photos in the exact same place," she told the BBC, explaining how she had also made videos using music from the drama. "It's very exciting to see the scenes in real life!
"I was not a huge fan of K-dramas but Crash Landing On You really got me into it. It fixed my boredom from the Covid lockdown." It also helped her reconnect with friends in Taiwan, who were also watching it, she said.
The show was released just before a number of countries went into lockdown and became a big global success.
It became South Korea's third-highest rated drama in cable television history, with a nationwide average viewership of 21%. In China, the streaming service screening the show crashed on the night of the final episode due to the sheer number of users.
Beyond Asia it also did well, stunning the Interlaken tourist board, which has described the show's reach as "phenomenal".
"We had some hope but, no, we never counted on such a huge reach and popularity that Crash Landing On You brought with it," Renato Julier of Interlaken tourism told the BBC.
Bus companies in neighbouring Italy have already organised tours to the most popular locations in the show, such as Iseltwald, Sigriswil and Lake Brienz, he said.
"We are sure people will be impressed by the unbelievably good images of the series."
It's not the first time people have been drawn to idyllic destinations in Europe based on their favourite film or television show.
For decades, tourists have headed to Austria to see the sites around Salzburg popularised by The Sound of Music.
As with the 1965 classic musical, there are hopes that the beautiful scenery used in the Korean drama will attract more visitors, especially once people are able to fully travel as pandemic restrictions ease.
"It is and will continue to be a good point to show our future guests the beauty of the Interlaken holiday region," Mr Julier said.