Hungary's Viktor Orban to defy EU over immigration law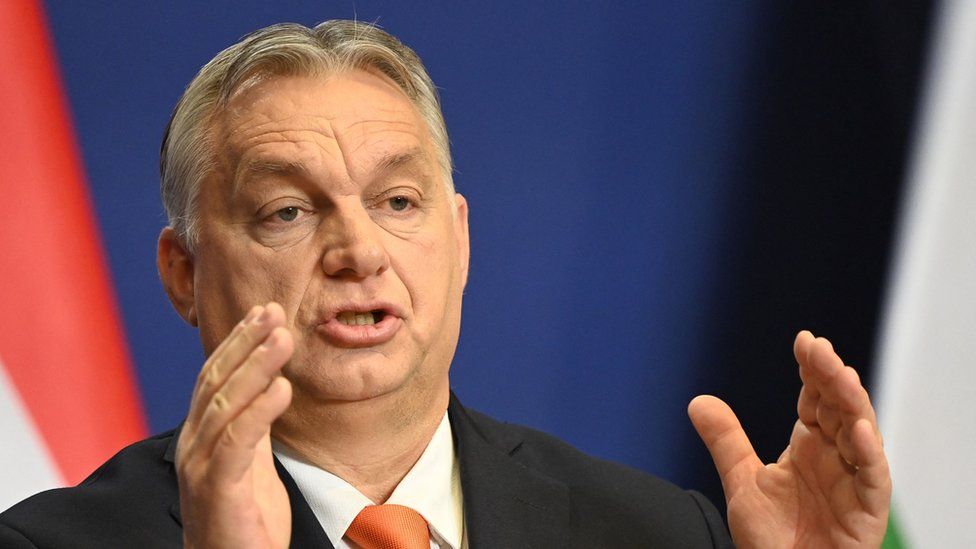 Hungary's Prime Minister Viktor Orban says his government will defy a European Union ruling and stick by its controversial immigration laws.
Last month the EU's top court ruled that Hungary's law criminalising lawyers and activists who help asylum seekers was in breach of European law.
A long-running row over Hungary's migrant rules means it could miss out on billions of euros in EU cash.
But Mr Orban said Hungary had no plans to change the controversial laws.
It also prevents people from applying for asylum if they arrived from a country where their life was not at risk.
In November the EU's Court of Justice said that by passing the law, Mr Orban's nationalist government had "failed to fulfil its obligations" under EU law.
But at his end-of-year news conference on Tuesday, Mr Orban said the EU's rules were "obsolete" in the face of "massive migration" since 2015.
"The reality is that we have to stop the migrants at the borders," he said. "This can be solved by one thing: changing the European asylum rules, but this process has not even started yet."
The right-wing prime minister also accused the EU of "the most brutal sabotage" by withholding pandemic funds.
Top EU officials have said Hungary, along with Poland, is unlikely to see a first instalment of pandemic cash this year unless it commits to reforms to bolster democratic values and a free judiciary.
But Mr Orban said the EU was withholding the funds to try to unseat him.
"The whole process, from the point of view of the unity and the future of Europe, is the most brutal sabotage. This is what shatters the EU," Mr Orban said.