Brigitte Macron to sue over false claims she was born male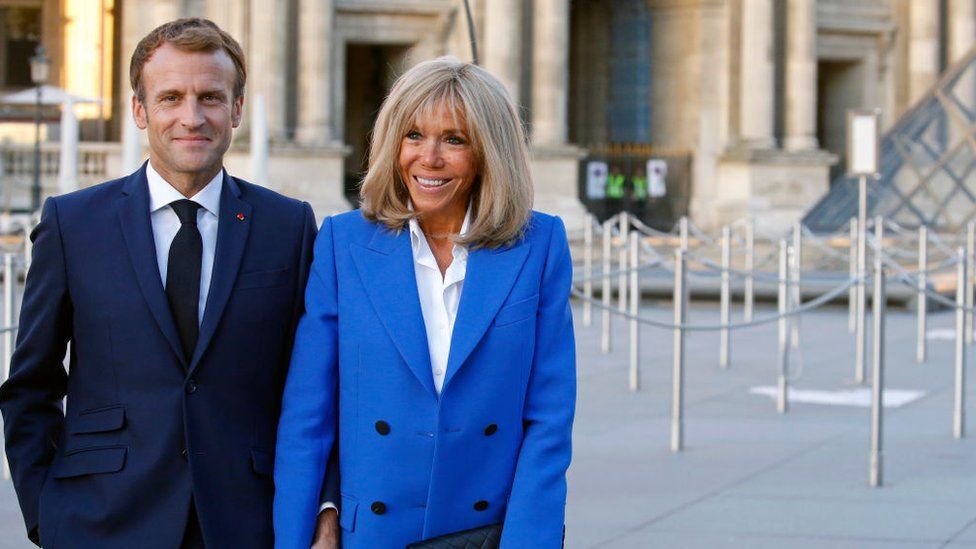 Brigitte Macron is set to take legal action over an internet conspiracy theory that she is a transgender woman and was born male.
The French first lady has been targeted on social media with the false claims, after they were published on a far-right website in September then circulated by conspiracy theorists.
The rumours claim she was born male under the name Jean-Michel Trogneux.
The name has trended on social media with tens of thousands of mentions.
A lawyer for Mrs Macron - who is the mother of three adult children from her first marriage - confirmed she is taking action.
"She has decided to initiate proceedings, it is in progress," lawyer Jean Ennochi confirmed to the AFP news agency.
The lies about the 68-year-old have been spread by accounts opposed to her husband, President Emmanuel Macron, including those on the political far-right, anti-vaccine groups and from the QAnon conspiracy movement.
French media have traced the story to an article written on a far-right journal by a woman named Natacha Rey. It then found a wider audience after being discussed in a much-viewed YouTube broadcast with views shared online by an assortment of anti-vaxxers, Covid-sceptics and far-right activists, according to Libération newspaper.
A legal response to a ludicrous claim
What many people are asking is why Brigitte Macron is going to law at all to suppress so ludicrous a fabrication. Did Elvis's relatives file suit when told he was alive and well, having been spotted eating ham and grits in a Memphis roadhouse?
Filing suit before the courts can give the impression to the conspiracy-minded that there is indeed something to suppress. Otherwise, why would they be taking it so seriously?
But in truth there is no evidence that anyone - beyond a handful of idiots - regards the Brigitte transgender story as plausible.
Journalists and internauts alike can overstate the importance of internet traffic. So the story got a lot of hits? That doesn't mean anyone actually believed it.
And as Le Monde pointed out, France's conspiracy theorists have other fish to fry. They are currently obsessing about the approaching election, and how it might or might not be fixed by the "establishment".
For bona fide QAnon believers, the Brigitte story is at best a distraction, at worst a plant so unbelievable that its real purpose can only be to discredit them. Aha! Another conspiracy theory!
This is not the first time Mrs Macron has been targeted since her husband was elected in 2017, as trolls have previously taken aim at the couple's near 25-year age gap.
The conspiracy theory comes as France faces a presidential election in spring 2022.
Mr Macron has not yet officially confirmed he will run for a second term but is widely expected to.
He faces competition from Valérie Pécresse, candidate for the traditional right-wing Republicans party, and Eric Zemmour, a French TV personality and author, who hopes to represent the far-right.