EU plans to label gas and nuclear energy 'green' prompt row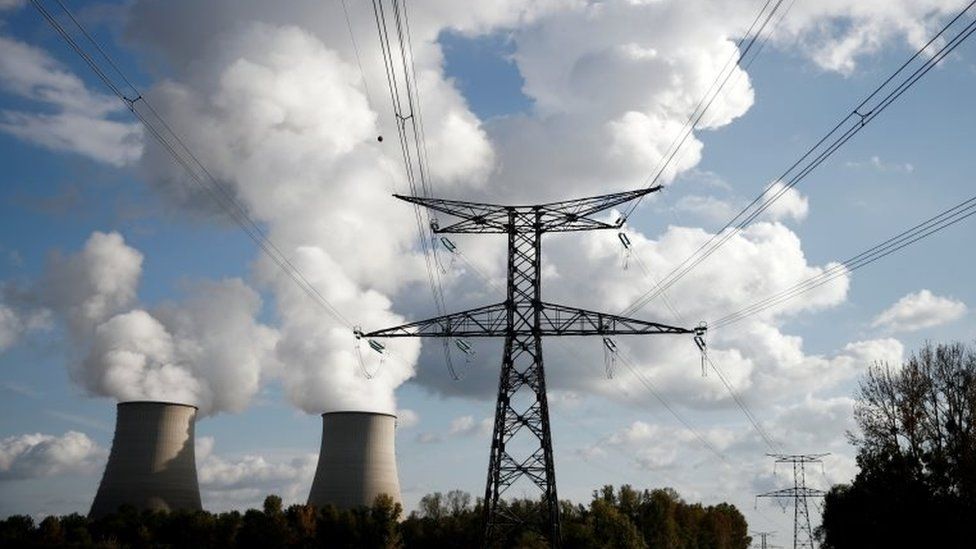 The European Commission has proposed plans to label some gas and nuclear power as green, prompting criticism from Germany.
The proposal argues that gas and nuclear are key to helping transition to cleaner power.
But Germany's environment minister called the plan "absolutely wrong".
"It is necessary to recognise that the fossil gas and nuclear energy sectors can contribute to the decarbonisation of the Union's economy," the Commission's proposal says.
Under the proposal, only gas and nuclear plants with the highest standards would be considered green. Nuclear plants would also have to have strict waste disposal plans, Deutsche Welle reports. While gas plants would have a limit of how much carbon dioxide is released per kilowatt-hour of energy produced.
If a majority of EU members back the proposal then it will become law from 2023.
France had reportedly pushed for nuclear power to be included. The country relies on nuclear energy for 70% of its electricity, although this will be cut to half over the next 15 years.
France has also pledged to reduce its reliance on nuclear power by shutting down 12 nuclear reactors by 2035.
The move has been criticised by Germany, which is in the process of phasing out nuclear completely and only has a few plants remaining.
German Environment Minister Steffi Lemke described the proposal as "wrong", adding that nuclear energy could lead to environmental disasters and large amounts of nuclear waste.
Economy and Climate Protection Minister Robert Habeck called the plan "greenwashing", saying it "waters down the good label for sustainability."