Lithuania: The European state that dared to defy China then wobbled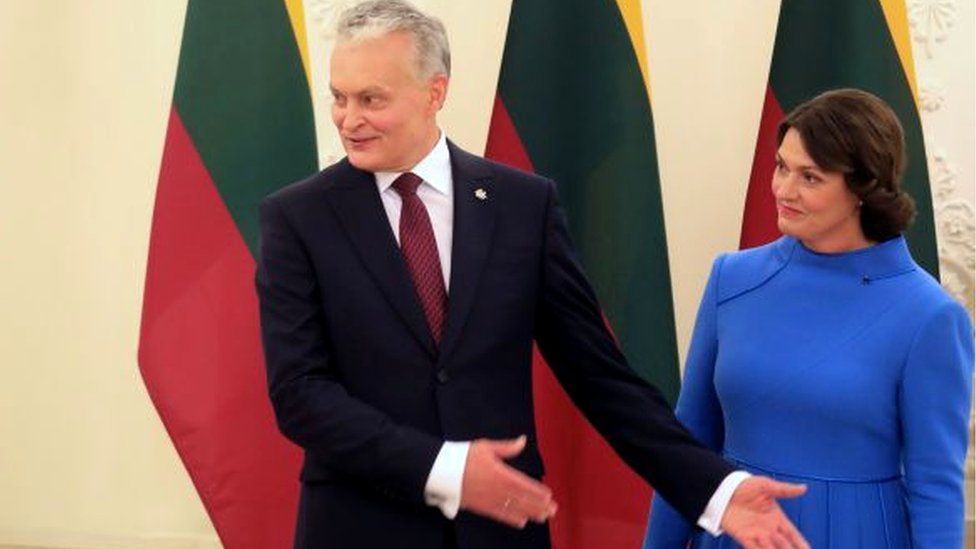 In July last year, the tiny European state of Lithuania announced the opening of a Taiwanese representative office in its capital, Vilnius.
To the casual observer, the statement may have seemed unremarkable.
To China, it was an intolerable declaration of diplomatic hostility.
When the office opened last November, it was the first time a European Union member state had let Taiwan use its own name for a foreign outpost.
That touched a nerve in China, which claims Taiwan as part of its territory, even though the island has long seen itself as a self-governed democratic state.
To avoid offending China, most countries eschew official relations with Taiwan and recognise its representative office under the name of its capital, Taipei.
That was the status quo in Europe, until Lithuania dared to be different.
For this, Lithuania was condemned by China but lauded elsewhere as a champion of democracy. Lithuania - a country of about 2.8 million people - was portrayed in the media as the David to China's Goliath.
The BBC is not responsible for the content of external sites.
The Baltic state remained defiant while China downgraded its diplomatic relations and restricted its trade with Lithuania.
But then, this week, Lithuanian President Gitanas Nauseda expressed doubts about the wisdom of his country's principled stand, in comments welcomed by China.
"I think it was not the opening of the Taiwanese office that was a mistake, it was its name, which was not co-ordinated with me," Mr Nauseda told local radio on Tuesday.
China's foreign ministry said recognising a mistake was the right step, but stressed that excuses did not help solve the problem.
That problem, said Lithuania's president, was the name "and now we have to deal with the consequences".
Those consequences have started to take their toll as companies from Lithuania - and from other European countries that source parts there - complain about restrictions on trade with China.
China has denied ordering a trade boycott on Lithuania but the EU says it has verified reports of imports blocked at customs. If diplomacy fails, the European Commission says it will file a complaint with the World Trade Organization (WTO).
Unless Lithuania bends to China's will, an amicable resolution looks unlikely.
Both Mr Nauseda and the Lithuanian government have held their nerve so far. They say they respect China's policy on Taiwan while asserting the right to forge closer ties with the island.
Even so, Mr Nauseda's suggestion of a "mistake" jarred with Lithuania's consistent messaging up to now. In explicit terms he has asked Foreign Minister Gabriel Landsbergis to de-escalate the situation.
The comments have tested Lithuania's resolve and exposed divisions between the president, who leads on foreign policy, and the prime minister of the centre-right coalition government, Ingrida Simonyte.
Mr Nauseda defeated Ms Simonyte in the 2019 presidential election, and last year the pair were at odds over Covid-19 measures.
Dovile Sakaliene, an MP for Lithuania's Social Democratic Party, said the president's intervention should be viewed through the lens of internal politics, rather than disharmony on foreign policy.
"We need to take a step back and realise that it's quite usual for democracies to have tensions between the power branches," she told the BBC.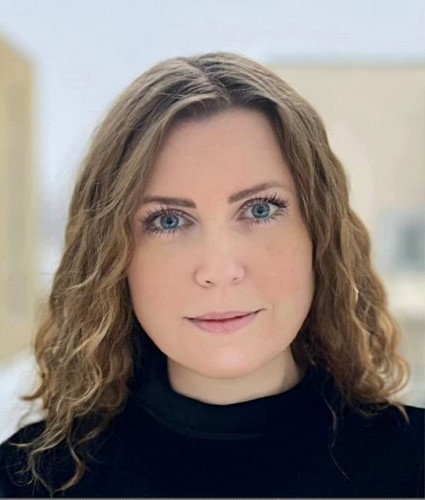 Ruslanas Baranovas
This was a domestic disagreement that became very visible. But that doesn't change the point - nobody in Lithuania is thinking about kissing the boots of China
When asked about the president's criticism on Wednesday, Mr Landsbergis said he had co-ordinated "all steps" with Mr Nauseda.
The foreign ministry in Vilnius told the BBC that the government "stands firm to its decision to welcome the opening of the Taiwanese representative office".
"Support for democracy and human rights as universal values was part of the coalition agreement and makes an important part of the government programme of Lithuania," a spokeswoman said.
As the first state to declare independence from the Soviet Union in 1990, Lithuania blazed a trail for democracy in Central and Eastern Europe.
In recent years, Lithuania has been one of Europe's most ardent critics of China, on issues ranging from the treatment of the Uighur Muslim minority in Xinjiang, to Hong Kong's freedoms.
This history influenced the Taiwan decision, said MEP and former Lithuanian Prime Minister Andrius Kubilius.
"We always considered ourselves a small but brave country that stands for moral principles," he said. "But I don't see how we have broken any diplomatic rules. Chinese sensitivity on those issues is a problem for China."
Before this dispute, Lithuania had already quit China's 17+1 investment forum with Central and Eastern European states, citing disappointing economic benefits.
Given that China accounts for just 1% of Lithuania's exports, the Baltic state had less to lose than some of its European allies, said Marcin Jerzewski, an expert on EU-Taiwan relations.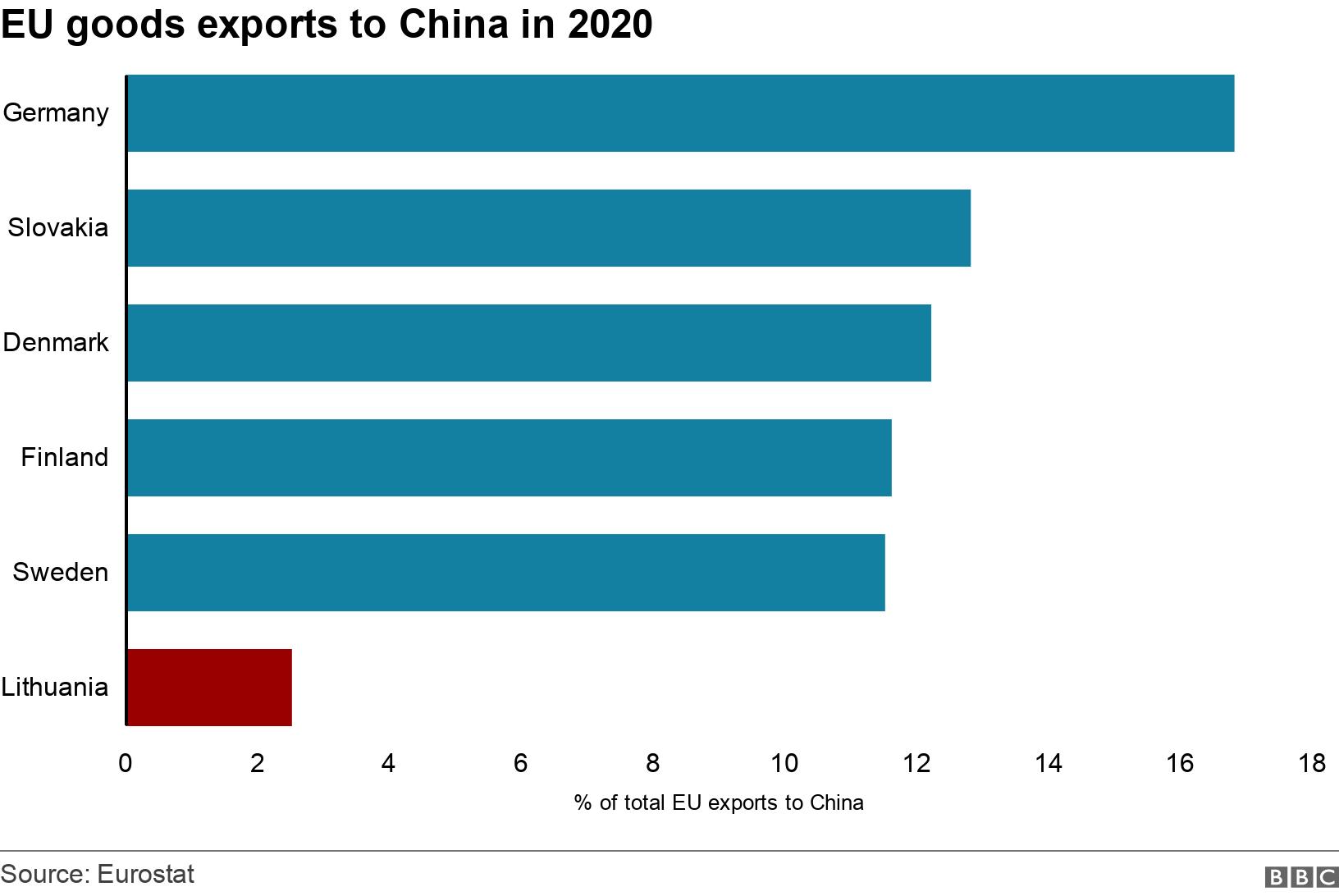 "The cost of taking the higher moral ground for Lithuania is lower than it would be for other countries," he told the BBC. "That definitely matters. But what also matters is the reasonable promise of making up for lost trade."
That promise has been shown by Taiwan, a major economic player in its own right that he sees as a reliable substitute market for Lithuanian products.
That proposal may further infuriate China, which remains unwavering in its commitment to reunification with Taiwan.
China's state-run Global Times newspaper made that clear in an editorial last November. There will be no "opportunity for trivial forces like Lithuania to lead the Western world to shake the one-China principle", it said.
Lithuania was "just a mouse, or even a flea, under the feet of a fighting elephant".
The elephant has stomped its feet angrily in the months since, but Mr Kubilisus said he saw no reason to be intimidated.
"By threatening us, it creates solidarity with Lithuania," he said.