David Sassoli: Flags lowered for EU parliament leader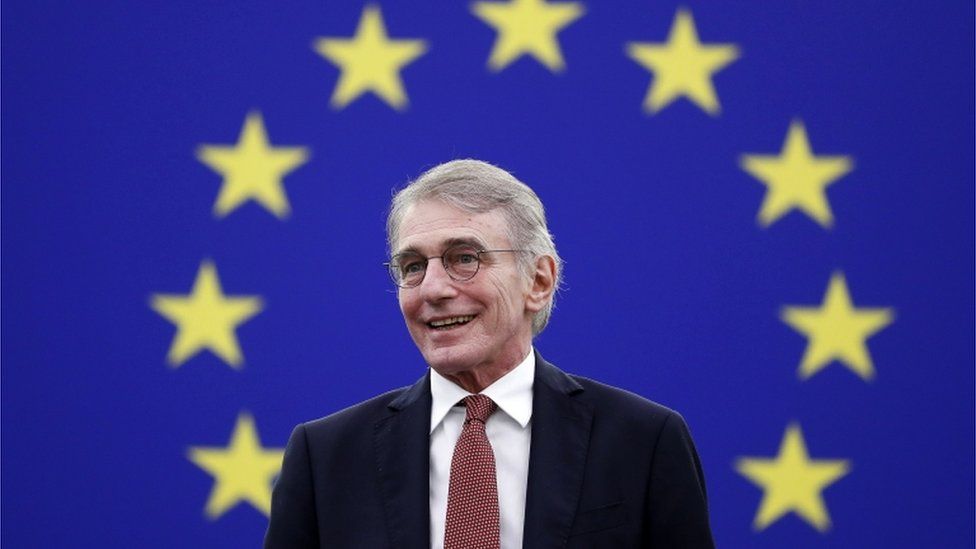 Leading EU figures have paid tributes to European Parliament President David Sassoli, who has died at the age of 65.
The Italian former journalist and centre-left politician had been seriously ill for more than two weeks and cancelled all official activities.
Mr Sassoli was admitted to hospital in Italy last month due to a serious complication with his immune system.
His role is seen as one of the EU's top jobs, and includes overseeing parliament's activities.
EU flags in Brussels have been lowered to fly at half-mast in his memory. Leaders and officials from around Europe have been reflecting on his life and work.
Many of the tributes were made in Italian, reflecting Mr Sassoli's linguistic preference despite the predominance of English and French in EU business.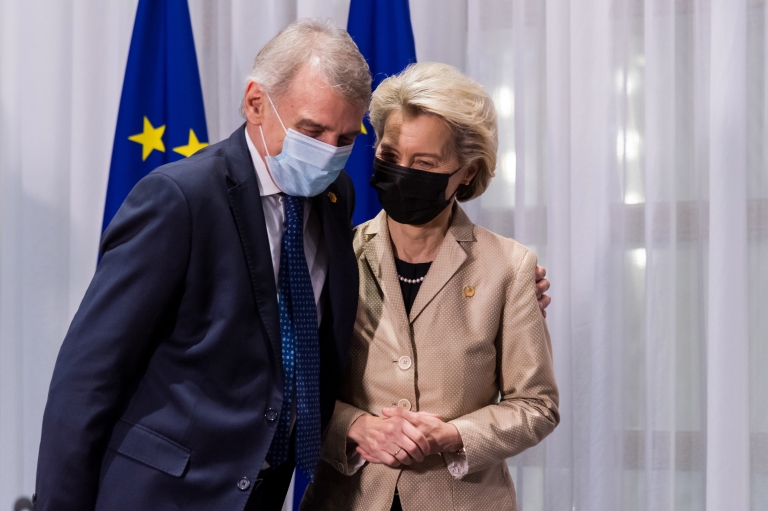 EPA
I'm deeply saddened by the death of a great European and Italian. David Sassoli was a passionate journalist, an extraordinary EU parliament president and above all a dear friend
"Our union loses an Italian patriot, a great European and an indefatigable humanist," said French President Emmanuel Macron.
The German leader, Olaf Scholz, said that Europe "has lost a committed parliament president, Italy a savvy politician and Germany a good friend".
Dozens of members of the European Parliament gathered on the steps of the building in Brussels for a minute's silence to remember him, followed by a round of applause.
Profound European and symbol of humanity
From politicians of left and right, and from journalists across Italy, tributes have poured in for a man who rose through the ranks of both public worlds.
David Sassoli's early life as a reporter took him through newspapers and then to the national broadcaster RAI. His youthful passion for politics - a tweet today showed him as a young activist at the fall of the Berlin wall - led him to a career jump. After an unsuccessful bid to become mayor of Rome, he was elected to the European Parliament, crowned finally as its president.
The BBC is not responsible for the content of external sites.
Italy's Prime Minister Mario Draghi called him a "profound European, a passionate journalist" and "a symbol of balance, humanity and generosity." In his native Florence, the town hall's flag is at half-mast and here in Rome, his body will lie in state on Thursday.
Many have mentioned his warmth - photos show a broad smile - and his ability to build bridges. Among the many European issues he confronted was migration, urging solidarity from member states.
"If there is no respect for human life", he said, "Europe doesn't exist."
In September, Mr Sassoli was taken to hospital in Strasbourg where he was treated for a severe case of pneumonia caused by legionella. He later told his followers on social media that he had suffered a relapse while recuperating in Italy.
He worked remotely during October, officially resuming his political duties in November. But he was again hospitalised on 26 December, Italian media report.
A vote to elect his replacement had already been planned for later this month, and Mr Sassoli had indicated that he would not seek re-election.
The former television newsreader became president of the 705-seat European Parliament in July 2019. He was the second Italian president since the assembly was elected by universal suffrage.
He beat three other candidates to the role, and in a speech following his victory he called for the EU to return to the spirit of its founding fathers who swapped warfare and nationalism for peace and equality.
Mr Sassoli left a three-decade career in journalism and became a member of the European Parliament (MEP) in 2009.
He was a member of the centre-left Progressive Alliance of Socialists and Democrats, the second-biggest grouping in the parliament.