Ukraine crisis: Criss-crossing the country with Zelensky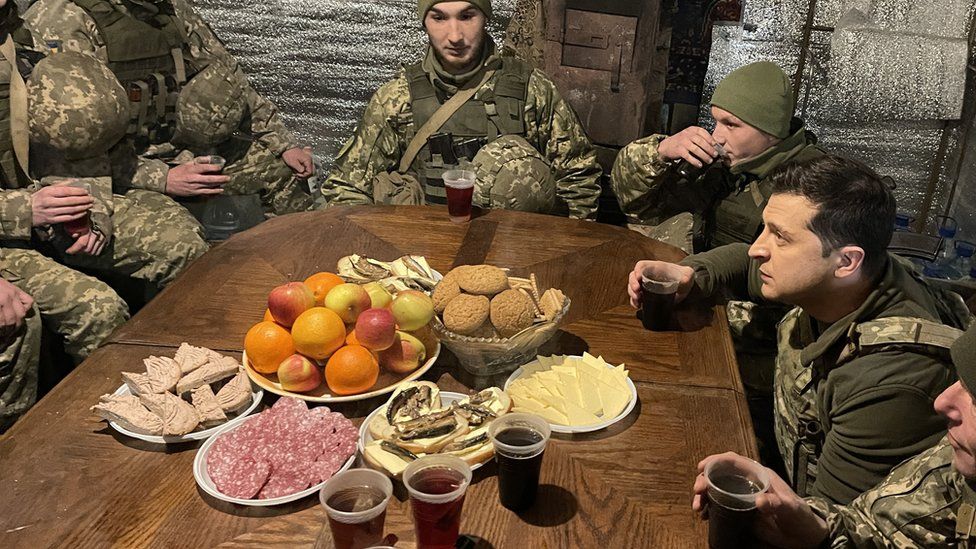 "Move quickly, but watch where you put your feet," the soldier instructed as we pulled in behind a wall a few hundred metres from the frontline.
Beside us, Ukraine's president was already climbing out of his vehicle wearing body armour and a helmet and heading across a strip of wasteland towards the trenches.
This week, as western governments escalated their warnings about the threat of all-out war with Russia, Volodymyr Zelensky decided to drop-in on some of the Ukrainian soldiers who could be right in the path of any invasion.
The visit was part of the president's own, two-pronged offensive: showing support for his country's troops on the one hand, whilst warning allies in the West that trying to "appease" Moscow over Ukraine was dangerous.
For two days, we followed Volodymyr Zelensky as he criss-crossed the country.
By plane and helicopter, we moved from military drills to the actual conflict line and from land into the Azov Sea as the West pumped up the volume on its war-warnings.
Meant to deter Russia, its alarm appears to have been ignored.
The idea of Russia bombing Kyiv into submission still seems far-fetched - more damaging to Vladimir Putin than of any possible benefit. But violence in those parts of eastern Ukraine already controlled by Russian-backed forces has suddenly picked-up.
At the frontline in Shyrokyne, President Zelensky shared tea and chat with soldiers in the shell of someone's ruined house.
Once a popular holiday destination, the coastal village has been shattered by eight years of fighting, its streets partly replaced by deep, muddy trenches and abandoned, shrapnel-hit buildings all around.
One soldier admitted his parents were worried about the latest spike in tensions and called constantly to check on him. He himself seemed more anxious about meeting the president: on the table, neat plates of cheese and salami sandwiches lay untouched.
That day there had been an increase in shelling along what is known as the contact line. At 09:00, up in Luhansk region, a missile smashed through the wall of a kindergarten into the sport and music room. All the signs are that it was fired from territory controlled by Russian-backed forces.
Since then, the number of ceasefire violations has climbed.
The president's team told me his security detail were not happy about his high-risk travels, but Volodymyr Zelensky insisted on going ahead.
Outwardly, he managed to project calm, despite the weeks of tensions. But in our snatched conversations, his frustration with Ukraine's allies quickly surfaced.
Some countries are clearly pressuring Kyiv to make compromises that it finds impossible, including renouncing its long-held goal of joining Nato.
"We can't close our eyes every day and year and say it's only Russia that doesn't want to see us there," Mr Zelensky told me at one point. "There are also Nato members who support Russia in this."
Just the other day, the German chancellor underlined how Ukraine's membership of Nato should not be an issue as it is "not on the agenda" for now.
But Moscow is demanding written guarantees that its neighbour will be excluded from the alliance for life. For Kyiv, agreeing to that is impossible.
President Zelensky spoke passionately about the price Ukraine has already paid for trying to wrest itself free from Moscow's grasp: more than 14,000 lives lost as well as the Crimean Peninsula and the Donbas. Over two million people have been displaced.
Joining Nato was the people's choice, he said, a guarantee of independence whilst living in Moscow's shadow, making it impossible to backtrack.
He echoed all that on Saturday at the Munich Security Conference in a speech that impressed even critics back home.
Driving from a section of frontline, jolted from one giant pothole to the next, Mr Zelensky's security adviser told me the very idea of Ukraine reneging on Nato membership was "capitulation".
But he acknowledged that pressure from some European countries was mounting.
"They think it's like the 1930s in Europe: that if we appease the aggressor with concessions, it will calm down," Mykhailo Podoliak warned.
"We have to keep explaining that if you appease someone, it only encourages them. If the problem is about Nato now, it will just be about the EU next or trade. Russia is the problem, not us."
The way Ukraine sees this crisis, it is standing-up to Russia on behalf of the world. A soldier I met described it as defending the "eastern flank of democracy".
"We shouldn't have to beg; this is about your investment in European security," Volodymyr Zelensky told the Munich conference crowd, reminding them that Ukraine had acted as a "shield" for Europe, "holding back one of the biggest armies in the world".
At the end of our trip, we flew low over the fields in a trio of helicopters to then drive down broken roads towards another stretch of frontline.
Avdiivka's loyalties are still daubed onto its lampposts in stripes of blue and yellow like Ukraine's flag.
As Volodymyr Zelensky pulled his flak jacket back over his head and set off up the road to greet more soldiers, I stood and read the names of those who have died fighting at the same spot.
The youngest soldier carved into the stone was Olesiya.