Ukrainian city of Mariupol 'near to humanitarian catastrophe' after bombardment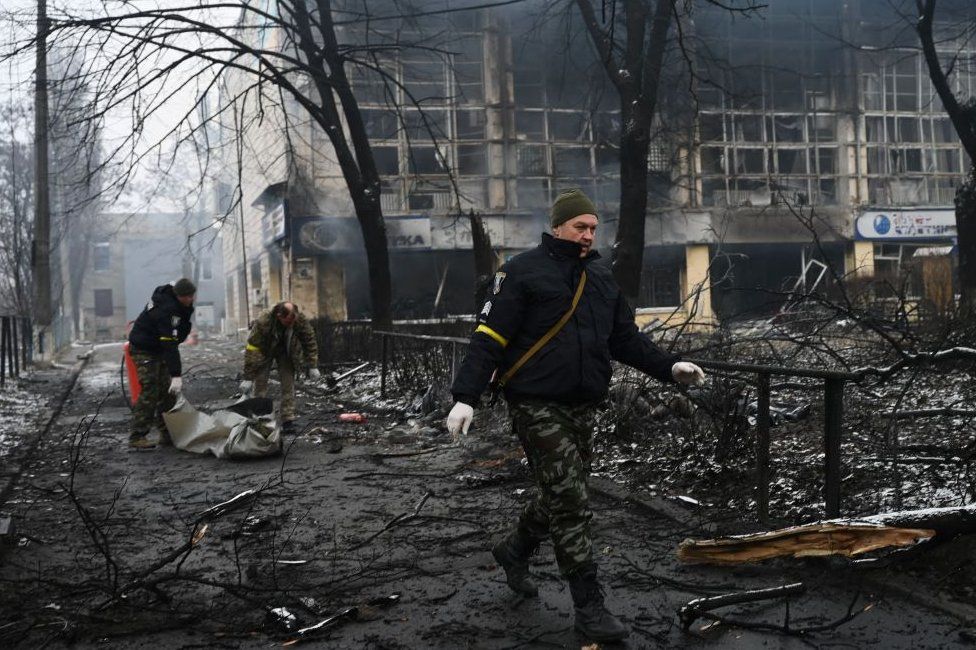 The key Ukrainian port city of Mariupol was "near to a humanitarian catastrophe" on Wednesday after more than 15 hours of continuous bombardment by Russian forces, the city's deputy mayor told the BBC.
"The Russian army is working through all their weapons here - artillery, multiple rocket launch systems, airplanes, tactical rockets. They are trying to destroy the city," Serhiy Orlov said.
Mr Orlov said Russian forces were several kilometres from the city on all sides and had launched strikes on key infrastructure, cutting water and power supplies to parts of the city. One densely populated residential district on the city's left bank had been "nearly totally destroyed", he said.
"We cannot count the number of victims there, but we believe at least hundreds of people are dead. We cannot go in to retrieve the bodies. My father lives there, I cannot reach him, I don't know if he is alive or dead."
Russian forces had targeted strikes against pump stations and electrical transformers, Mr Orlov said, and there were food shortages in parts of the city - raising fears of an approaching humanitarian crisis.
Mariupol is a key strategic target for Russia because seizing it would allow Russian-backed separatist forces in eastern Ukraine to join forces with troops in Crimea, the southern peninsula annexed by Russia in 2014. Ukraine's army has resisted Russian forces so far in key parts of the country but the increased aerial bombardment of cities has raised fears Russia is shifting tactics.
"The Ukrainian army is very brave and they will continue to defend the city but the style of the Russian army is like pirates - they do not fight with their army, they just destroy entire districts," Mr Orlov said.
"We believe in our Ukrainian army, but we are in a terrible situation."
Russia's invasion of Ukraine took a heavy toll on civilians on Wednesday as residential neighbourhoods in several large cities were bombed. Ukraine's emergency services said more than 2,000 civilians had been killed so far during the Russian invasion, though the BBC was not able to independently verify the figure. The UN said on Tuesday that at least 136 civilians had been killed, but it estimated that the actual number was higher.
There were fears on Wednesday that the death toll would rise dramatically as Russian troops appeared to surround the country's second-largest city, Kharkiv, and the port city of Kherson.
Ukrainian forces said Russian paratroopers had landed near Kharkiv on Wednesday, leading to street fighting on the outskirts of the city. Local officials said a cruise missile hit a city council meeting, blowing off the top of the building and wounding three. At least 18 people have been reported killed in the city in the past day.
Residents in Kharkiv told the BBC they were experiencing heavy aerial bombardment. "It is exhausting and terrifying living under this pressure," said Iryna Ruzhynska, 40, who was sheltering with her family in her second-floor apartment on Wednesday.
"We have put Scotch tape on the windows and pillows by the window stills," Ms Ruzhynska said. "We don't turn on the lights, only the torches on our phones. We managed to go to the store yesterday, but we queued for four hours and there was virtually no food left."
The Russian defence ministry claimed its forces were in control of Kherson, a city of nearly 250,000 people just north of Crimea, but local authorities said the city was still under Ukrainian control, despite being surrounded. Video footage verified by the BBC appeared to show Russian troops in the centre of Kherson.
Russia attacks Ukraine: More coverage
Larysa Pavlovska, a 58-year-old paramedic in Kherson, told the BBC her part of the city was quiet on Wednesday but other parts were smouldering after intense overnight shelling, adding that some residential districts had been "bombed out".
"Local residents say Russian armoured vehicles can be seen moving in the city, people say about 50 units," she said. "They have been spotted by the state regional administration building."
Inesa Chamlai, the deputy head of the emergency aid centre in Kherson, said Russian troops had prevented them taking a wounded 55-year-old man to hospital. The man had stepped on a mine and lost his leg, Mr Chamlai said.
"Our ambulance team was dispatched but was then prevented by Russian troops from taking the man to hospital," he said. "The soldiers ordered to bring him back to his house where he will definitely die."
There were also growing fears in the capital, Kyiv, over a 40-mile long convoy of Russian military vehicles just 15 miles north of the city, though US officials said on Wednesday the column was barely moving.
Russia's air force struck a television mast in the capital on Tuesday, killing five people at the site of a Nazi massacre which killed more than 33,000, mostly Jews, while a missile strike west of Kyiv, in the city of Zhytomyr, killed four people including a child, a Ukrainian official said.
In a video message on Wednesday, Ukraine's president Volodymyr Zelensky, who is Jewish, condemned the strike at the site of the massacre, accusing the Russians of trying to "erase" Ukrainians.
"They know nothing about our capital. About our history. But they have an order to erase our history. Erase our country. Erase us all," he said.
A UK government spokesperson said Prime Minister Boris Johnson spoke to Mr Zelensky on Wednesday "to condemn the abhorrent attacks on Ukraine in the recent hours and days".
In an address on Tuesday, the US president Joe Biden called Russian President Vladimir Putin a "dictator" and promised "robust action to make sure the pain of our sanctions is targeted at Russia's economy".
Nearly a week after invading, Russia is facing increasing economic turmoil at home as it is hit by increasing sanctions. The Moscow Stock Exchange remained closed for the third day in a row on Wednesday as authorities tried to limit the impact of the sanctions.
"The Russian economy has suffered a serious blow," Kremlin spokesman Dmitry Peskov said, insisting that it was "still standing".
Have you been affected by any of the issues raised here? Do you have family in Ukraine? Please get in touch by emailing haveyoursay@bbc.co.uk.
Please include a contact number if you are willing to speak to a BBC journalist. You can also get in touch in the following ways:
If you are reading this page and can't see the form you will need to visit the mobile version of the BBC website to submit your question or comment or you can email us at HaveYourSay@bbc.co.uk. Please include your name, age and location with any submission.