Mariupol under siege: 'We are being completely cut off'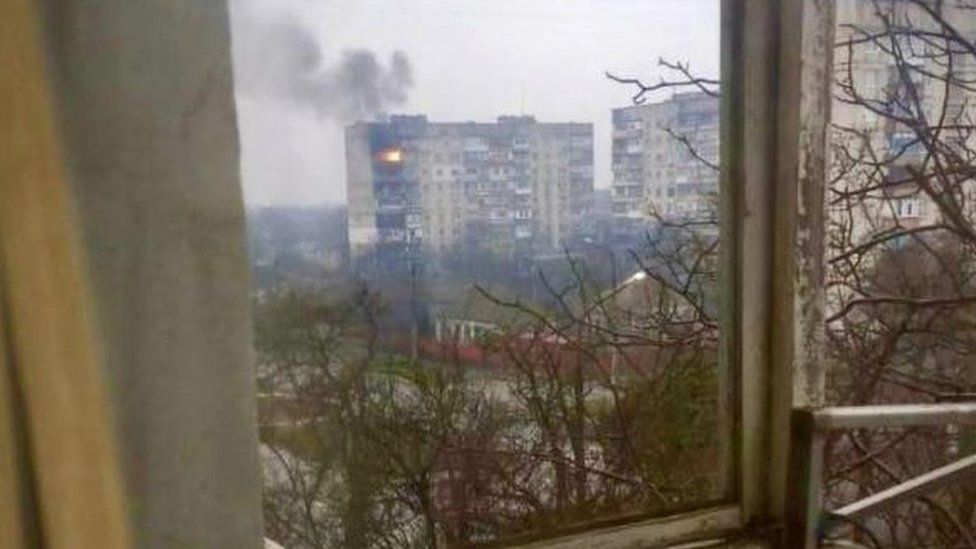 Residents of the Ukrainian port city of Mariupol have told the BBC they are trying to survive a relentless barrage of Russian shelling that has smashed residential districts and cut off power and water supplies.
"There has been no light, no heat, and no water now for two full days and we have hardly any food left," said Maxim, 27, an IT developer who was hiding in his grandparents' apartment on Thursday morning.
"Food and medicine is not moving in Mariupol now. The local government tried to give out bread and water but it is gone," he said. "I filled the bath with water before the water stopped. We have about five litres left."
Maxim left his apartment after the Russian invasion began last week to be with his grandparents, who are in their eighties and cannot leave their sixth-floor, city-centre apartment. The three of them are sheltering with their pets in the hallway of the apartment, with no heating in the depth of winter, hiding from a barrage of shelling.
"The shelling started again at six this morning," Maxim said. "The city was completely black overnight, there was no source of light apart from the explosions. It was quiet for a few hours but then at dawn it started again. We can hear it now from every direction. We are terrified."
Mariupol, a city of 400,000, is a key strategic target for Russia, because seizing it would allow Russian-backed rebels in eastern Ukraine to join forces with troops in Crimea, the southern peninsula annexed by Russia in 2014.
Russia's defence ministry urged civilians on Thursday to evacuate the city by a humanitarian corridor, but residents said there had been no break in the shelling to allow people to move.
Communications have been virtually down for two days, residents said, preventing people in the city from reaching one another. Multiple calls to residents either disconnected repeatedly or failed to connect in the first place.
Speaking to the BBC on Thursday morning, the city's deputy mayor Serhiy Orlov said the whole city was now without power, water, or its sanitation system.
"We had 15 main power lines and all of them are now down. We are getting completely cut off - destroyed by artillery. Only the natural gas supply is left," he said.
"Mariupol is still Ukrainian right now, we still control inside the perimeter, but there is fighting on the streets on the outskirts and we are on the line of a humanitarian crisis."
Mr Orlov still hasn't been able to reach his father, mother and brother, who live together in a residential district that has been heavily bombarded since Monday night, he said.
"I can't reach them by any means, the shelling is continuous."
Dmytro, an activist in the city, told the BBC he could hear constant gunfire and explosions from where he was sheltering. After less than a minute the phone connection cut off and he couldn't be reached again.
Alexander, a 44-year-old engineer in the city, said he was sheltering with his wife, two sons and mother in a five-storey building.
"We have been bombed and shelled for five days and right now I can hear shots and bombs non-stop," he said.
"There is still some bread at the shop near us, but we don't know when the food supply will end. What will happen when we run out of our water? What will happen when my phone battery dies? We will have no connection to the outside at all."
More coverage of war in Ukraine
For the family members of Mariupol residents in other parts of Ukraine, there is only the agonising wait for a phone call. Alina Hrydina, a 31-year-old marketer in Kyiv, last spoke to her parents on Wednesday morning when they called to wish her brother a happy birthday. Since then she can't reach them, or her aunt or grandmother.
"I saw some pictures online that suggested the central area where they live was still OK, not on fire," she said. "This is the only thought I have right now. I am only holding on to this hope."
If Mariupol is seized by the invading Russian forces, Ukrainian troops between the city and the Donbas region seized by Russian-backed separatist forces in 2014 could be surrounded and a large new part of Ukraine's east occupied. Among the residents, there are fears Russian forces are willing to level large parts of the city in order to take it.
Maxim said he was praying that the Ukrainian army would be able to hold off the invasion and restore the water supply.
"We cannot leave this apartment to get food, water, anything," he said. "We are cold and at night it is completely black."
He said he would try to talk again later on Thursday but his single battery pack was less than half charged.
"I don't know how long my phone will be alive," he said.