Germans welcome Ukrainian refugees by train: 'It could have been us'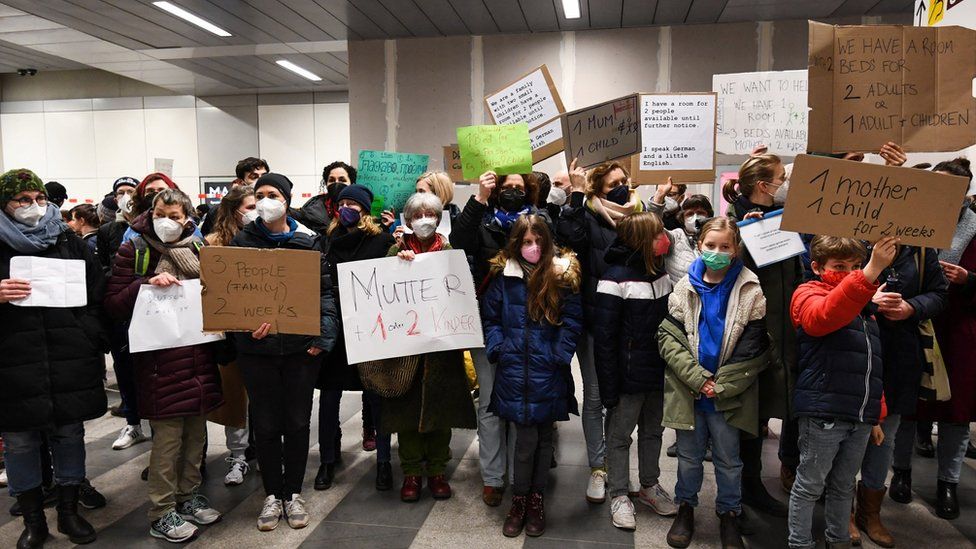 In Berlin's central railway station the trains arriving from the east come carrying thousands of refugees every day - men, women and children fleeing Vladimir Putin's war in Ukraine.
Those who want to head onwards get free train tickets to anywhere in Europe. Those who don't, or don't know where they should go, get ushered down to a cavernous hall.
What they find is a huge operation to welcome them. Food and drink is handed out along with sim cards for phones, and there medical teams, translators, volunteers and organisers to help.
And there's a crowd, hundreds strong, of German families standing there too, offering places in their homes to the refugees. They hold up homemade signs: "Can host two people! Short or long-term," says one. "Big room. One-three people. Children welcome too! For as long as you want," says another.
There's a round of applause as a man with a megaphone asks if anyone can take 13 people - and someone steps forward. A mother is here with her daughter, who can't be more than 12 years old, and holding a sign saying: "One mama, two kids, four-six weeks." Next to her is Margot Baldauf, who is in her 70s, with a blue and yellow board offering: "One room for mother and child."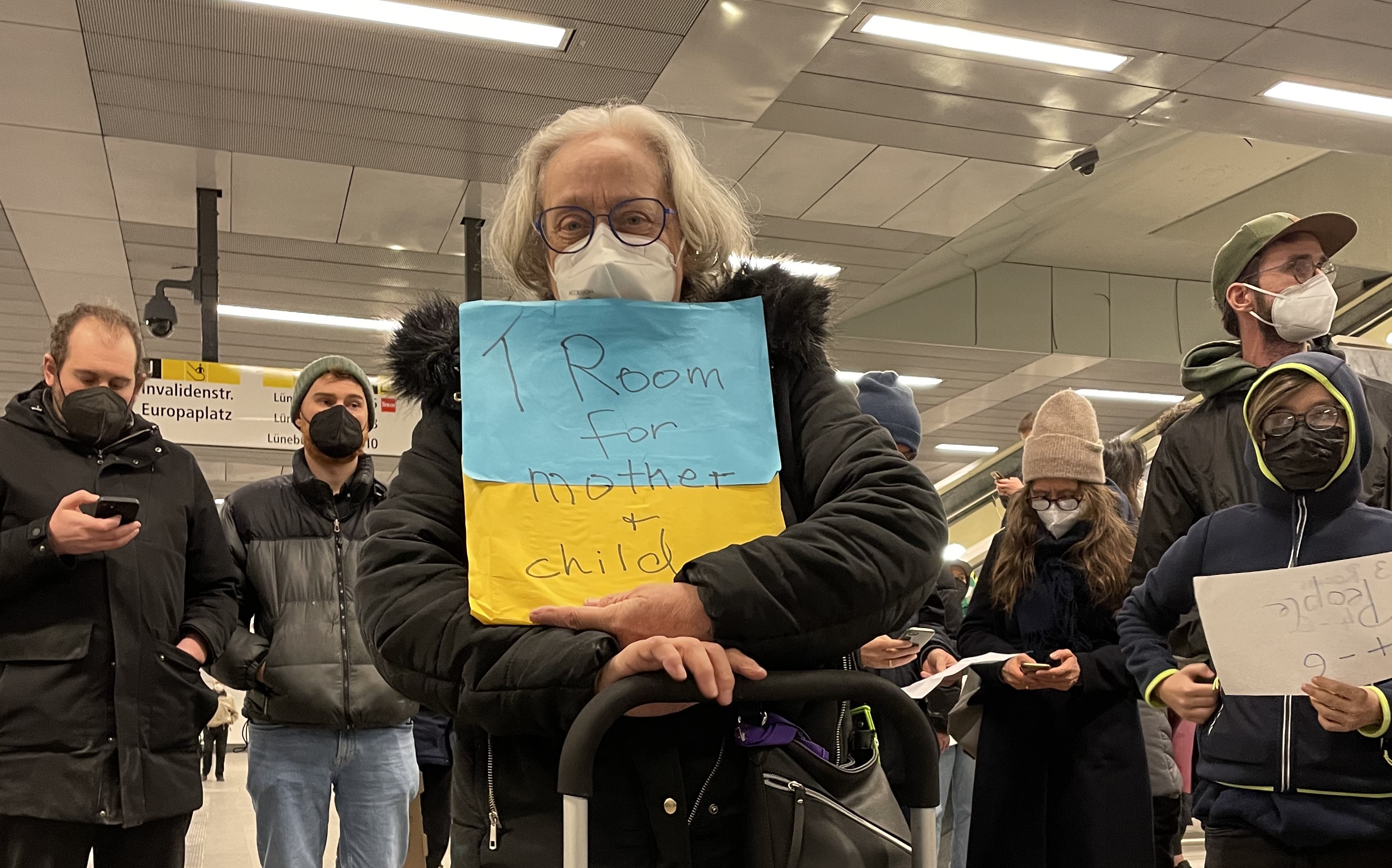 BBC
For me it somehow feels like what Putin does is what Hitler did before.
"I am more or less a child of a refugee," Margot tells me, explaining that her mother - who is still alive and now 97 - had to flee Hitler's Nazis to find sanctuary. "So I feel obliged to do something for refugees. It's not Hitler this time, but for me it somehow feels like what Putin does is what Hitler did before."
Despite the numbers of refugees arriving, it seems there are more than enough German families to take them in.
In a suburb of Berlin, Matina Wardakas and her husband Timmo Kohlery have opened up their home. They have two teenage daughters of their own, and they've just taken in four Ukrainians.
There's Anastasiia, along with her four-year-old son Artemii and her parents-in-law Victoria and Vladimir.
Anastasiia's husband Dimitrii was barred from exiting Ukraine. No men of fighting age can leave the country. It's something she can't explain to her four-year-old son.
"He keeps asking every time about his dad," she says, trembling. "Where is his dad, and when he can he see him? I don't know. I hope soon," Anastasiia says, wiping tears away.
"And my dad, I hope I see him soon too," she adds. Her father is trying to make his way across Ukraine to escape to Germany as well.
But even here the family can't escape the war. Friends in Kharkiv have just sent a message with a video showing damage of Russian bombs to the home they fled a few days ago. "Look, look, our home," they tell me.
To make space for the arrivals, Matina and her husband Timmo, who run an IT company, have moved into one of their children's rooms. Their 13-year-old twin girls, Juna and Joli, are now sharing a bedroom.
"When we started reading the news we said, right away, we need to take someone in, to give someone peace, because it could have been us, this is how we feel," Timmo tells me.
More coverage of war in Ukraine
Vladimir Putin's attack on Ukraine has shaken many in Germany who always believed peace was here to stay in Europe.
"We have lived in peace our whole life," Matina says. "We don't know what it is like to live in war, it's shocking. Our first thought was we need to help a family so that they can feel safe. We will give them some peace, in this house."
Nearby four-year-old Artemii is playing happily with a wooden fire truck he's been given. Anastasiia says he thinks it's his birthday because he's had so many gifts.
The host family say their guests are welcome to stay as long as they like. As we leave neighbours come bearing more gifts, a basketful of food for the refugees.
In another neighbourhood of Berlin, we find Tarek Alaows and about a dozen other people loading supplies onto a bus. Tarek is Syrian. He fled the war there six years ago, walking for two months through Europe to reach Germany. Now he's on his way to the Ukrainian border to collect refugees and bring them back.
"I know what is the meaning of fleeing war - that's why I want to help people now," he says.
So Tarek, a refugee from one crisis, is heading to help those from another. He says the common thread running through the wars in Syria and Ukraine is Vladimir Putin's aggression - and the violence that has been unleashed, uprooting so many lives.