Mystery drone from Ukraine war crashes in Croatia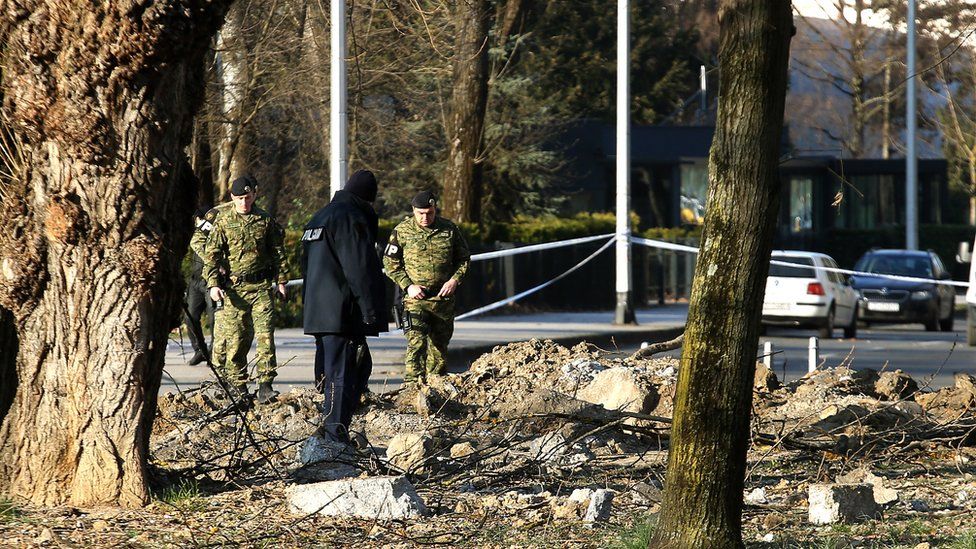 People in Croatia's capital Zagreb were rudely awakened to Russia's war in Ukraine when a military drone crashed in the city late last night.
There was an explosion in the southwestern Jarun district shortly after 23:00 (22:00 GMT). Residents found a crater and wreckage scattered close to student accommodation.
Zagreb's mayor Tomislav Tomasevic said "it's amazing that no-one was injured".
Croatia's president said there was no sign the country had been targeted.
Witness reports suggested the only person hurt was a man who fell off his bicycle as the drone hit the ground.
Markings on the debris included Cyrillic lettering and a five-pointed star. Local experts said these suggested that the drone was a Soviet-era TU-141 reconnaissance aircraft.
Despite the drone's vintage, it has been deployed by the Ukrainian military both in 2014 and during the current conflict.
Croatian media have been speculating about its origin. Although Ukraine's embassy in Zagreb declined to comment, an adviser to Ukraine's defence ministry was adamant the drone was not Ukrainian and did not have Ukrainian markings.
The mayor said the incident was unprecedented for Zagreb, a city some 570km (355 miles) from the Ukrainian border.
Croatia's government confirmed that the drone had passed over Hungary, which borders both Ukraine and Croatia, before crashing in Zagreb.
President Zoran Milanovic said it was a serious incident: "We need to review certain procedural issues and determine how it is possible that this size of plane was not shot down on the way from Ukraine to Zagreb."
He was concerned that Croatia had received no warning of the incoming drone, even though it had spent the best part of an hour flying across Hungary - a fellow member of Nato. He was alarmed that "an unsophisticated aircraft" had apparently evaded detection.
Croatia's Index news website suggested the drone may have been meant to fly to a location in Ukraine called Yarun, rather than the similar sounding district of Jarun in Zagreb.
There is now concern that Croatia would not be ready if the worst happened and the conflict spread. Critics point out that no air raid sirens sounded in Zagreb and that many Croatian shelters have fallen into disrepair.
Many people still have strong memories of conflict on home soil in the 1990s. This drone incident serves as an unwelcome reminder of the Balkans Wars and will certainly jolt Croatia's authorities out of any sense of complacency.
War in Ukraine: More coverage