War in Ukraine: Fourth Russian general killed - Zelensky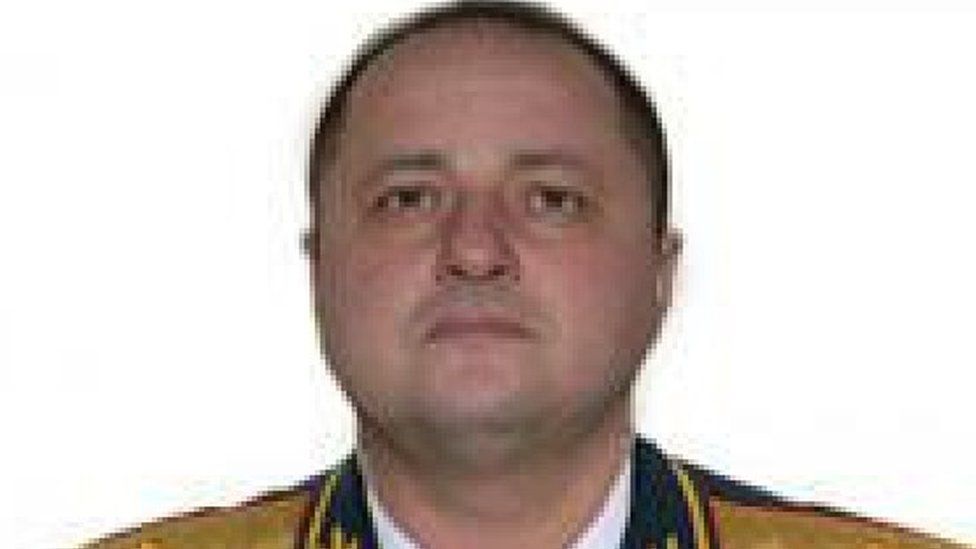 Ukraine's President Volodymyr Zelensky says another Russian general has been killed during fighting.
He didn't name the officer, but an adviser to Ukraine's interior ministry said Maj Gen Oleg Mityaev had been killed by the far-right Azov regiment.
Gen Mityaev was killed near Mariupol, Ukrainian media said.
He is the fourth general reportedly killed, leading some to ask why such senior members of the Russian military are so close to the front line.
Analysts believe that around 20 generals are leading Russian operations in Ukraine, meaning that if all the reported deaths are confirmed, one fifth of Russia's generals have been killed in action.
With such high losses, some experts believe that the generals have not simply been in the wrong place at the wrong time, but that Ukraine is likely to be targeting top-level Russian officers.
"I don't think this is an accident. One is an accident, but this many is targeted", Rita Konaev of Georgetown University told the BBC.
Speaking to the Wall Street Journal, a person within President Zelensky's inner circle said Ukraine had a military intelligence team dedicated to targeting Russia's officer class.
"They look for high profile generals, pilots, artillery commanders," the person told the newspaper.
With Ukraine's military outnumbered, its targeting of high-level individuals could be an important part of the information war, according to Ms Konaev.
"Assuming there is an element of targeting, this feeds Ukraine's own morale. There is the element of being victorious. It is inspiring."
War in Ukraine: More coverage
For Ukraine to target specific Russian officers, it needs to know where they are. Analysts say that Russia has been using open channels of communications which could give clues about where certain targets are located.
"If the Russians are using mobile phones or analogue radios to communicate with senior officers, the Ukrainians have everything on their plate," defence analyst Konrad Muzyka of Rochan Consulting told the BBC.
After the death of another senior officer - Maj Gen Vitaly Gerasimov - Ukraine released a recording purporting to be two Russian security officers discussing the general's death, and complaining that their secure communications network was not working.
It is unusual for such high-ranking officers to put themselves in danger by getting so close to the battlefield, and western sources believe that they have done so in order to get some control over operations which have, in some areas, badly stalled.
Russia's military is also traditionally top-heavy, with officers often conducting day-to-day activities, says Mr Muzyka. Although this is starting to change, it could explain why generals felt the need to direct operations from the front.
"In recent years there's been a big shift to force battalion commanders to think independently in a way that would give them freedom to make decisions", Mr Muzyka said. "But this was introduced only three years ago, so maybe it didn't properly have an effect yet on their performance".
The details of the generals' deaths are unclear, and getting solid facts from the ground is difficult. There has been an assumption that they were all caught up in fighting on the front line, but that is not necessarily the case, says Ms Konaev.
"It doesn't necessarily mean the generals were at the front line. They could have been in transit or inspecting resupply lines for example," she told the BBC.
Maj Gen Oleg Mityaev reportedly died somewhere near the city of Mariupol, a city in south-east Ukraine which has seen some of the heaviest fighting so far.
The far-right Azov regiment claims to have killed him.
He was a commander of the Russian army's 150th motorised rifle division, a relatively new unit formed in 2016, and based in the Rostov region close to the Ukrainian border.
Ukraine claims that the unit was created in order to take part in the conflict in separatist-controlled areas of eastern Ukraine, although Russia denies that its military was involved in fighting there.
Maj Gen Andrei Kolesnikov, of the 29th combined army, was killed in fighting on March 11, according to official Ukrainian sources.
The circumstances of his death were not given.
After Kolesnikov became the third Russian general reportedly killed in Ukraine, one western official told the Press Association that the Russian army may be suffering from low morale, which is why high-ranking military officers are moving closer to the front line.
Maj Gen Vitaly Gerasimov, chief of staff of Russia's 41st combined army, was killed on 7 March outside the eastern city of Kharkiv, according to Ukraine's defence ministry.
Kharkiv, close to the Russian border, has come under sustained attack from Russian forces.
Ukraine's military released a recording of what it said was two Russian security service officials discussing Gerasimov's death, and complaining that their secure communication networks no longer worked in Ukraine.
Gerasimov was involved in the second Chechen war, the Russian military operation in Syria, and in the Russian annexation of Crimea in 2014.
Maj Gen Andrey Sukhovetsky, a deputy commander at the same unit as Gerasimov, was reportedly killed by a sniper on 3 March.
Like Gerasimov, Sukhovetsky was part of Russia's military operations in Crimea and in Syria.
Unlike the other generals, Sukhovetsky's death was reported in the Russian media and Russian President Vladimir Putin confirmed in a speech that a general had died in Ukraine.