St Patrick's Day: Biden reinforces support for Good Friday Agreement
By Enda McClafferty
BBC News NI political editor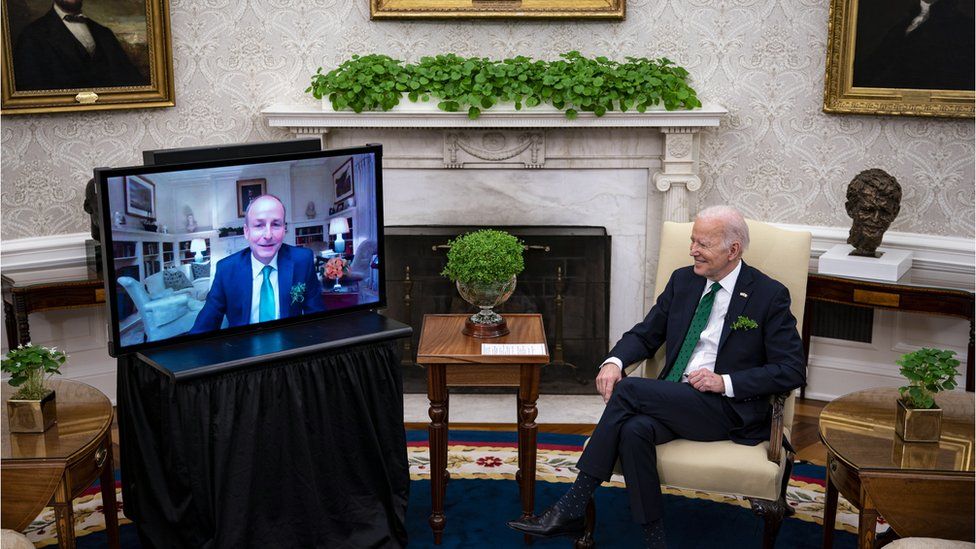 US President Joe Biden has warned that too much "blood, sweat and tears" have been shed on the Good Friday Agreement to change it now.
He also praised the Irish government's response to the Ukrainian conflict in bringing in 7,000 refugees.
The president was speaking during a virtual meeting with Taoiseach (Irish Prime Minister) Micheál Martin to celebrate St Patrick's Day.
The talks were held remotely after Mr Martin tested positive for Covid.
President Biden said he was disappointed the two leaders could not meet in person.
In reply the taoiseach said they met virtually last year across the Atlantic because of the pandemic and now they year were meeting virtually across the road.
"I want to emphasise this administration's unequivocal support for the Good Friday accord," he said
"I think too much blood, sweat and tears have been shed to get that done. And this is no time to change it."
Both leaders also talked about Russia's invasion of Ukraine and the taoiseach praised the president's "firm and measured" response to the war
President Biden said he was impressed with the Republic of Ireland's response in brining in more than 7,000 Ukrainian refugees.
Mr Martin had to isolate after he was informed of a positive Covid test while attending the Ireland Fund dinner in Washington on Wednesday night.
At the time he was sitting alongside House of Representatives Speaker Nancy Pelosi and other guests.
The taoiseach had been due to receive an international leadership award at the event.
However, when the moment arrived Ireland's Ambassador to the United States, Dan Mulhall, took to the stage and confirmed the positive test.
He said Mr Martin had tested negative but then was re-tested after a member of his delegation received a positive result.
He said the taoiseach had re-tested out of an "abundance of caution" and added that he was in "good form" but very disappointed.
"It is a sad thing which I have to do which is to deliver the taoiseach's speech on his behalf," he said.
St Patrick's Day: More coverage
Social Democratic and Labour Party (SDLP) leader Colum Eastwood, who was at the dinner, said it was a big blow for the taoiseach.
"It is very sad. This is a major event for any taoiseach, going into the White House on St Patrick's Day, and that now won't happen. I feel very sorry for him," he said
He said the news had left everyone "deflated" at the dinner and with the taoiseach's office due to be rotated later this year, he said Mr Martin would not get another chance to celebrate St Patrick's Day in the White House.
During the gala dinner on Wednesday, President Biden and Mrs Pelosi addressed the gathering.
Mrs Pelosi issued a warning to the UK over the Northern Ireland Protocol.
She said that if the "border is hardened there will be no UK-US trade deal".
She also warned against any move which "imperils" the Good Friday Agreement.