Ukraine War: Kremlin spokesman Peskov admits 'significant' Russian losses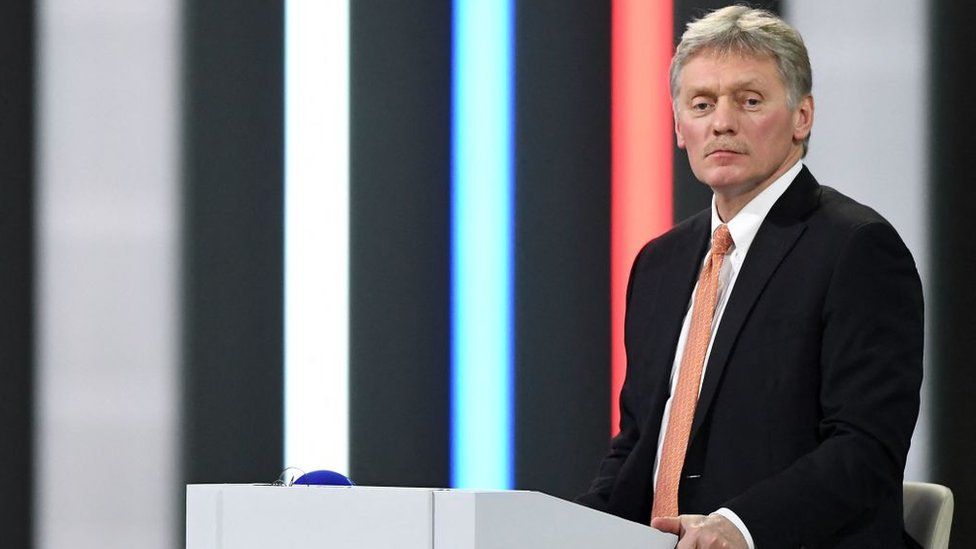 Russia has admitted suffering "significant losses of troops" in Ukraine, as the invasion enters its 44th day.
Presidential spokesman Dmitry Peskov told British channel Sky News the casualties were "a huge tragedy for us".
He said he hoped Moscow would reach its war goals "in the coming days".
Mr Peskov's comments followed Russia's expulsion from the United Nations Human Rights council on Wednesday.
Some 93 of the 193 members of the UN General Assembly voted in favour of the diplomatic rebuke, which followed allegations of mass human rights abuses by Russian troops in the formerly occupied town of Bucha in northern Ukraine. Moscow announced its resignation from the council in response.
The body expressed its "grave concern at the ongoing human rights and humanitarian crisis", and Ukraine's President Volodymyr Zelensky accused Russia of further atrocities in Borodyanka, a town near the capital Kyiv.
Mr Peskov denied any suggestion that Russian troops were responsible for executions in the town of Bucha and told the broadcaster that "we're living in days of fakes and lies". He baselessly claimed that images of civilians murdered in the town were staged.
However, his admission that Russia has suffered significant casualties is striking. On 25 March, Russia's Ministry of Defence said 1,351 of its soldiers had been killed in combat. Ukraine puts the Russian deaths at almost 19,000.
Neither Russia nor Ukraine's estimates of Russian losses can be independently verified - and analysts have cautioned that Russia may be downplaying its casualty rate, while Ukraine could be inflating it to boost morale. Western leaders believe that between 7,000 and 15,000 Russian soldiers have been killed.
Mr Peskov, who has served as Russian President Vladimir Putin's spokesperson since 2000, also claimed that Russia is searching for ways to end the war.
"Our military are doing their best to bring an end to that operation," he said. "And we do hope that in coming days, in the foreseeable future, this operation will reach its goals or will finish it by the negotiations between Russian and Ukrainian delegation."
Russia has pulled troops away from Kyiv and shifted most of the focus of its war to eastern Ukraine - but the fighting shows no signs of ending.
On Thursday, Western nations imposed further sanctions on the Russian economy in retaliation for alleged war crimes in Ukraine.
The US Senate voted unanimously to remove Moscow's "most favoured nation" trade status, opening the door to damaging new tariffs and import controls on products like platinum, chemicals, iron and steel.
And the EU agreed to gradually impose a ban on imports of Russian coal, worth around $4bn (£3.3bn) a year to the Russian economy, over the next 120 days.
Speaking to Russia's parliament, the state Duma, Prime Minister Mikhail Mishustin admitted that the cumulative impact of extensive sanctions means the country is facing its worst economic outlook in decades.
"No doubt, the current situation could be called the most difficult in three decades for Russia," he said. "Such sanctions were not used even in the darkest times of the Cold War."
But he claimed that the impact of Western sanctions has been limited, telling MPs that the "financial system, the lifeblood of the entire economy, has held up".
After collapsing to a historic low at the end of February, Russia's currency the rouble has rebounded to its pre-war level.
Ukraine's President Zelensky has renewed his calls for fresh supplies of heavy weapons from the West, saying his forces need "weapons which will give it the means to win on the battlefield and that will be the strongest possible sanction against Russia".
War in Ukraine: More coverage