Ukraine village scarred by aftermath of occupation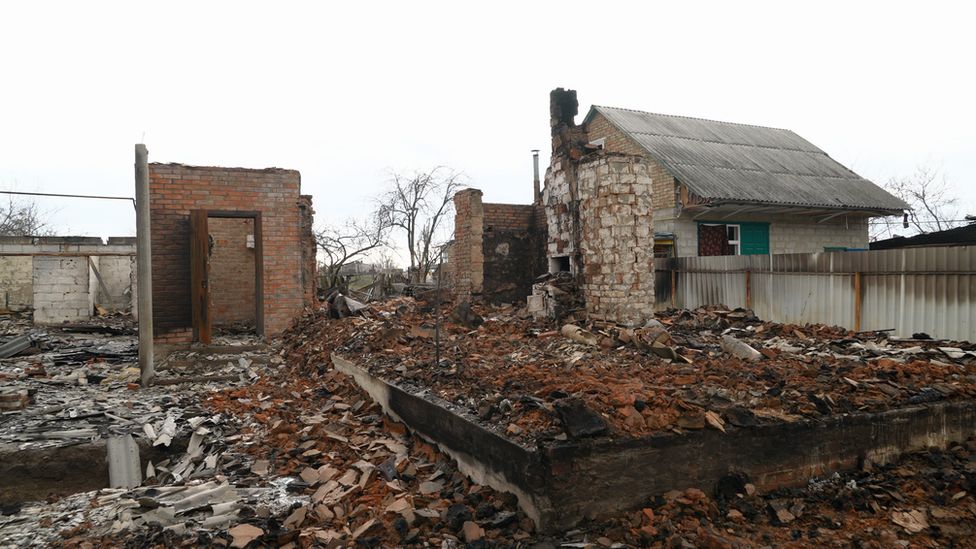 The day after Anton Ischenko celebrated his 23rd birthday, he was taken by the Russians, led away at gunpoint from his home in the village of Andriivka, west of Kyiv.
His family found his body a month later, once the Russian troops were driven out. He was so badly mutilated that they had to identify him by his clothes.
As Russian forces retreat to eastern Ukraine, horrors are being uncovered in the villages which they left.
About 1,000 people lived in Andriivka, some 60km away from the capital. At least 40 of them were killed.
"He was a very nice boy, very clever - he recited poetry," recalls Anton's grandmother, Tetiana, sitting outside the family house. Suddenly, her exhausted face crumples.
"Maybe if he had gone to fight somewhere else, he would have returned here in one piece," she says, struggling to speak through her tears. "When my husband told the Russians, 'Take me instead,' they pointed a machine gun at him and said, 'Go home - or we will take you both.'"
Andriivka, on the route up to the Belarus border, has been blighted by battle and the month-long occupation. Buildings are ripped apart amid a mess of rubble and mangled metal.
Craters lie in the dirt road where tanks were blown up. Remnants of artillery lie beside corpses of chickens and rabbits.
Burnt-out armoured vehicles lie at either end of the village. It is a scene of utter devastation.
With the Russians pushed out, some residents are beginning to return - or emerge from shelters. On the main road, beside wooden boxes that contained grad missiles, Grigoriy Klymenko is taking in the sight of destruction.
He decided to stay throughout the occupation to be with his 90-year-old mother, who is bedridden. They had watched in terror as tanks encircled the village.
"They're animals," he says of the forces that moved in. "Humans don't behave like this. My parents told me about the war and the fascists didn't even do such things."
Next door, Leonid Koval and his son are beginning to repair their damaged house, retiling the roof and fixing plastic sheeting into blown-out windows. Russian soldiers stayed in his home - and looted it.
Inside, the cupboards lie wrenched apart by the Russian occupiers, boxes of photographs and clothes turned upside down. Cushions were ripped from the sofa. The soldiers emptied everything they could find.
When the Ukrainian army began to push towards Andriivka, the Russians staying there moved out of the main house and into the tiny cellar to hide.
Leonid takes me down to the cold and dark space, the mattresses and blankets they used still stuffed against the wall. To one side are the open packets of biscuits and jars of pickled fruit they feasted on.
As he surveys the damage to his home, Leonid breaks down. "I don't know what they were looking for," he says, "they just destroyed everything. I have no words to describe what they did."
The scarred villages and towns near Kyiv and Chernihiv in northern Ukraine, from where the Russians have retreated, are now sites of possible war crimes. Andriivka joins a growing list - with Bucha, Irpin and others - which bear the hallmarks of deliberate targeting of civilians and other atrocities banned by the rules of war.
And they are grim omens of what may be in store in the east, where Russian forces are now intensifying their attacks ahead of a new offensive. What nightmares will be found there once the shroud of war finally lifts?
On the edge of Andriivka cemetery, the remains of Tetiana's grandson, Anton, lie in a fresh grave. His family have only now been able to bury him. The 23-year-old was studying to become an electrician.
"We wanted to bury him separately and with a priest, not just in a mass grave," she says. "I had two daughters, so he was our boy. We only had one boy."
War in Ukraine: More coverage