Ukraine: Returning home to a country still at war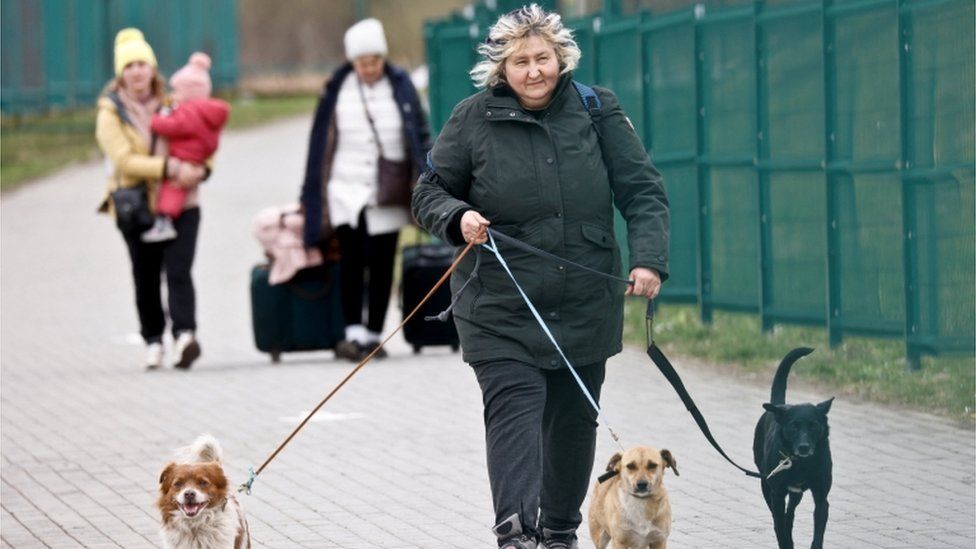 At Ukraine's western border with Poland near the town of Mostyska, Olena and Maria walk back into their home country after more than a month abroad.
The pair are from Slovyansk in the eastern Donetsk region. On 10 March, as Russian invaders drew closer, Olena's husband told her to take their daughter Maria and leave the country.
Olena and Maria headed to a friend's house in Szczecin, a Polish city on the border with Germany. But they had to sleep on the floor, and Olena says they struggled to find work there because they don't speak the language.
Now, they're heading back east - despite the threat of a renewed Russian assault. Donetsk remains a key target for Russian forces.
Olena's husband is an ambulance driver and still in Slovyansk, waiting for them. When we ask how they feel to cross back into their home country, Olena breaks into a huge grin.
"Super!" she says. "No matter what, we're very happy to be back in Ukraine."
But as the front lines stabilise and the country learns to function in a state of war, some Ukrainians are beginning to make the journey back home, even to parts of the country directly threatened by Russian forces.
The war is now well into its second month. Ukraine has held off the Russian assault and fears of a rapid collapse - as President Volodymyr Zelensky told his people this week, it is more than 48 days since military analysts in the West predicted the capital Kyiv had just 48 hours until its fall to the invaders.
People the BBC spoke to at the Polish border said they had tired of life as refugees abroad. Others were desperate to get back for practical reasons - to collect important documents left behind in the confusion after the invasion, protect their homes from looters, or even to pick up children who stayed behind with their fathers.
And for others, the pull of home, friends and family is just too strong.
Sofia is eating a hot dog from one of the fast-food stalls at the border crossing. She's defying her mum's orders, choosing to come back home after just three weeks in the safety of Poland. War is war, but Easter is Easter - she's eager to see her loved ones back home in Lviv this weekend.
"Mum forced me, she was panicking," Sofia says. But she never felt settled abroad, despite the help for refugees that humanitarian groups and the Polish government have organised.
"You feel foreign," she says. "Everyone's helping you, but it doesn't feel like home." She hopes to stay in the relative calm of Lviv.
Official figures suggest more people are making the same choice. Polish border authorities say numbers going to and from Ukraine are now drawing closer - on Wednesday, 24,700 people entered Poland from Ukraine, while 20,000 people made the opposite trip. It's a sharp reversal from the record 142,000 people who crossed into Poland on 6 March.
Lviv-Holovnyi rail station is a key transit hub in western Ukraine. Trains bring thousands in daily from war-torn regions: outside, charities give out food, clothes and SIM cards, while coaches line up to take travellers off to the countryside or the border.
Although most people come here from the east, a steady stream of people are starting to make the journey in the opposite direction - a potentially lethal choice.
Iryna, her daughter Katerina, mother Lina and mother-in-law Yevgenya are from Kryvyi Rih, a city in central Ukraine close to the front lines. They initially left the country to stay with relatives in Moldova, but have now decided to return. They've had to buy tickets for the trip - in contrast, journeys westward away from the fighting are free.
Iryna says they would have come sooner, but had to wait for her eight-year-old daughter to recover from an illness. "Home is home," she says, when we ask why they've decided to go back.
She admits she's worried about her daughter's safety. When they left, the Russian attacks were far away, but now they're getting closer.
We ask what they've told Katerina about the situation. "We're telling her the truth," Iryna says.
Some warn against moving back east.
Volunteers at a clinic above the main station concourse give out medical and psychological support for new arrivals. Irena Bous is one of them.
Before the war, she was a judge for the International Dance Organization and chair of a number of dance competitions within Ukraine. "All kinds - hip hop, jazz, break dancing," she says.
A friend of hers in the Lviv governor's office knew she had a flair for organisation and so asked her to help out when the Russians invaded.
Irena has met several people who are returning to areas wracked by violence. "It's a bad idea [to return east]," Irena says. "We try to save their lives and keep them in Lviv."
She tells us of a woman who came to Lviv from her home near Bucha, a wealthy suburb of Kyiv where Russian troops shot dead scores of civilians and left bodies in the street. After nine days, she decided to return - against Irena's advice.
"I said, please wait, there are no Russians but we have many things there - bombs, mines - wait until they are deactivated," Irena says. The woman travelled back regardless, saying her friends had found her a place to stay.
Another woman Irena spoke to, who is in her 60s, had fled to Poland even before the war began, but returned to Ukraine and boarded a train east last week. "I don't know how long I will live, but I will die in my house," she told Irena.
Others we met couldn't bring themselves to leave Ukraine in the first place. At Arena Lviv - a stadium built for the Euro 2012 football tournament, but now playing host to refugees - we meet Roma, a 19-year-old from Mykolaiv on Ukraine's Black Sea coast, and his new friend Iryna, a grandmother from Severodonetsk in the eastern Luhansk region.
The pair had never met until that day, but now they have decided to stay together. Iryna travelled across Ukraine to the Polish border in the days after the invasion, intent on escaping. After queuing for hours, she made it to the front of the line, only to change her mind at the last minute. Her son is in the military in Ukraine and she hears her home city has been recaptured by Ukrainian forces, opening up the prospect of heading home.
"I couldn't bring myself to leave [the country]," she tells us. But since then, she has been moving around the west of the country, sleeping for a time at a nursery in Lviv before ending up at the arena with Roma.
A coach destined for the countryside has one spot left on board, but despite repeated offers, Iryna refuses the seat - choosing instead to stick with her new friend.
Now she and Roma - like millions of others - face an uncertain future as displaced people within the country. With a choice of refugee status abroad or rootlessness inside Ukraine, it is perhaps no surprise that some are risking everything to return to their homes.
War in Ukraine: More coverage