Ukraine war: Trucks stuck at Poland-Belarus border as EU sanctions deadline passes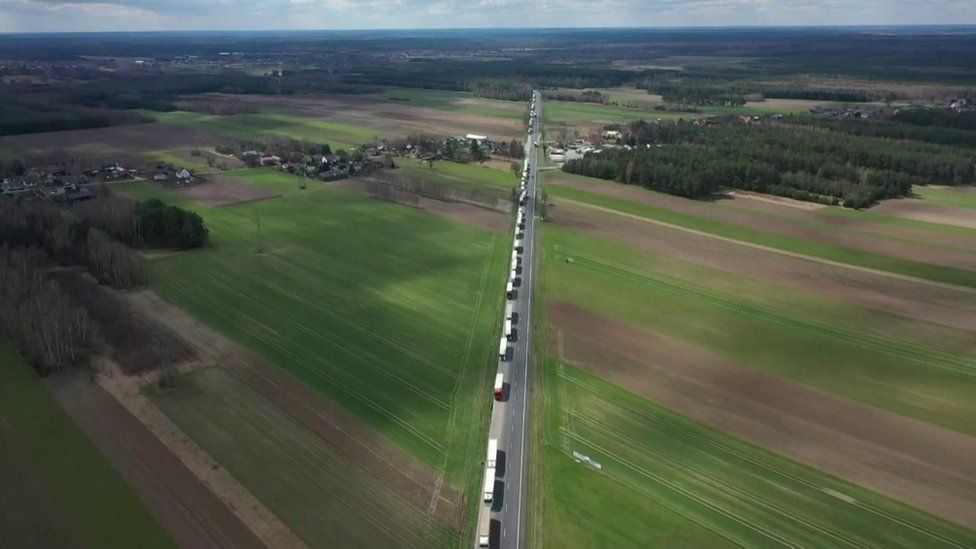 A huge queue of trucks has formed on the Poland-Belarus border as Russian and Belarusian drivers try to leave the EU following a sanctions deadline.
In the run-up to the Saturday deadline, the line extended to 80km (50 miles), with some stuck for up to 33 hours.
The EU has banned lorries from Russia and Belarus - except those carrying medicine, mail or petroleum products - from entering or staying in the bloc.
The move is part of sanctions over Russia's invasion of Ukraine.
Drone footage filed by Reuters news agency showed long queues remaining as the midnight deadline neared.
"There are still many kilometres to drive... so it's unrealistic," it quoted a Belarusian driver on his chances of crossing the border in time.
And hours after the deadline passed, the waiting times had been shortened to 12 hours, says the BBC's Adam Easton in Warsaw, with the number of trucks at two border crossings between 230-400 vehicles.
However, it is unclear what will happen to thousands of other trucks from the two countries estimated to currently be on EU territory.
One possibility is that they will be seized by national authorities.
A Polish official representing transport groups expressed concern that such a move may lead to similar measures against Polish trucks using Russia and Belarus on their way back home.
The EU - and many other Western countries - have imposed punishing sanctions against Russia, and its main ally Belarus.
The two countries have reciprocated with measures of their own.
War in Ukraine: More coverage