Russia attacking Mariupol steelworks after evacuations, says Ukraine commander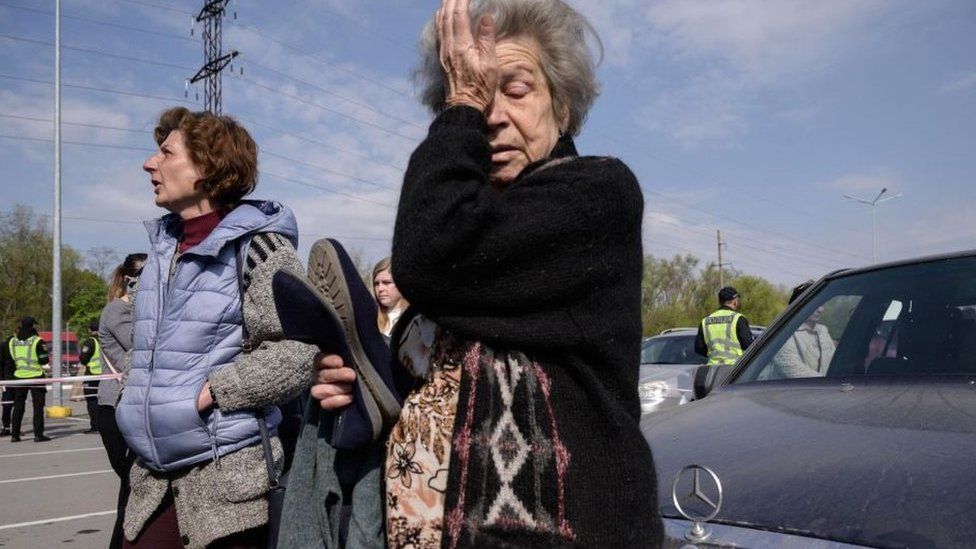 Attacks have resumed on Mariupol's steel works, despite hundreds of civilians remaining trapped inside, a Ukrainian officer has said.
The Azovstal plant was being shelled by "all kinds of weapons", National Guard commander Denys Shlega said on Monday.
On Sunday a number of civilians who had sheltered inside the last resistance stronghold managed to escape.
But "several dozen small children are still in the bunkers underneath the plant", the commander said.
The shelling on the plant in the southern port city, which has been under intense Russian bombardment for weeks, began as soon as the civilians who had been evacuated left, he told Ukrainian television.
On Monday evening, footage emerged apparently showing a massive fire at the Azovstal, in what social media users said was a result of Russian bombardment.
A first group of evacuees from the steelworks were expected to arrive in the Ukrainian-controlled city of Zaporizhzhia on Monday - but the rescue efforts have run into delays, the BBC's Laura Bicker, who is in the city, reports.
It is not clear what is causing the hold-up, she says. The convoy is on its way, but the buses have hundreds of miles to travel along a road which is - in part - rubble. They also have to go through a number of Russian checkpoints.
Those who left Mariupol on Monday were evacuated with the support of the United Nations (UN) and the International Committee of the Red Cross, which organised an official convoy.
Russia said some evacuees had been taken to a village controlled by Moscow-backed separatists. But state media later reported that they would be free to travel onwards to Ukrainian-held territory if they wanted to.
Ukraine's President Volodymyr Zelensky welcomed the news that around 100 people were heading for Zaporizhzhia, which is about 140 miles (230km) north-west of Mariupol.
"Grateful to our team! Now they, together with UN, are working on the evacuation of other civilians from the plant," he wrote on Twitter.
Some people have spent many weeks sheltering in the Azovstal steelworks, with reports suggesting food, water and medicine supplies are all running low.
"The situation has become a sign of a real humanitarian catastrophe," Ukraine's Deputy Prime Minister Iryna Vereshchuk said.
One Russian news report estimated the number of civilians still in the plant was more than 500.
War in Ukraine: More coverage
A few evacuees from Mariupol who had not been sheltering in the steelworks arrived in Zaporizhzhia earlier on Monday after travelling independently.
"We lived in [our] basement starting from 27 February," Natalya Tsyntomirska told Reuters news agency. "The whole time, we were shelled with mines, and then air strikes started. Our house is completely destroyed."
Another evacuee, who did not give a name, said she had been unable to reach the evacuation buses because of a blockade.
"Our city is divided between the left bank and right bank. The left bank was under a total blockade. We couldn't reach these buses," she said.
Late on Monday, the Mariupol city council said an evacuation of civilians with the support of the UN and Red Cross had been agreed for Tuesday at 07:00 local time (04:00 GMT).
Russia has so far made no public comments on the issue. A number of similar evacuation attempts have failed in recent days - with both Ukraine and Russia blaming each other for reneging on the agreed terms.
'It's been difficult, tough, frightening'
By Laura Bicker in Zaporizhzhia
A few civilians with their own cars are making use of the humanitarian corridor brokered by the United Nations and the Red Cross to get to the refugee centre.
Most of the vehicles are battered, one even had its windscreen smashed. Others are using plastic film and sticky tape to hold parts of the car together.
Daniil had to scramble through the city looking for spare parts for his car after it was hit by shrapnel from a shell which landed just five metres away. Peeking out the plastic film window from the passenger seat was his husky dog, Sly.
After handing over his papers to officials, Daniil jumped out the car and threw his hands in the air. His fingers made the V for victory sign.
"It's been difficult, tough, frightening. I lived on a tugboat in the port in Mariupol. We couldn't even raise our heads. It was so scary to be there," he said.
"Mariupol used to have a wonderful park. It was a prospering city. Now it's all gone."
I asked him what he will do now.
"I am going to leave. I am going to get as far from everything as possible."
Mariupol is almost fully under Russian control, with much of the city destroyed in weeks of heavy Russian bombardment and intense street fighting. Taking the port city is a key Russian war aim, and some of Russian troops there have already been released to join Moscow's wider offensive in the eastern Donbas region.
However, Ukrainian soldiers have continued to defend the steelworks.
Azovstal and its maze of of underground tunnels - surrounded by water on three sides - has become their fortress, plant director general Enver Tskitishvili told the BBC on Monday. It has 36 bunkers, some of them able to withstand a direct nuclear strike.
The Ukrainian government had updated Azovstal's bunker system in the wake of Russia's annexation of the southern Crimea peninsula and Moscow's backing of rebels in Donbas in 2014.
Earlier this year, it even gave Ukrainian fighters details and maps of the underground network, and supplied the plant with 40,000 packages of food - each one enough for one person for one day.
"But we didn't expect such a genocide and inhumane war," Mr Tskitishvili said.