Retired colonel speaks out on Russian TV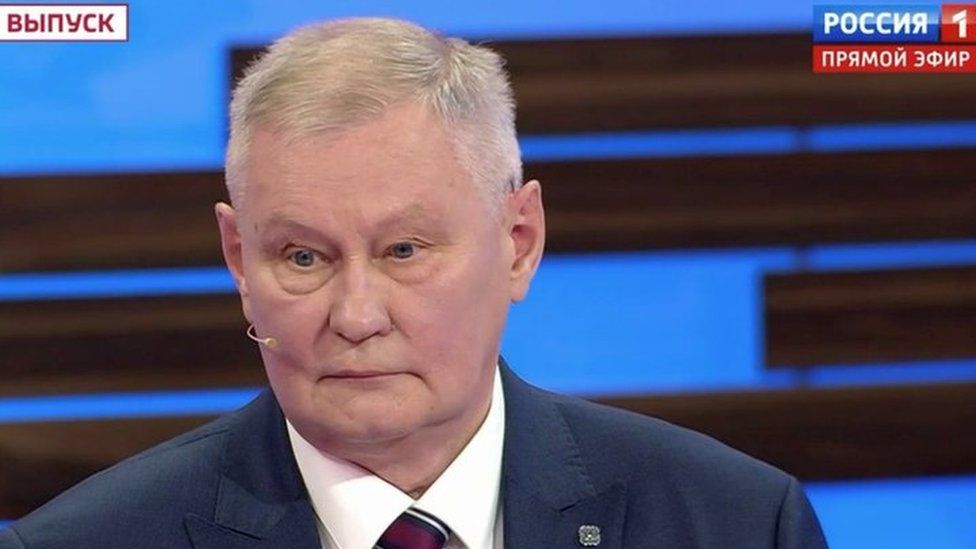 Russia's mainstream media outlets offer a view of the Ukraine war that is unlike anything seen from outside of the country. For a start, they don't even call it a war. But our Russia editor reflects on a rare exchange broadcast on state TV.
It was an extraordinary piece of television.
The programme was 60 Minutes, the flagship twice-daily talk show on Russian state TV: studio discussion that promotes the Kremlin line on absolutely everything, including on President Putin's so-called "special military operation" in Ukraine.
The Kremlin still maintains that the Russian offensive is going according to plan.
But on Monday night, studio guest Mikhail Khodarenok, a military analyst and retired colonel, painted a very different picture.
He warned that "the situation [for Russia] will clearly get worse" as Ukraine receives additional military assistance from the West and that "the Ukrainian army can arm a million people".
Referring to Ukrainian soldiers, he noted: "The desire to defend their motherland very much exists. Ultimate victory on the battlefield is determined by the high morale of troops who are spilling blood for the ideas they are ready to fight for.
"The biggest problem with [Russia's] military and political situation," he continued, "is that we are in total political isolation and the whole world is against us, even if we don't want to admit it. We need to resolve this situation.
"The situation cannot be considered normal when against us, there is a coalition of 42 countries and when our resources, military-political and military-technical, are limited."
The BBC is not responsible for the content of external sites.
Skip twitter post by Steve Rosenberg
Allow Twitter content?
This article contains content provided by Twitter. We ask for your permission before anything is loaded, as they may be using cookies and other technologies. You may want to read Twitter's cookie policy, external and privacy policy, external before accepting. To view this content choose 'accept and continue'.
The BBC is not responsible for the content of external sites.
End of twitter post by Steve Rosenberg
The other guests in the studio were silent. Even the host, Olga Skabeyeva, normally fierce and vocal in her defence of the Kremlin, appeared oddly subdued.
In many ways, it's a case of "I told you so" from Mr Khodarenok. Writing in Russia's Independent Military Review back in February, before Moscow attacked Ukraine, the defence analyst had criticised "enthusiastic hawks and hasty cuckoos" for claiming that Russia would easily win a war against Ukraine.
His conclusion back then: "An armed conflict with Ukraine is not in Russia's national interests."
Criticism in print is one thing. But on TV - to an audience of millions - that is another level completely. The Kremlin has gone out of its way to control the informational landscape here: shutting down independent Russian news sources and ensuring that television - the principal tool in Russia for shaping public opinion - is on message.
It is rare to hear such realistic analysis of events on Russian TV.
Rare. But not unique. In recent weeks, critical views have appeared on television here. In March, on another popular TV talk show, a Russian filmmaker told the presenter: "The war in Ukraine paints a frightening picture, it has a very oppressive influence on our society."
So what happened on 60 Minutes? Was this a spontaneous, unprompted and unexpected wake-up call on Ukraine that slipped through the net?
Or was it a planned burst of reality in order to prepare the Russian public for negative news on the progress of the "special military operation"?
It's difficult to say. But as they say on the telly, stay tuned to Russian TV for further signals.
War in Ukraine: More coverage