Ukraine war: One Russian's anti-war protest on the side of his shopping centre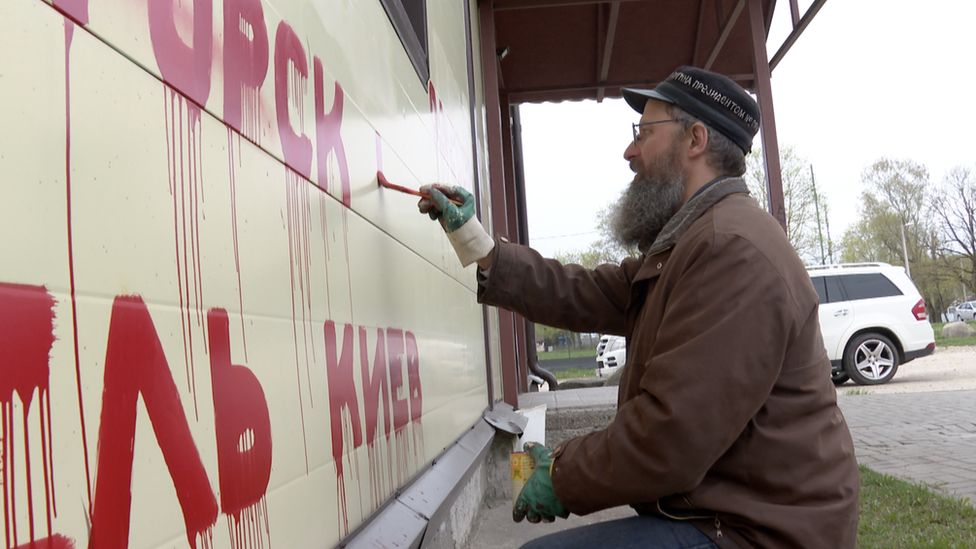 If you drive eight hours north of Moscow, you'll come to a tiny little town called Russko-Vysotskoye.
There is not a great deal to see here, apart from the chicken farm and the church that was reduced to rubble in World War Two.
But there is one thing in this town that is particularly eye-catching: the local shopping centre.
Dmitry Skurikhin owns the building - and you should see what he's done to the front of it.
In giant letters he's painted "Peace to Ukraine, Freedom to Russia!" In bright-red paint he's listed the names of Ukrainian towns that have been attacked by the Russian army.
Mariupol, Bucha, Kherson, Chernihiv, and many more.
"I thought this would be a good way of getting information out," Dmitry tells me.
"Because for the first few weeks of the war our people didn't know what was happening. They thought that some kind of special operation was being conducted to remove drug addicts from the Ukrainian government. They didn't know that Russia was shelling Ukrainian towns."
Dmitry has even turned the roof of his shop into a giant yellow and blue Ukrainian flag.
Suddenly, out comes a paint pot and brush and Dmitry adds more names.
Borodyanka, Odesa, Irpin… The excess paint drips down the wall, blood red, making this statement all the more powerful.
Dmitry knows that what he's doing is not without risk. In Russia public protest often ends in prosecution or threats. Or both. Someone has already graffitied "traitor" on his door. And the police have been round to visit. He was later fined for discrediting the Russian armed forces.
"I couldn't just sit doing nothing. It would have torn me apart inside. But what I am doing is an act of desperation. Now Russians are outcasts. We deserve to be. This offensive will cast a shadow over us for a long time."
The Kremlin likes to portray President Vladimir Putin as a leader who is supported by his people. The authorities insist that Russians back him on Ukraine. Dmitry claims it is an illusion.
"If you ask people here, are they in favour of war between Russia and Ukraine, with the shelling of towns, plus all the consequences like poverty and hunger, they would say: 'Are you mad?!'" Dmitry tells me.
"Russians are being exposed to disinformation. They support the special military operation that they're being told about on TV. But people are starting to realise that what's really happening is a calamity."
Outside the shopping centre, I ask passers-by what they think of Dmitry's paint protest.
"He's an idiot. An idiot! Covering the wall with that dog's dinner!" exclaims one shopper. "He'd have been better off painting a picture on the wall!"
The next person I ask happens to be Dmitry's 87-year-old former biology teacher from school.
"No one wants war, I still remember World War Two," says Maria Nikolaevena. "But it's all very well saying we don't want war. Perhaps our government knows better."
"He has the right to express his opinion," says a young man called Anton. "And I'm worried, too, about Ukraine, because attacking, bombing a neighbouring country is a strange thing to do."
Dmitry Skurikhin knows that paint will not bring peace.
But if his protest makes people in the town stop, think, even question, then it will - he believes - have been worthwhile.