Ukraine reports 15,000 suspected war crimes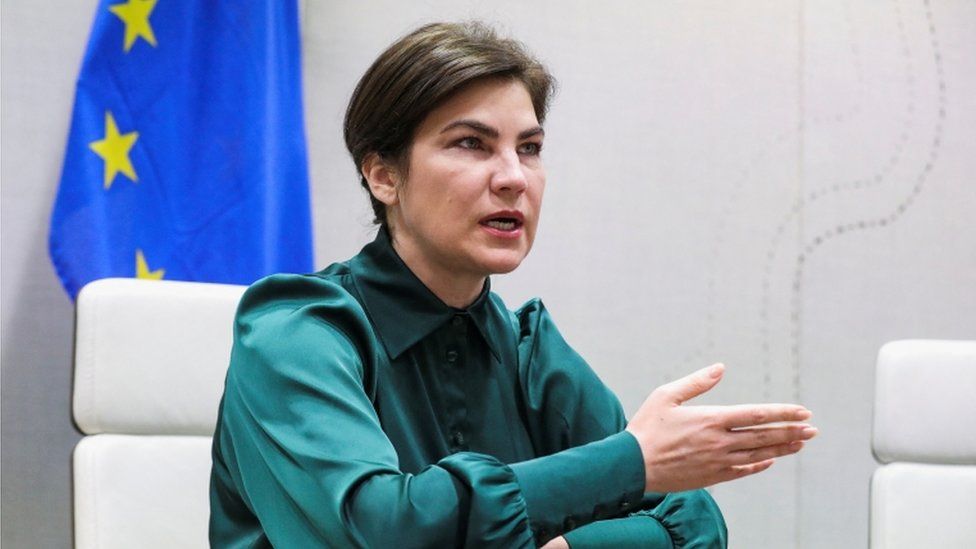 Around 15,000 suspected war crimes have been reported in Ukraine since the war began, with 200 to 300 more reported daily, its chief prosecutor said.
Some 600 suspects have been identified and 80 prosecutions have begun, Iryna Venediktova told reporters in The Hague.
The list of suspects includes "top military, politicians and propaganda agents of Russia", she added.
Russia has denied targeting civilians or involvement in war crimes.
Of the 15,000 alleged war crimes, Ms Veneditkova said several thousand had been identified in the eastern Donbas region - the scene of fierce fighting between Russian and Ukrainian troops.
Alleged war crimes in the region include the possible forcible transfer of people - including cases of adults and children - to different parts of Russia, Ms Venediktova said. Torture, the killing of civilians and the destruction of civilian infrastructure are also suspected war crimes, she added.
Though investigations relating to the eastern region have started, Ukrainian authorities do not have access to Russian-held areas, AFP news agency reports Ms Venediktova as saying. They were, however, interviewing evacuees and prisoners-of-war, she added.
"Investigations are very difficult when fighting is going on at the same time," she is quoted as saying by German news agency DPA.
Estonia, Latvia and Slovakia have also joined the investigation efforts, Ms Venediktova said. Poland and Lithuania were already helping.
The International Criminal Court described Ukraine as a "crime scene" and has despatched its largest team of investigators ever to Ukraine to assist in the investigations. It said it was also hoping to open an office in Ukraine's capital Kyiv.
The announcements came as two Russian soldiers were jailed for 11 and a half years in Ukraine on Tuesday for shelling civilian areas. The first Russian soldier to be put on trial in Ukraine, Sgt Vadim Shishimarin, was sentenced to life in prison for killing a civilian last week.
Ukraine's ombudsman for human rights, Lyudmila Denisova, was also sacked by Ukraine's parliament. She was criticised for not organising humanitarian corridors and facilitating prisoner exchanges, as well as her handling of alleged rape cases against Russian soldiers, according to local media reports. Ms Denisova said she would appeal the decision.
On the ground, Ukrainian and Russian forces battled for control of the eastern city of Severodonetsk in the Luhansk region.
The city is said to be divided between the two sides - but not equally. Regional governor Serhiy Haidai said "70%-80% of the city is controlled by the Russian army".
An explosion also reportedly hit a nitric acid container in the city, which is thought to have been caused by an airstrike, Mr Haidai said. He told the BBC toxic fumes were released into the air following the explosion, but only in a small area.
Russia now occupies almost all of Luhansk, as it focuses on seizing it and neighbouring Donetsk.
Away from the fighting, European Union leaders reached political agreement to ban 90% of oil imports from Russia, excluding pipeline oil, which Hungary had opposed. But EU members remain split over Russian gas exports.
Russian oil giant Gazprom also announced it would be cutting gas supplies to Denmark's Orsted, as well as Shell Europe for its supplies to Germany, after both companies failed to make payments in roubles - something Russia has demanded.