War in Ukraine: We are holding on, say Mykolaiv residents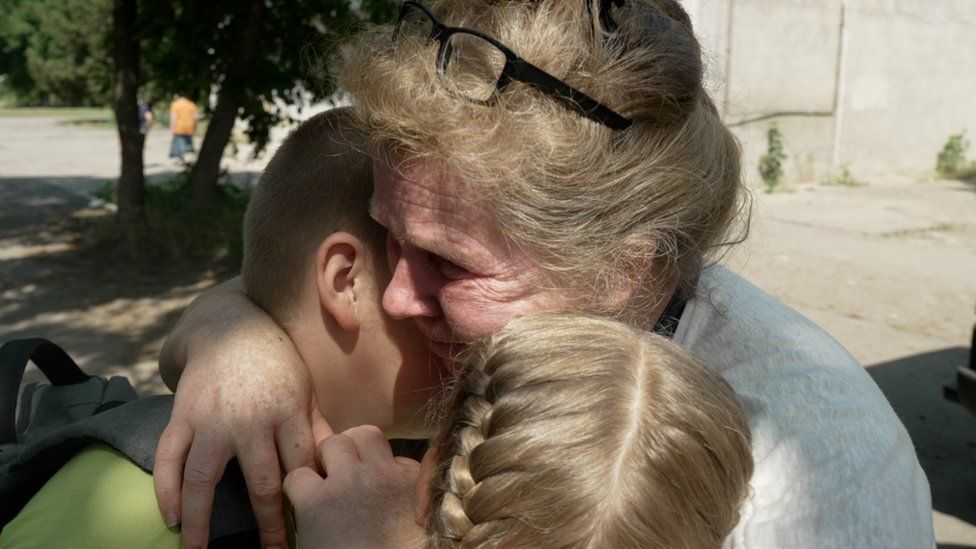 There is shelling every day in Mykolaiv. The Russians are on the outskirts to the east and south, pummelling surrounding villages and forcing thousands to flee.
The wail of the air raid siren is a prelude to a thud to our right as our car makes its way through the suburbs of this major port.
A plume of smoke a few kilometres away confirms the hit - another rocket.
We are following a Ukrainian Red Cross van as they try to rescue some of those coming under regular shelling: yet another busload to add to the already historic human exodus from this country.
These farewells have become a familiar sight across Ukraine over the last 100 days, but they are no less heartbreaking to watch.
Liudmyla has decided it is time for her youngest children to leave. She can't let them play outside as the bombardment continues and she wants them to be somewhere safe.
She holds on to them as long as she can, one under each arm, until it is time to go. Then it is too much. She turns her back and sobs as they leave.
"I will see them again when the bombing stops," she tells me. But no-one knows when that will be.
Mykolaiv was one of the first cities attacked when the invasion began. Russian forces came close to the city limits but were pushed back.
This region is key to Russian's strategy to cut off the entire southern coast. A breakthrough here would allow the Kremlin's forces to approach Odesa - the country's largest civilian port, 130 km (80 miles) to the west.
Vladimir Putin could then complete his land bridge up to Transnistria, the breakaway republic of Moldova.
Russian attacks have stepped up in recent weeks, prompting fears that if the Kremlin prevails in Donbas, it will then concentrate its forces in the south and try once again to take Mykolaiv.
The city governor, Vitaliy Kim, tells me that the recent air attacks in the south have been aimed at Ukrainian counter-offensives.
"Mykoliav, like Kherson, like Mariupol, is a trigger point for the Russians," he said.
"They are disappointed that we are counter-attacking. We have the motivation and the will to win. This is our land and we will do our best."
He is standing outside his former office, the regional administration building, which was ripped apart by a cruise missile in March, killing 36 people.
Earlier this week, two people were killed when the Russians shelled an apartment block and a playground.
Mr Kim is aware of the risks of staying. "I don't know what it is any more to live a normal life. I wish very much to end the war but I can't.
"For now, we have only one purpose. And everything, every human resource, money, time is spent only for victory."
This city has proved to be remarkably resilient.
Water is a precious resource - supplies were cut off after Russia seized the neighbouring city of Kherson. Queues to fill bottles are often long and June temperatures are hitting around 30C.
And yet people here have managed to find a way to make it work. They fill up their containers from local stations set up in neighbourhoods.
The daily thud of incoming shells barely registers. Most hardly look up from their coffee as they sit on benches in the park. There is even a horse and Cinderella-like carriage with courting couples merrily trundling up and down the High Street.
This may be a Kremlin target, but it is also home.
We head 30 km (19 miles) south to a village near the frontline to see the path of Russia's retreat in March.
Dozens of families have returned since the invading forces were pushed back. The village head, Natalia Panashii, is keen to show me what they've done with the bomb craters.
"Look, I've turned them into flower beds," she tells me proudly.
"Thank God, we are holding on. Sometimes I am very scared that they might just kidnap me and take me away. On the other hand, I am sure, and I keep telling this to everyone else, that they have no business here. They should know better than loitering on our land."
"Yes, we are concerned that the Russians might go on an offensive, very concerned. But we believe that the victory is going to be ours."
We hear what I am told are cluster bombs being launched just a few kilometres away, so I question Natalia's optimism.
"Yes, even with that thumping," she said.
"We think that those thuds are just because some drunk Russian is firing to scare us. But he is failing at that."
Natalia has lived for the last 100 days in both defiance and dread.
She admits to me that she will sit down and have a cry when I leave.
It makes me want to sit with her a little longer, but she waves me off with some Ukrainian biscuits.
As I head to the car, I notice the roads surrounding the village are still marked by the tracks of Russian tanks. Natalia points at them and shakes her head. "No, no, no," she says.
The Russians have been at her door once. She is determined they will not be back.
War in Ukraine: More coverage