Is Russia exporting grain from Ukraine?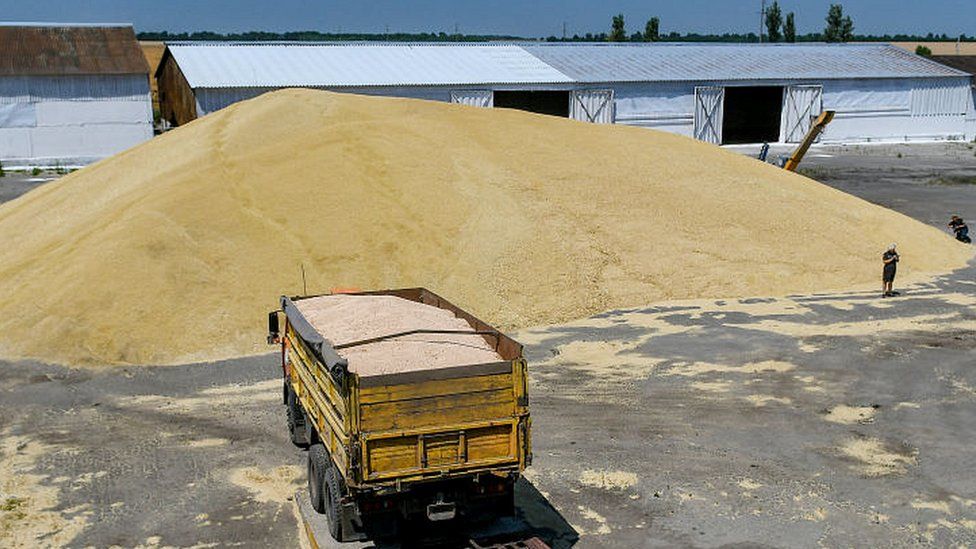 Russia is sending grain from Ukraine overseas, Russian-appointed officials in occupied southern Ukraine say.
The claim - which the BBC has not been able to verify - comes as Ukrainian officials accuse Russia of stealing about 600,000 tonnes of its grain and exporting some of it.
Russia denies it is stealing grain.
Accessing Ukraine's stockpiled grain has become urgent internationally: millions of tonnes are exported annually to Africa and the Middle East.
But it cannot be shipped now because Russia's navy is blockading Ukraine's Black Sea ports.
And Russia says Ukraine must de-mine waters off the Black Sea coast for corridors to export the grain to become operational.
The US alleges that Russia is trying to sell stolen Ukrainian wheat to drought-stricken countries in Africa, the New York Times reported.
In mid-May, the US sent an alert to 14 countries, mostly in Africa, that Russian cargo ships were leaving ports near Ukraine laden with the grain, the paper reported, citing a State Department cable.
What do the Russians say?
Yevgeny Balitsky, in charge of Russian-held areas in Zaporizhzhia region, said grain had left the region on freight trains bound for Crimea - which Russia annexed in 2014 - and, from there, the Middle East.
He told Russian state TV "the main contracts are being concluded with Turkey" - without giving details.
A spokesman for the Russian occupation authority in Crimea, Oleg Kryuchkov, said 11 waggons of grain had arrived in Crimea from Melitopol, a city in Zaporizhzhia.
He spoke to Russian state news agency RIA, which also said grain was being transported from the occupied Kherson region.
The BBC has approached Russian authorities for comment.
Russian Foreign Minister Sergei Lavrov discussed the grain problem with his Turkish counterpart Mevlut Cavusoglu in Ankara on Wednesday, but there was no breakthrough.
Mr Lavrov denied that Russia was obstructing Ukraine's wheat exports, saying the onus was on Ukraine to de-mine the waters off Odesa and other ports.
A Ukrainian foreign ministry spokesman said Ukraine could not de-mine the coast because Russia would "use grain corridors to attack southern Ukraine".
Russia also blames Western sanctions for the food crisis. The West however says Russia has "weaponised" food supplies.
Turkey is trying to broker a deal to create safe maritime corridors.
What do the Ukrainians say?
Last week Ukraine's ambassador to Turkey, Vasyl Bodnar, said Russia was shipping stolen grain from Crimea, and Turkey was among the destinations.
"We have made our appeal for Turkey to help us and, upon the suggestion of the Turkish side, are launching criminal cases regarding those stealing and selling the grains," Reuters quoted him as saying.
Ukraine Grain Association chief Mykola Gorbachov has warned that, if exports cannot resume from Ukraine's ports, the next harvest, starting in late July, will be severely impacted.
He said Ukraine's grain exports would be limited to 20m tonnes maximum next year - via road, river and rail - whereas last year it managed to export 44.7m tonnes.
Why is this such a pressing international issue?
Russia's invasion of Ukraine has fuelled big price rises worldwide for grain, cooking oil, fuel and fertiliser. Part of that is a result of Western sanctions on Russia.
Russia and Ukraine jointly account for nearly a third of global wheat supplies - Ukraine's contribution is nearly 10%.
In 2019 Ukraine accounted for 16% of the world's corn supplies and 42% of sunflower oil, according to UN data.
The current blockade of Ukraine and stockpiling of grain by some countries are contributing to shortages in countries already hit by food insecurity.
Petroc Wilton of the World Food Programme in Somalia says the drought in the Horn of Africa is already devastating. "Four consecutive failed rainy seasons. Fifteen million hungry people, rising to 20 by year's end," he said.
War in Ukraine: More coverage