Russian GRU spy tried to infiltrate International Criminal Court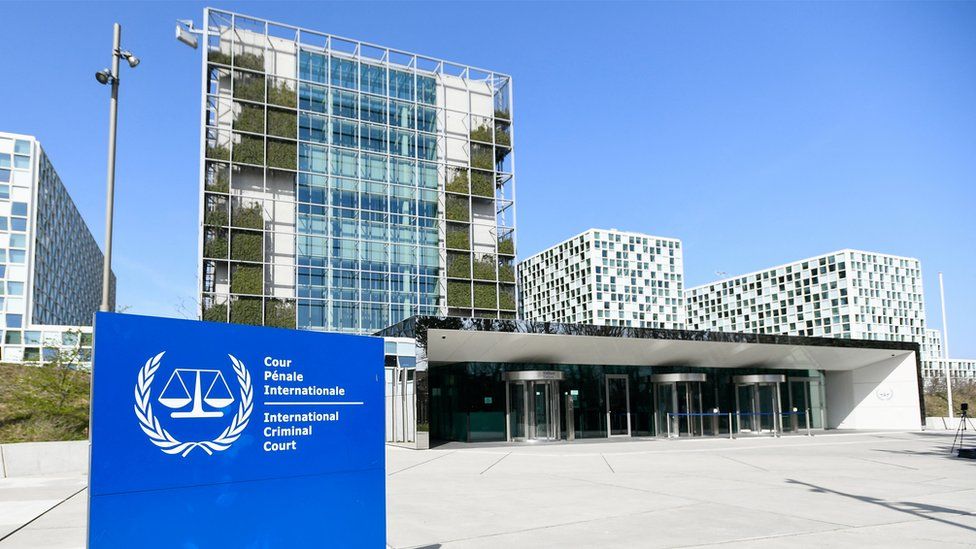 A deep-cover Russian spy tried to infiltrate the International Criminal Court (ICC), the security service of the Netherlands says.
The man used the name Viktor Muller Ferreira and pretended to be Brazilian but was refused entry as he arrived to start work in the Netherlands.
Authorities say his real name is Sergey Vladimirovich Cherkasov and he is a spy for the GRU - Russian military intelligence.
The man is said to have spent years building a fake identity, before applying for an internship at the ICC in The Hague.
The Dutch security agency, the AIVD, said if he had been successful in taking up the position and infiltrate the organisation, he could have done real damage.
"The threat posed by this intelligence officer is deemed potentially very high," it said in a statement.
To those who knew him, Viktor Muller Ferreira was a Brazilian with an interest in international affairs. But in reality, the AIVD said, he was a particular type of Russian spy known as an "illegal".
Russian intelligence uses the name to differentiate such officers from "legal" spies who are posing undercover as diplomats. Many countries use spies pretending to be ordinary people but Russia has long specialised in a type of deep-cover illegal agent who takes on an entirely different nationality. These spies pretend to be American, British, Canadian or - in the case of Ferreira - Brazilian to allow them to move in circles where Russians would be met with suspicion and therefore find it harder to operate.
The AIVD has published an extraordinary document believed to be written by Cherkasov around 2010, in which he outlines his fake identity, likely to remind him of his own cover story.
"I am Viktor Muller Ferreira," it begins.
The discovery of such a document suggests a remarkable degree of sloppiness by the spy. Over four pages it goes through his family story.
"My farther (sic) came across as a very friendly and open person, but to my surprise I discovered that I blamed him for the deaths of my mother and my aunt and all the difficulties and humiliations I had to suffer in my life," one line reads.
He also made a reference to having to go to Ireland for the funeral of his father.
It can take between five and 10 years for an illegal agent to be trained and build their cover. Given the challenges, there are not thought to be many out there - perhaps less than 30 from the GRU, according to Western estimates.
Russian intelligence has long targeted the ICC, and Ferreira is understood to have begun pushing for an internship late last year. The court's importance has grown since Russia launched its invasion of Ukraine. On 3 March the ICC prosecutor opened an investigation into war crimes and crimes against humanity in Ukraine.
The ICC offers some 200 unpaid internships which give candidates the opportunity to "gain exposure to the day-to-day working environment of the ICC, and to put their knowledge and experience into practise under the supervision of working professionals."
The position would have provided him with valuable access.
"If the intelligence officer had succeeded in commencing employment with the ICC, he would have been able to gather intelligence there and to look for (or recruit) sources, and arrange to have access to the ICC's digital systems," the AIVD said in a statement.
That way he would have been able to provide a significant contribution to the intelligence that the GRU is seeking. He might also have been able to influence criminal proceedings of the ICC."
Applying was a risk for a deep-cover spy, but it's one his bosses in Moscow must have felt was worth taking. Illegals are notoriously hard to find - he is not thought to have been spotted by the ICC - and Dutch authorities did not say how he was identified.
Social media profiles reviewed by the BBC and which are believed to belong to Ferreira reveal an extensive list of friends - including a number of international students from two institutions which he appears to have attended - Johns Hopkins University in the US and Trinity College, in Dublin, Ireland. Those friends have gone on to work everywhere from investment bank Goldman Sachs to think tanks and federal regulatory agencies in Washington DC. They will not have known he was a Russian spy.
"He had some accent which I couldn't place. But it wasn't Russian," an academic who taught him told the BBC. Ferreira is thought to have applied to the ICC as early as September 2020 but the application may have been delayed due to Covid.
"Brazil is underrepresented in ICC, so that might be my chance!," Ferreira said at one point.
One profile says Ferreira moved to Washington DC in August 2018 and a record shows him graduating from Johns Hopkins in 2020. Postings on social media reveal an eclectic mix of views including some which are mildly critical of Russia, which could be interpreted as an attempt to continue to build his cover.
In one case, his account appears to have even posted a report from the Bellingcat investigative group about uncovering identities online used by the GRU, a rather unusual move for someone who now stands accused of being an undercover GRU operative himself.
His cover now blown though, his future as a deep-cover spy will be over.