Kaliningrad row: Lithuania accuses Russia of lying about rail 'blockade'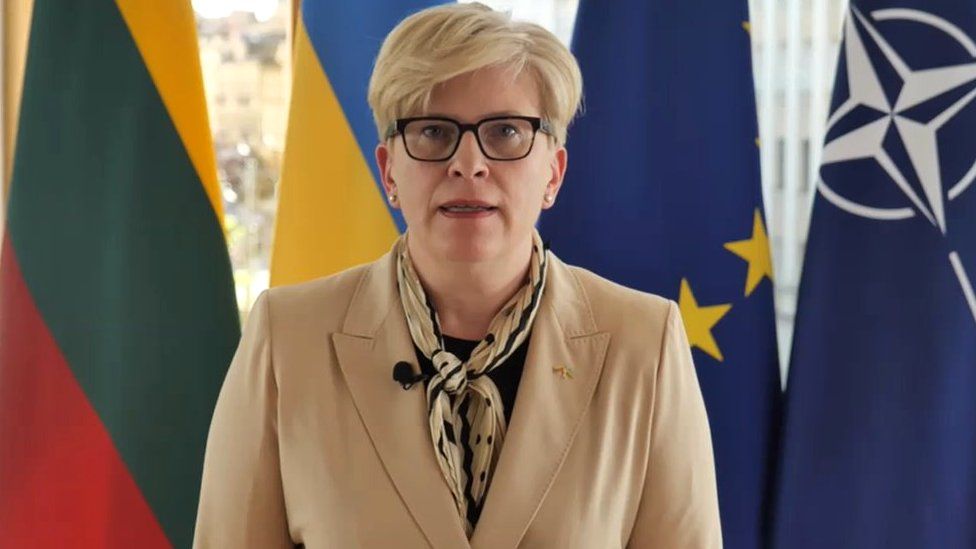 Lithuanian Prime Minister Ingrida Simonyte has said Russian claims of a rail blockade of its territorial outpost in Kaliningrad are a lie.
Kaliningrad is on the Baltic Sea and uses a rail link to Russia via Lithuania for passengers and freight.
When Lithuania banned the transit of steel and other ferrous metals under EU sanctions last Saturday, Russia threatened to respond.
The Kremlin condemned the sanctions as illegal and unacceptable.
Ms Simonyte explained that passengers were still able to travel freely across Lithuanian territory from Russia to Kaliningrad and only about 1% of Russian freight was affected.
One senior diplomat in Brussels said that Russian talk of a blockade was disinformation and completely untrue.
"Lithuania is complying with the sanctions imposed by the European Union on Russia for its aggression and war against Ukraine," the prime minister said.
EU sanctions on steel were imposed in March, but a three-month transition period was allowed for existing contracts to wind down.
Russia annexed Kaliningrad after World War Two in 1945 and roughly one million people live there.
It was not clear what Russian security council chief Nikolai Patrushev meant when he threatened a "serious negative impact on the population of Lithuania".
The foreign ministry in Moscow said merely that retaliation would be practical as well as diplomatic. Regional governor Anton Alikhanov said that as well as reprisals, Kaliningrad would organise shipments by sea.
One option would be to disconnect Lithuania from the electricity network it shares with Russia, Belarus and the other Baltic states, although officials in Vilnius have said for months they are ready to connect through Poland to the West European grid.
The Lithuanian prime minister told the BBC that it was important not to overreact, as this was the latest in a series of threats used by Russia or Belarus to threaten their neighbours, such as attempted cyber-attacks on public institutions and utilities.
Estonia called on Russia to stop issuing threats and suggested Moscow was flexing its muscles ahead of next week's Nato summit in Madrid, where Sweden and Finland hope to get backing to join the Western defence alliance.
As Lithuania is a member of the Nato as well as the EU, the prime minister said lessons needed to be learned and security had to be in place, given that Russia's neighbour Belarus had acted as an accomplice, allowing its soil to be used as a staging post for invasion of Ukraine.
"We need a significantly higher presence in the region," she told the BBC's Katya Adler, citing a 100-km (62-mile) corridor of territory that connects Lithuania and the other two Baltic states to Poland.
"The Suwalki Gap is a place which is crucially important, not only for my country or Poland, but also for Nato, because this is a short corridor and there is a need to take its defence and security seriously."
She was speaking on the eve of an EU summit, where diplomats said the Russian threats were bound to come up.
One diplomat told the BBC that when sanctions had been imposed, it was unlikely that they were designed to stop Russia moving goods internally. The European Commission might seek to de-escalate the situation, the source added.
However, another senior European diplomat said the legal argument was clear, that there would be no derogation for allowing banned Russian goods from crossing EU territory.
Further sanctions are due to come into force in August and December, covering luxury goods and crude oil, so the aim is for the Commission to make a public statement on what is seen as legal and what is not.
War in Ukraine: More coverage