Yulia Tsvetkova: Russian LGBT activist acquitted of 'porn' charges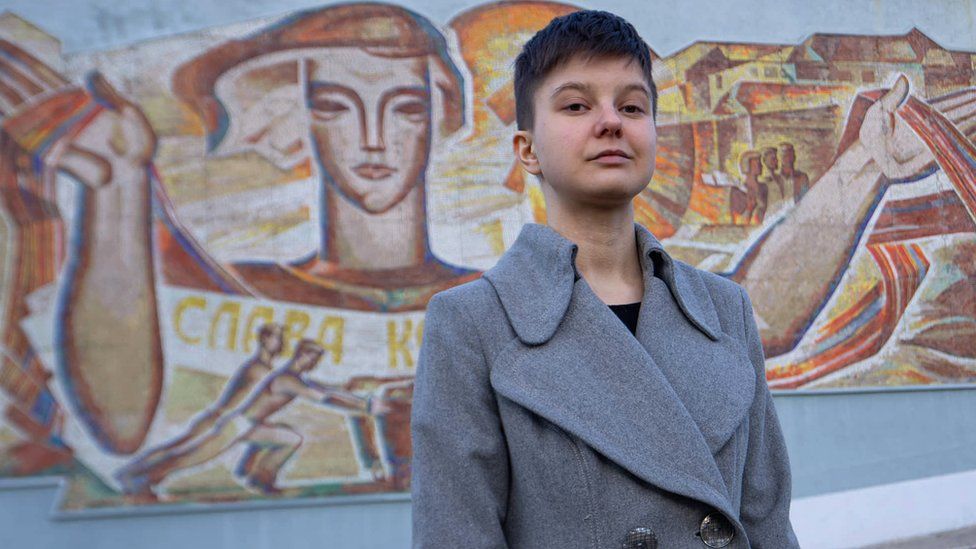 A prominent feminist and LGBT activist has been acquitted of controversial "pornography" charges in Russia.
Yulia Tsvetkova, 29, was accused of distributing pornography and "LGBT propaganda" in 2019, and was facing a maximum of six years in prison.
She is known for posting body-positive drawings of the female anatomy on her blog called the Vagina Monologues.
The case prompted nationwide protests in solidarity with her - which in turn saw dozens of people detained.
"ACQUITTED!!!!" her mother Ann Khodyreva wrote in Russian on Facebook. However, the prosecution can still appeal against the verdict and has 10 days to do so.
Most cases that go to court in Russia end in conviction.
"We are rejoicing, but not yet completely," said a message on the Telegram channel We Are Julia, which shared updates on her case.
Human rights organisation Amnesty International rejoiced at the acquittal of the "absurd" charges.
"In a country where state-sponsored homophobia and misogyny are the norm, Tsvetkova's trial was a landmark case," it said. "The Russian authorities must immediately stop targeting feminists and LGBTI activists."
She spent four months under house arrest when authorities in her far-eastern hometown of Komsomolsk-on-Amur launched criminal proceedings in 2019.
She was charged with four counts of sharing "propaganda of non-traditional sexual relations with minors" and fined 125,000 roubles ($2,125; £1,800) for two of them in late 2019 and 2020.
The trial was held behind closed doors because of the pornographic images that would be displayed as evidence, The Moscow Times reported.
In June, Ms Tsvetkova was declared a "foreign agent" by the Kremlin - joining a growing list of activists, journalists and non-governmental organisations. "Foreign agent" was a Soviet-era term of abuse for political dissidents.
She featured in the BBC's 100 women of 2020 list which recognises inspiring and influential women who are making a difference during turbulent times.
Homosexuality was decriminalised in Russia in 1993, but members of the LGBT community are often the target of harassment and homophobic behaviour - including from leading politicians.
In 2019, Russian President Vladimir Putin defended his government's attitude to members of the LGBT community as "very level-headed, absolutely calm". In the same remarks, however, he dismissively called transgender people "transformers".
Other critics of Russian society are similarly at risk of being persecuted by the country's legal system, especially since the start of its invasion of Ukraine.
On Friday, opposition activist Andrei Pivovarov was sentenced to four years in prison for leading a banned pro-democracy group.
He is the former executive director of Open Russia, a now disbanded pro-democracy group set up by exiled tycoon Mikhail Khodorkovsky.
You may be interested in: