Russia's independent TV Rain channel back on air from abroad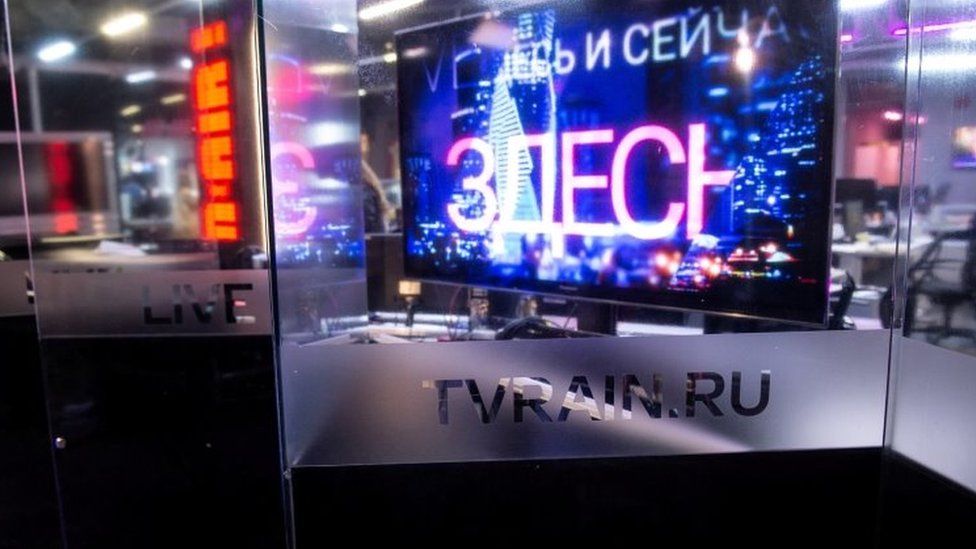 TV Rain, Russia's last independent channel is back on air, more than four months after being forced to close over its coverage of the war in Ukraine.
Known as Dozhd in Russian, it resumed broadcasting from Latvia, streaming a news programme on its YouTube channel.
Dozhd was blocked by Russia's authorities in early March - just days after Moscow had invaded Ukraine.
Many employees then fled Russia, and later started work on rebuilding the channel abroad.
Dozhd resumed its operations from a studio in Latvia's capital Riga at 20:00 Moscow time (17:00 GMT) on Monday with a Here and Now news programme.
It said it had received an EU broadcasting licence and full programming would resume in the autumn from Riga and also Amsterdam, Paris and Tbilisi, Georgia.
However, analysts say YouTube is likely to be the only way most people in Russia will be able to access the channel's output via virtual private networks (VPNs).
In March, Russia's telecommunications regulator blocked Dozhd because it was describing the Russian invasion of Ukraine on 24 February as a "war".
Russia's newly-adopted legislation criminalises the dissemination of "false information" about the Russian military, including calling the invasion of Ukraine anything other than a "special military operation".
The regulator also accused Dozhd of "inciting extremism, abusing Russian citizens, causing mass disruption of public calm and safety, and encouraging protests".
The new laws have forced all Russia's major independent or liberal-leaning media outlets - including Ekho Moskvy and Novaya Gazeta - to either close down or relocate abroad.