Ukraine war: Putin visits Iran in rare international trip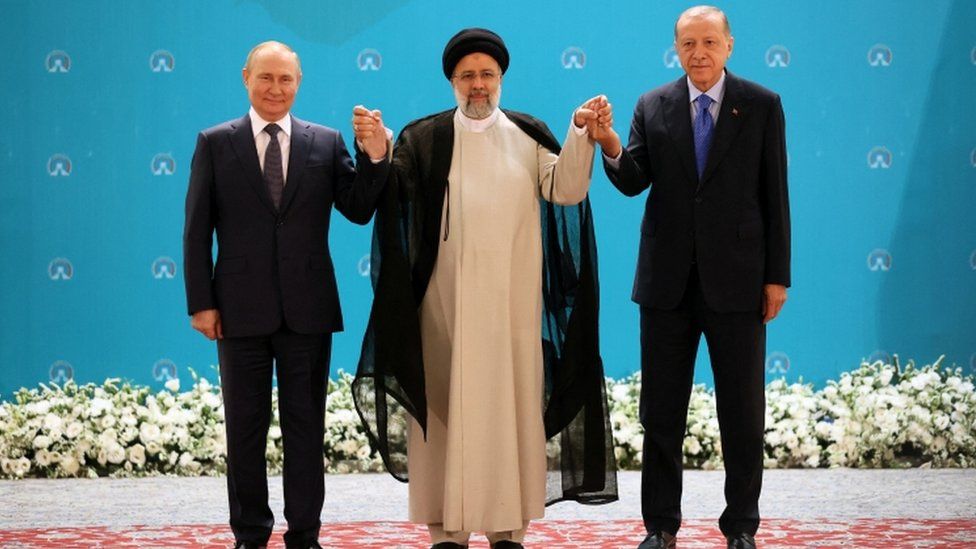 Russian President Vladimir Putin met Turkish and Iranian leaders in Tehran on Tuesday - only his second foreign trip since he launched the invasion of Ukraine in February.
Unblocking Ukrainian grain exports via the Black Sea was high on the agenda - Mr Putin said progress had been made.
The civil war in Syria was also discussed, with Turkey and Russia historically backing opposing sides.
The summit was a chance for Mr Putin to show he still has international allies.
Speaking after his meeting with the Russian president, Iran's Supreme Leader Ayatollah Ali Khamenei said Tehran and Moscow should strengthen their ties, and suggested that the West was to blame for the war in Ukraine.
"If you did not take the initiative, the other side would have caused the war with its own initiative," Mr Khamenei told Mr Putin.
The US said the Russian leader's visit to Iran showed how isolated Russia has become in the wake of its invasion of Ukraine.
Invading your neighbour, a sovereign independent country, tends to lose you friends.
And Russia's lost plenty after invading Ukraine. In the West Moscow has achieved pariah status.
But the Kremlin is keen to show that international sanctions have failed to isolate Russia, the world's largest country, and that some of its friends are sticking around. Like Turkey and Iran.
Russia will use the three-way summit on Syria to try to demonstrate it retains powerful allies and geo-political influence.
But we're not talking BFF (best friends forever). Turkey and Iran are also Russia's rivals. Turkey and Russia are on opposing sides in Syria and in Libya; they are competing for influence in the South Caucasus; Turkish combat drones have been supporting the Ukrainian military. As for Iran, it's competing with Russia in global energy markets.
True, Russia, Turkey and Iran do have some common interests. But that is no guarantee of long-lasting friendship.
In Tehran, Mr Putin also held his first face-to-face meeting since the start of the war with the leader of a Nato country, Turkey's President Recep Tayyip Erdogan.
Despite being a key member of the Western military alliance, Turkey has refused to join international sanctions against Moscow, with Mr Erdogan's government seeking to play the role of mediator.
Most recently, Ankara has been trying to negotiate an end to the grain blockade in the Black Sea, which is stopping millions of tonnes of desperately needed grain from leaving Ukraine and being delivered to countries around the world.
On Tuesday, Mr Putin said progress had been made on the issue, and thanked Mr Erdogan for mediating the talks between Moscow and Kyiv.
Later the Russian president told journalists that Moscow would facilitate the export of Ukrainian grain, if "all restrictions related to air deliveries for the export of Russian grain" were lifted.
The three countries' leaders also discussed the long-running war in Syria, with Iran and Russia supporting Syria's President Bashar al-Assad and Turkey backing rebel forces.
Turkey has threatened to launch a fresh offensive in northern Syria against US-backed Kurdish militants, a move which both Iran and Russia oppose. The operation is part of Mr Erdogan's plans to create a 30km (20 mile) safe zone along Turkey's border with Syria.
Mr Erdogan said he expects support from Russia and Iran "in its fight against terrorism".
Last week, the UN Security Council agreed to re-authorise cross-border deliveries of aid to rebel-held Syria for six months after Russia had initially blocked a proposal for a one-year extension.
You might also be interested in: