Ukraine war: Russian investigator says 92 Ukrainians charged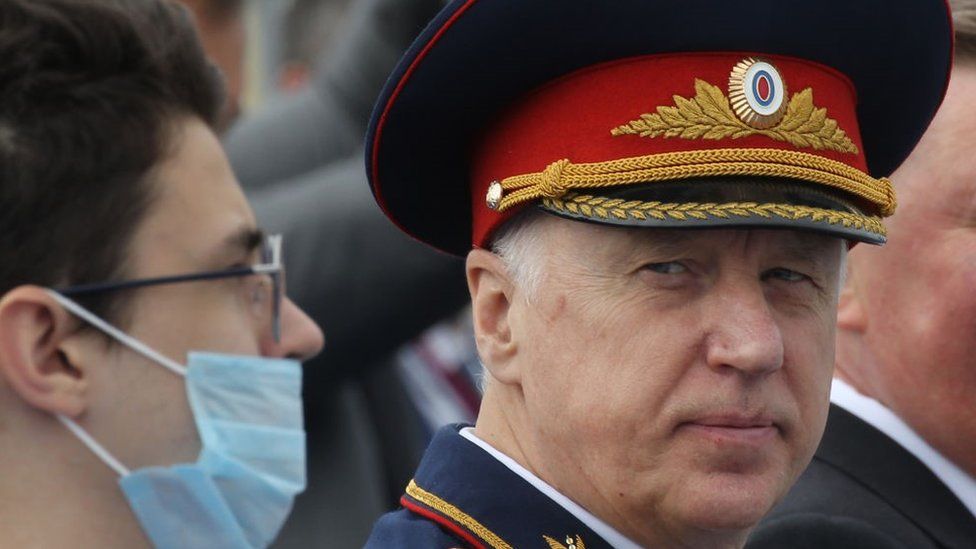 Moscow has charged 92 members of the Ukrainian armed forces with crimes against humanity, the head of Russia's investigative committee has said.
Alexander Bastrykin told government newspaper Rossiiskaya Gazeta over 1,300 criminal investigations had begun.
He also proposed an international tribunal backed by countries including Iran, Syria and Bolivia - traditional allies of Russia.
Ukraine is also conducting its own war crimes investigations.
As well as the 92 who have already been charged by Russia, some 96 people, including 51 armed forces commanders, are wanted, Mr Bastrykin said.
The Ukrainians were involved in "crimes against the peace and security of humanity", he told the paper.
The BBC has been unable to verify claims made in the interview and Kyiv has not commented.
The International Criminal Court (ICC), which has described Ukraine as a "crime scene", has also sent a team of investigators and forensics experts to Ukraine.
When asked in the interview whether a UN-backed trial could take place, Mr Bastrykin accused the West of openly sponsoring "Ukrainian nationalism" and said such a thing "is extremely doubtful".
Moscow has repeatedly made the false claim that Ukraine is overrun by neo-Nazis as justification for what it calls a "special military operation".
Mr Bastrykin instead proposed that an international tribunal should be set up with countries that have "an independent position on the Ukrainian issue" - in particular Syria, Iran and Bolivia.
Syria and Iran both voted against a UN resolution in March condemning Russia's invasion of Ukraine, while Bolivia abstained.
Along with hundreds of Ukrainian military and political targets, Mr Bastrykin said investigations are under way into Ukrainian health ministry employees whom he accused, without providing evidence, of developing weapons of mass destruction.
Suspected mercenaries from the UK, the US, Canada, the Netherlands and Georgia are under investigation, he told the newspaper.
Aiden Aslin, Shaun Pinner and Brahim Saaudun are accused of being mercenaries, but the Britons' families have insisted they are long-serving members of the Ukrainian military.
Russia has defended its missile attack on the city of Odesa on Friday, insisting that such strikes will not affect grain exports from the Black Sea port. Speaking to reporters, a spokesman for the Kremlin said the strikes had "exclusively" targeted military infrastructure and were not connected to a UN-brokered deal between Ukraine and Russia to unblock grain exports. Ukraine accused Russia of "barbarism" after the attack, which happened just hours after the deal was signed.
A Russian missile strike damaged a number of buildings - including a cultural centre - in Chuhuiv, a city near Kharkiv in the northeast, Ukrainian officials said. Two people were wounded in the attack, while three people remain trapped under the rubble, a regional police chief said. The Russian defence ministry says Ukrainian forces were in the area, the BBC's Russian Service reports. The BBC is unable to verify the claim.
Russian forces say they destroyed an ammunition depot storing US-made Himars rocket systems in the western region of Khmelnytskyi, according to Russia's defence ministry. Meanwhile, Ukraine said it had destroyed 50 ammunition depots using Himars, according to televised comments by its defence minister. The BBC has not verified the claims.
There has been little progress in the fighting in the south and east of Ukraine, with both sides failing to make major gains in the Kherson and Donbas regions, according to the UK's defence ministry.