Ukraine war round-up: Spa town attacked and orphans tied up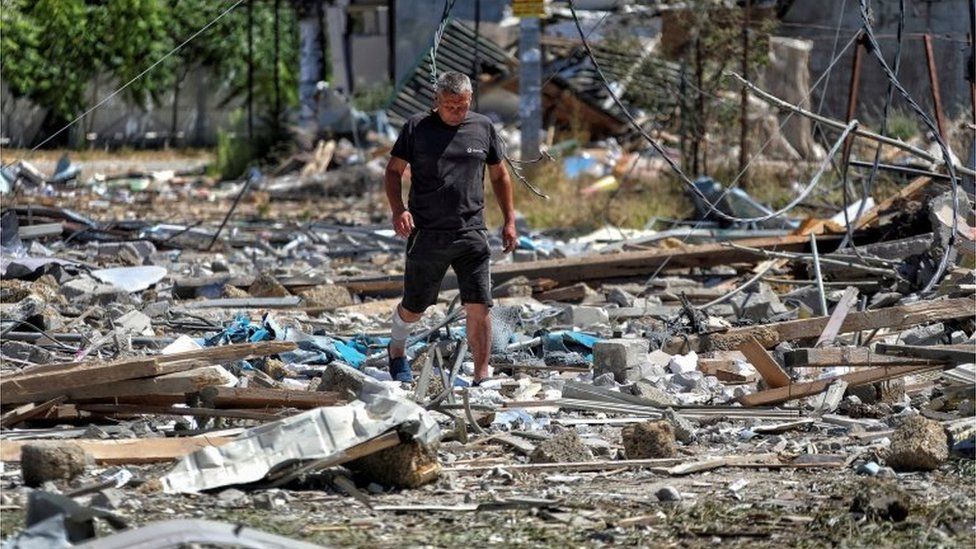 Ukraine accused Russia of again firing a barrage of missiles on multiple non-military targets across the country on Tuesday.
In the south, Kyiv said Russian warplanes launched 13 missiles on the Odesa region, destroying a number of residential buildings in the popular Black Sea resort of Zatoka.
There were also strikes in the nearby Mykolaiv region, including on the main port, and Russian shelling continued in the east - in what Moscow says is the main focus of its "special military operation".
Since the start of its invasion on 24 February, Moscow has repeatedly denied hitting civilian targets - but numerous investigations by Ukrainian and international officials have produced overwhelming evidence to show it is doing so.
EU to cut gas use over Russia supply fears
European Union energy ministers have agreed countries will cut gas use voluntarily to 15% between August and March in case Russia halts supplies.
"This was not a Mission Impossible!", tweeted the Czech Republic, which holds the rotating EU presidency.
However, the deal has been watered down, with countries able to have exemptions.
The EU said the aim was to make savings ahead of winter, warning that Russia was "continuously using energy supplies as a weapon".
This comes after Russian energy firm Gazprom announced it had once again reduced gas flows into Germany to allow work on a turbine on the Nord Stream 1 pipeline.
Russia supplied the EU with 40% of its gas last year, and since the invasion of Ukraine European leaders have held talks over how to reduce its dependence on Russian fossil fuels.
Children tied up and men in cots
Vasyl Velychko has been tied to a bench on a baking hot day for hours, but no-one hearing his screams will untie him.
The 18-year-old is one of thousands of disabled people living in Ukraine's orphanages.
Human rights investigators say Ukraine should not join the EU until it closes these institutions, and before the war the Ukrainian government said it would reform the system.
Poverty and a lack of support for struggling families contribute to a mindset that these facilities are necessary, one orphanage director says.
"It is better for children with disabilities to live here, rather than with their families," Mykola Sukholytkyi believes.
Russia to pull out of International Space Station
Russia has announced it will withdraw from the International Space Station (ISS) after 2024 and build its own station instead.
The new head of Russia's space agency, Yuri Borisov, said Roskosmos would honour all its obligations until then.
The US and Russia, along with other partners, have successfully worked together on the ISS since 1998.
BBC Science correspondent Jonathan Amos says the Russians have been talking about withdrawal for some time because of Western sanctions.
But he says a new station would require a financial commitment the Russian government has not yet shown to its space programme.
UK sanctions leaders of Ukraine breakaway regions
The UK government has sanctioned two Russian-imposed leaders in the self-proclaimed Donetsk and Luhansk People's Republics in eastern Ukraine. Their assets have now been frozen.
Foreign Secretary Liz Truss said the UK would keep imposing sanctions on those legitimising Russia's invasion.
In Russia, 29 regional governors as well as two nephews of major Russian oligarch Alisher Usmanov were also sanctioned.
Russian Justice Minister Konstantin Chuychenko is now also on the UK blacklist.
The sanctions are the latest in a wave hitting more than 1,100 individuals and businesses associated with Russian President Vladimir Putin.
War in Ukraine: More coverage