Ukraine round-up: Kherson counter-offensive gains pace
By Robert Plummer
BBC News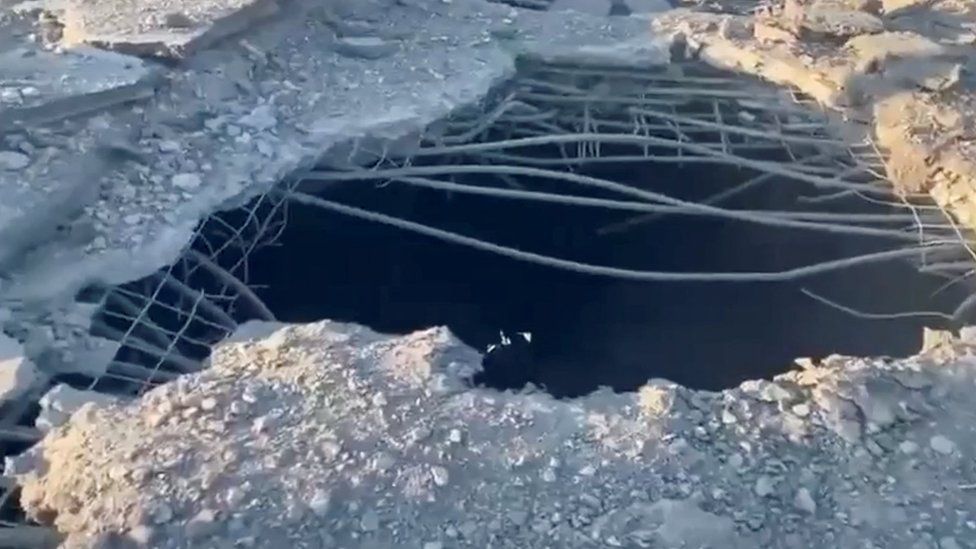 Kherson was the first major Ukrainian city to be taken by the Russians after their invasion in February.
But on Thursday, Ukraine's armed forces signalled their intention to recapture it, as their counter-offensive in the south began to gather momentum.
Ukraine's forces have been using Western-supplied long-range artillery to target bridges as part of an apparent strategy to cut off Russian forces.
Control over Kherson is key for Russia, as it provides a land corridor to Crimea, Ukraine's southern peninsula, which was annexed by the Kremlin in 2014.
If Kherson were to change hands again, it would deal a blow to Russia's efforts to claim that the invasion has been a military success.
Russian shelling kills five
The Ukrainian army said a military base north of Kyiv had been hit by five cruise missiles, wounding 15 people.
And in the central city of Kropyvnytskyi, Ukrainian officials said at least five people had been killed by Russian missile strikes.
More than two dozen others were wounded in the attack.
Meanwhile, in the southern city of Mykolaiv, one person was injured and a school was destroyed in a "massive" Russian missile attack, regional head Vitaliy Kim said.
US could swap Russian arms dealer for Griner
The war has seen Ukraine and Russia negotiate a number of exchanges of prisoners.
US Secretary of State Antony Blinken said he intended to raise the matter of two jailed Americans and had made a "substantial offer" with the aim of bringing them home.
Reports in US media suggest Moscow is interested in exchanging basketball star Brittney Griner for convicted Russian arms trafficker Viktor Bout.
Ms Griner has been in custody since Moscow airport officials found cannabis oil in her luggage in February.
Washington is also keen to secure the release of fellow American Paul Whelan, who was convicted of espionage in 2020.
The war is relentless, says Ukraine's first lady
Ukraine's First Lady, Olena Zelenska, is known for being quite private, but she has had to take to the global stage to rally support for her country.
But now, she added, "Everyone is fighting on a front line and it's work and I have to do that work."
Mrs Zelenska defended an appearance in Vogue magazine, saying "millions read Vogue and speaking to them directly was my duty".
As one of our disinformation specialists Shayan Sardarizadeh explains, the photoshoot has been leapt on by conspiracists.
Conspiracy groups seize on Zelenska Vogue photoshoot
Olena Zelenska, Ukraine's first lady, was recently interviewed by US fashion magazine Vogue about the difficulties of her role during wartime.
She and her husband, President Zelensky, posed for several photographs, which appeared in the article.
The images have been a subject of debate on social media, with some suggesting they look "inappropriate" at a time of war.
Fox News primetime host Tucker Carlson made similar criticisms during a recent segment.
But fringe conspiracy circles and pro-Kremlin users have also seized on the images, with many suggesting they prove the war in Ukraine is fake, a "scam" or a media fabrication.
Others have claimed the photoshoot proves the scale of the war has been massively exaggerated by Western outlets, saying a wartime leader wouldn't have time to pose for photos.
The photos have been turned into memes, with images of President Joe Biden, World Economic Forum leader Klaus Schwab - believed in conspiracy groups to be behind many global events - and a stash of dollar bills added in.
Some say it's yet more evidence that the war in Ukraine is "not as it seems", calling for more "research" into what's happening there.
German city turns off the gas
Russian President Vladimir Putin has been widely accused of seeking to "weaponise" his country's energy supplies by cutting the flow of gas to western Europe.
Germany, which gets much of its gas from Russia via the Nord Stream 1 pipeline, is particularly vulnerable.
Hot water will no longer be available for hand washing in public buildings, or in showers at swimming pools, sports halls and gyms.
Public fountains are also being switched off to save energy, and there will be no night-time lights on major buildings such as the town hall and museums.
The policy is in line with announcements from Berlin last week, as Germany strives to build up its reserves before winter comes.
War in Ukraine: More coverage