Nord Stream 1: The 12-metre turbine threatening Europe's gas supply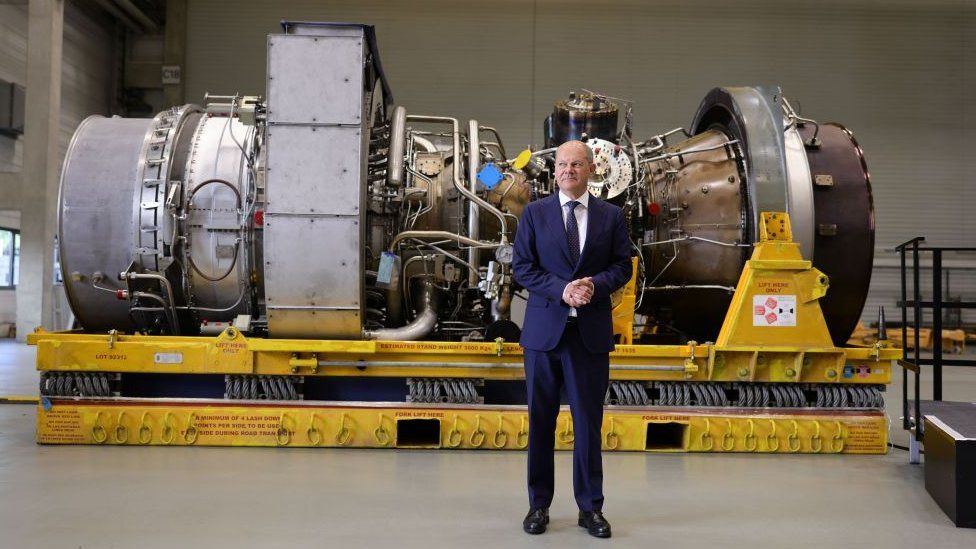 Russian energy giant Gazprom says it is impossible to take back a turbine that is vital for gas supplies to Europe due to Western sanctions.
The 12m (40ft) turbine is stranded in Germany after returning from Canada where it was repaired.
Berlin insists the equipment is not affected by sanctions and accuses Russia of not honouring its contracts for political reasons.
Recently, Gazprom has drastically reduced gas deliveries to Europe.
The key Nord Stream 1 pipeline from Russia to Germany is running at 20% capacity.
Moscow supplied the EU with 40% of its natural gas last year, and the cuts have caused wholesale prices to increase dramatically.
Some countries are struggling to buy enough gas to put into storage for the winter months, when gas usage is much higher.
On Wednesday, Chancellor Scholz paid a visit to the Siemens Energy factory where the turbine is stranded, and said the turbine was ready to be shipped back to Russia at any time.
"But someone needs to say: I want to have it," he added.
Moscow says it can only reinstall the turbine - and increase gas supply - after it receives documents showing that the turbine does not fall under Western sanctions.
Gazprom has repeatedly limited gas flows through Nord Stream 1 - a major Russia-Germany pipeline:
Within a day of last week's Russian announcement, the wholesale price of gas in Europe had been pushed up by 10%.
Berlin says there are no technical reasons for Gazprom limiting supplies and the EU described the latest reduction as "politically motivated".
In late June, Germany was importing 26% of its gas from Russia.
It has sought supplies from elsewhere, planned measures to reduce consumption and warned citizens that energy bills will rise.