Ukraine war: Fears over Zaporizhzhia nuclear power plant, and major damage at Crimea airbase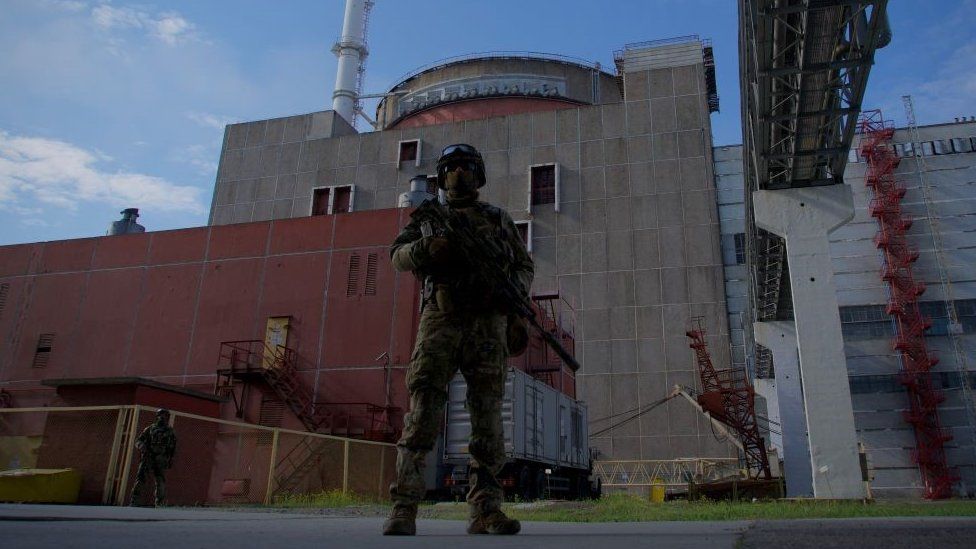 Staff at the plant told the BBC's James Waterhouse they were being held hostage at gunpoint by Russians using it as a military base.
Zaporizhzhia, the largest nuclear plant in Europe, was seized by Russia in March but is still operated by Ukrainian technicians.
Two workers said they were under "constant stress", and feared nuclear catastrophe.
Both Russia and Ukraine blamed each other for 10 hits on the plant's administrative office and fire station on Thursday - but the reactor buildings were not hit.
Major damage at Crimea airbase
The runways at the Saky base appear intact, but at least eight airplanes are shown to be damaged - contrary to earlier Russian claims that none were harmed.
One person was killed in the blasts, and Ukraine has not said it was behind the attack.
The Russian billionaire daring to speak out against Putin
Most high-profile figures in Russian society have kept quiet about the war with Ukraine.
Boris Mints, a 64-year-old billionaire who made his money through an investment company, has become one of the few exceptions.
In an email interview with the BBC, Mr Mints called President Putin's actions "vile", and compared the war to Hitler's invasion of Poland in 1939.
Other high-profile Russians who remain silent do so because they are afraid, he said, adding that anyone who criticises Putin has grounds to worry about their safety.
McDonald's to reopen in Ukraine
A small sense of "normalcy" may soon return to parts of Ukraine, McDonald's says, as it plans to reopen its outlets there.
The fast food chain closed its restaurants - numbering more than 100 - soon after the invasion in February.
It has continued to pay its 10,000 staff, who the company says are keen to see branches reopen when safe.
There will be a phased reopening over the next few months in Kyiv and western Ukraine, in areas considered safe enough.