Sweden election: Gang shootings cast shadow over vote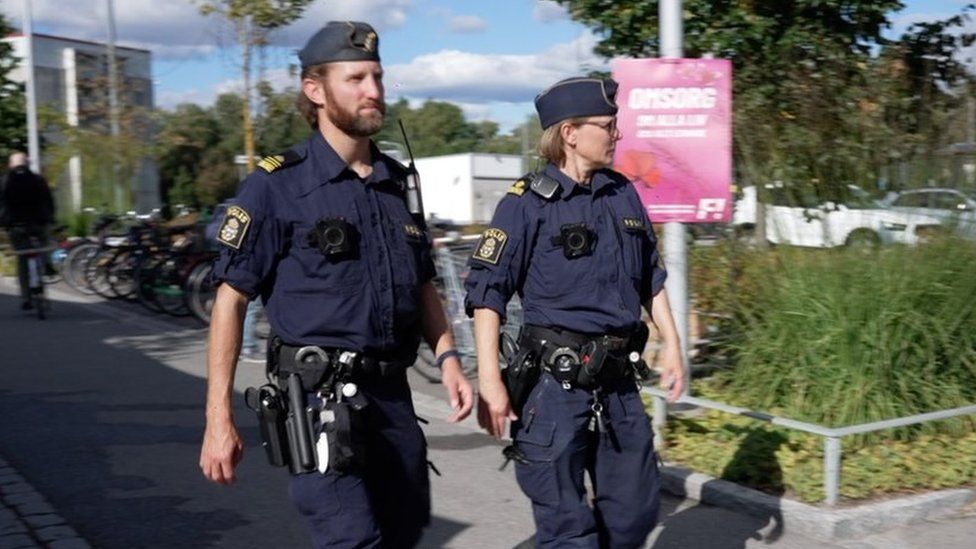 A sharp rise in gun violence and gang crime has become a leading issue in what Sweden's media have described as one of the ugliest election campaigns in history.
"Right at this spot here we had a shooting about this time last year," says Martin Gunér, a police officer in the suburb of Gottsunda, just a 15-minute drive from the medieval spires of the university city of Uppsala.
Gottsunda is notorious for drugs and gun battles, and classified by police as one of the 10 most vulnerable areas in Sweden.
But despite Sweden's right-wing media labelling it a "no-go zone", parents here cycle toddlers home from preschool while middle-class families at the local shopping centre pile groceries into electric cars and bicycle baskets.
Some high-profile arrests in the area have helped calm the violence in recent months. But, according to a 2021 report by the Swedish National Council for Crime Prevention, gun crime across Sweden is increasing at a faster rate than anywhere else in Europe.
So far this year, 47 people have died from shootings in the country - more than for the whole of 2021.
"At first they'd shoot just to injure and make people afraid, but now they're shooting to kill," Mr Gunér says.
The violence is now spilling out of troubled suburbs and into other urban areas: last month, a mother and her five-year-old child were injured by gunfire at a playground in the central city of Eskilstuna, and two people were hurt in a shooting at one of Scandinavia's largest shopping malls in Malmö.
As Swedes prepare to take part in Sunday's general election, polls show that crime is among the top issues for voters.
"[Crime] beats questions relating to the environment and inflation, the economy and the pandemic," says Sten Widmalm, a professor at Uppsala University. "It's affecting ordinary people as well, because some of these shootings have led to innocent bystanders being killed."
It's not a surprise then that the campaign has been dominated by the debate over the cause of this spike in gang violence and ways to tackle it.
Nikoi Djane grew up around gangs in southern Sweden and he is now a criminologist. He points the finger to a growing drugs market and the lack of job opportunities for those living in less affluent neighbourhoods.
"It's very different from back when I was young," he says. "A life isn't valued the way it was before. Today people are being killed just for stuff like honour and pride and petty things."
He recently launched an organisation to help prevent young people from joining gangs. And he says more long-term support is needed also for migrants and refugees who have fled the war and "have seen their whole life being blown to pieces".
"We put the expectation that they should raise perfect children. And these individuals are most likely suffering from PTSD, depression, you name it," he adds.
Sweden took in record numbers of refugees in 2015 and the fact that much of the latest violence takes place in areas with high immigrant populations, has added fuel to the debate over the country's integration policies.
Outside Uppsala train station, supporters of the far-right Sweden Democrat party are queuing up to shake hands with Richard Jomshof, the group's secretary. Among them is Alexander Jennerstig, a 28-year-old warehouse worker.
"We have taken in many immigrants here and… they haven't been integrated, maybe they don't want to be," he tells me.
Polls show the Sweden Democrats are now the second most popular party in the country, behind the ruling Social Democrats and just ahead of the centre-right Moderates.
"The most important thing is to stop people from coming to Sweden," says the party secretary before a small cheering crowd. "It took us generations to build a country like Sweden and in a couple of decades, a lot of things have gone the wrong way."
But they are not the only ones talking about the impact of immigration. At a nearby stall, between pot plants and posters of Prime Minister Magdalena Andersson, the centre-left Social Democrats are discussing the same topic.
Gustaf Lantz, a local MP, says the need for promoting better integration has been on his party's agenda during its eight years in power. He assures me that "many things" are in the pipeline, including efforts to improve housing, as well as an increase in police officers and harsher punishments for criminals.
"[The Social Democrats] basically moved into the positions taken by the right-wing parties several years ago," says Professor Widmalm. "And of course, the right-wing parties are upset that the agenda is taken over by the Social Democrats."
I ask him if he thinks this strategy will pay off in the elections.
"It's going to be terribly close," he says. "That's the only thing we know."
Back in Gottsunda, police officer Gunér has worked his way around the housing estate and is now heading out on patrol in the nearby shopping mall.
He remains sceptical that any of the parties will tackle the issue quickly.
"The problem with politics is that every four years [politicians] have to be re-elected, so they make very short-term promises," he says. "That's a problem in these kinds of areas. You must have a long-term perspective."
Additional research by Josephine Frans