Crimean bridge: Excitement and fear in Ukraine after bridge blast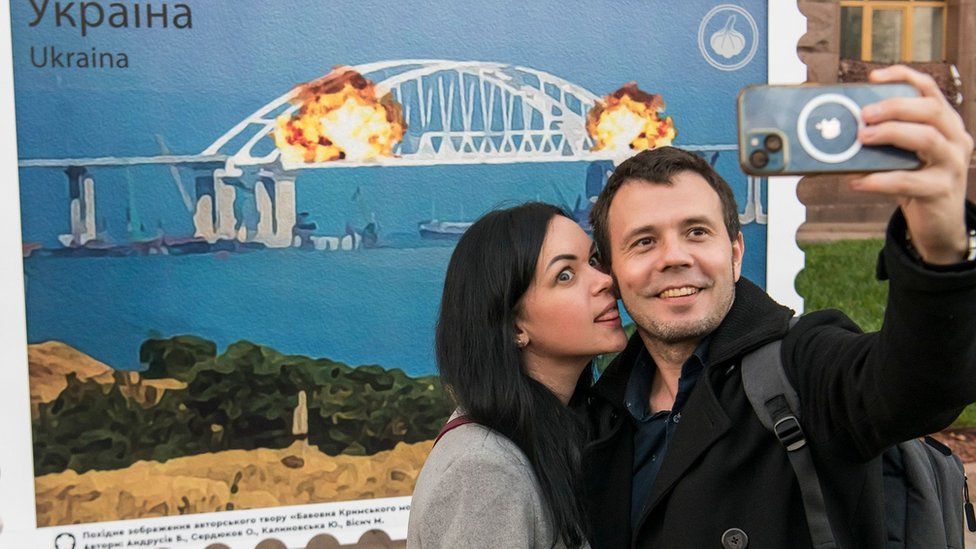 Ukraine is exploding with excitement this morning.
"What's next in line, Russkies?" it went on.
Ukraine's inventive social media activists are gleefully pumping out memes to celebrate the occasion.
And Ukraine's second largest bank, Monobank, says it has already issued a new debit card design featuring the collapsed bridge.
Oleksii Danilov, Secretary of Ukraine's National Security Council, wasn't the only one noting that the attack came just a day after Vladimir Putin's 70th birthday, tweeting a video of the damaged bridge next to Marilyn Monroe's famous performance of Happy Birthday, Mr President from 1962.
The sense of excitement is palpable.
Coming on the back of weeks of mostly good news from the battlefront, where Ukrainian forces continue to take back territory seized by Russia back in February and March, the sight of the crippled, burning bridge is a massive additional boost to morale.
How was this done? Any number of theories are doing the rounds - from a Ukrainian special forces operation to the work of partisans in Crimea, a missile strike, or even a suicide bomb.
"This is a masterpiece of clandestine sabotage," a former senior British army explosives expert told me.
"A well-planned attack from below may have been the cause," he said.
"With structural demolition, you always plan a 'collapse mechanism' which lets the weight of the structure do the majority of the work."
Ukrainian officials are giving little away, happy to apply the same level of ambiguity that followed a mysterious attack on the Russian airbase in Crimea in August.
But the attacks on the Saky base and the bridge are all part of the same wider effort: to undermine Russia's ability to use Crimea as a launch pad for its war in southern Ukraine.
The road and railway bridges are vital links in Russia's supply chain. Without them, Moscow will find it even harder to send troops and equipment to repel Ukraine's offensive north of Kherson.
Kyiv is also saying to Moscow: Crimea is ours and eventually we are going to take it back.
For all the giddy delight ricocheting across social media, some Ukrainians are anxious.
People there suspect that they are being punished by Russia as Moscow lashes out after its recent military failures. They fear the coming days may bring more.